During Project 'Big Push', an interesting looking pension card was brought to the team leader's attention by one of the checkers who thought it possibly had an interesting story to tell.
Frederick William Day, alias F.W. Lauraine served as Pte. 085384 R.A.S.C. and 698541 Labour Corps.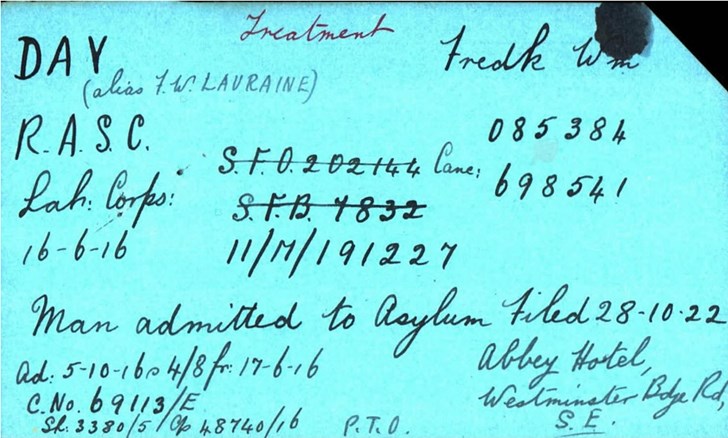 The Abbey Hotel address in Westminster Bridge Road seems no longer to exist and may have been a mail pick up point rather than his residence. The fact that he was being treated in an asylum, from 28/10/1922, definitely warranted further investigation.
The alias, of F. W. Lauraine, presumed to be Frederick William Lauraine was most interesting, as the surname is so unusual that it appears only ten times in the entire births, deaths and marriage indexes for the whole of England and Wales between 1837 and today. A death of a Frederick W. Lauraine was recorded in the Surrey Mid.E. district in 2Q 1941, but at an age of 82 this surely could not refer to a man who served in the Great War.
However, the 1939 register was examined and this same man, as identified by his name and age, was found to be an asylum resident in Banstead Hospital, Surrey which, prior to 1937 was known as Banstead Mental Hospital. It is not quite clear whether the column of his marital state might have been altered from 'M' to 'W', suggesting his wife had died while he was a resident.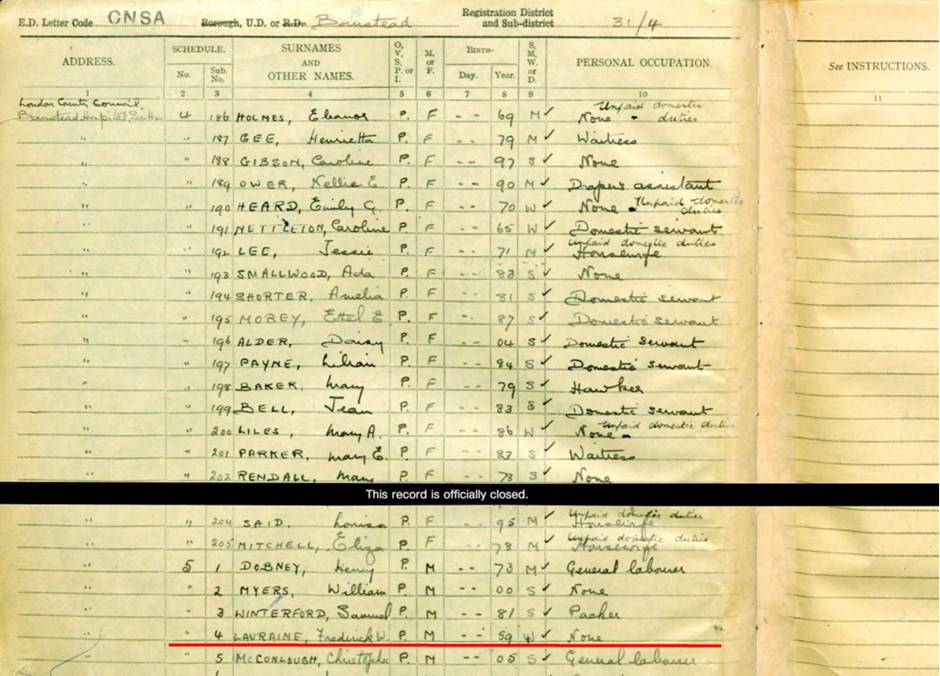 A photo of Banstead asylum in 1915.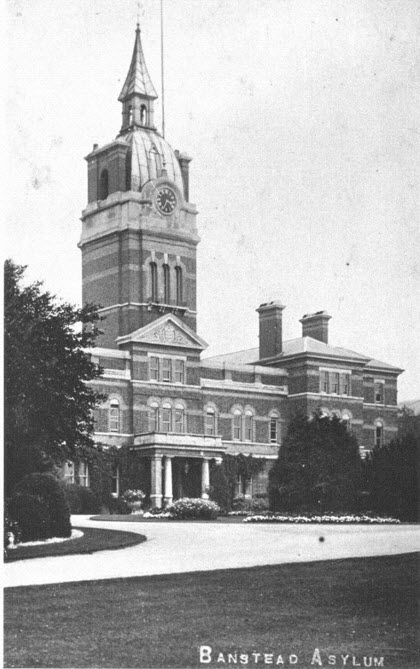 Banstead Hospital Cemetery was used to cater for asylum burials and, although the graveyard was cleared for use as farmland, there is a single CWGC grave, protected by covenant, for a Sapper Reginald Moyse, who died on 28/04/1917 whilst a patient at the hospital. The CWGC photograph shows a rather bleak looking setting on Banstead Downs.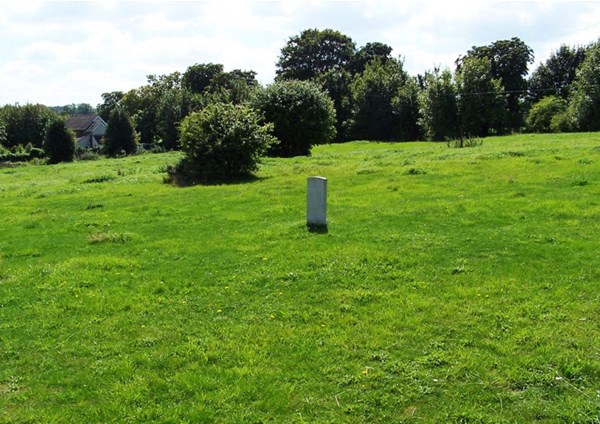 The next step was to follow up Frederick's army service, and unfortunately there was no surviving record in either WO 363, the burnt series, or WO 364, sometimes referred to as the pension series, for anybody with the corresponding service numbers obtained from the pension card.  However, a medal index card was found under the name Frederick W Day, with the expected service numbers.  Note that Frederick William Day is such a common name that at least one Frederick W Day was found who served in both the Army Service Corps and the Labour Corps.

It will be seen from the reverse of the card, that his address is given as Banstead Mental Hospital, which seems to prove our man really was aged 55 or over when he first went overseas, which is rather unusual. The WFA have to take much credit for saving these cards. Although entries for other ranks on the reverse of the cards may be rare, they can also be priceless. Although parts of the hospital were requisitioned by the military from 1940, the fact that Frederick died in the same area suggests he wasn't one of the displaced patients.
The medal index card also showed that he was awarded the Silver War Badge.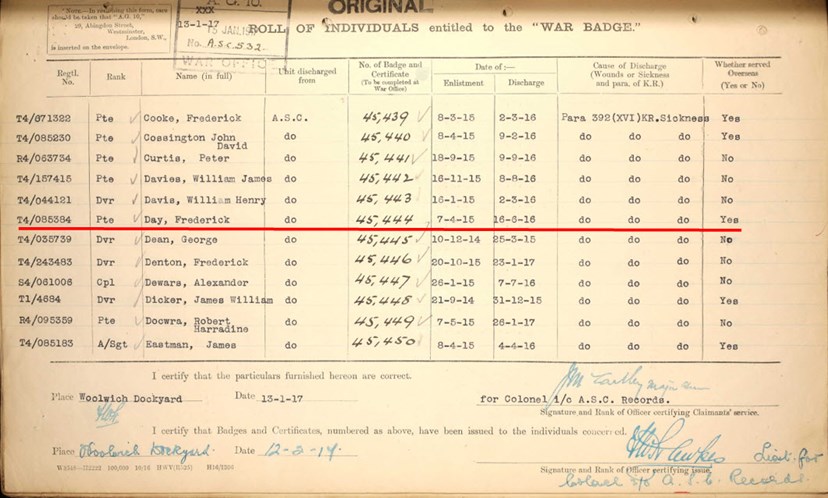 The badge roll shows that Frederick enlisted on the 07/04/1915, so just a month later he was sent overseas, and was later discharged from the A.S.C. due to sickness on the 16/06/1916.     
As mentioned previously, Frederick William Day is such a common name that such men are weighed together rather than counted, so research effort was now moved to the name Lauraine. He seemed to have avoided all the usual records, such as censuses, but a general search under his name, for all incidences, on Ancestry.com provided a breakthrough. Examination of the admission and discharge records for London workhouses found over 160 records pertaining to our Frederick Lauraine, ranging from 1912 to 1922, and his age was fairly consistent throughout, with his year of birth showing a deviation between 1857 and 1863. Almost all records were for the Lambeth workhouse in Renfrew Road, a new establishment completed in 1873, and where a certain Charles Chaplin was an inmate in 1898. Male and female dining halls, the kitchens and stores lay to the rear of the administration block pictured below.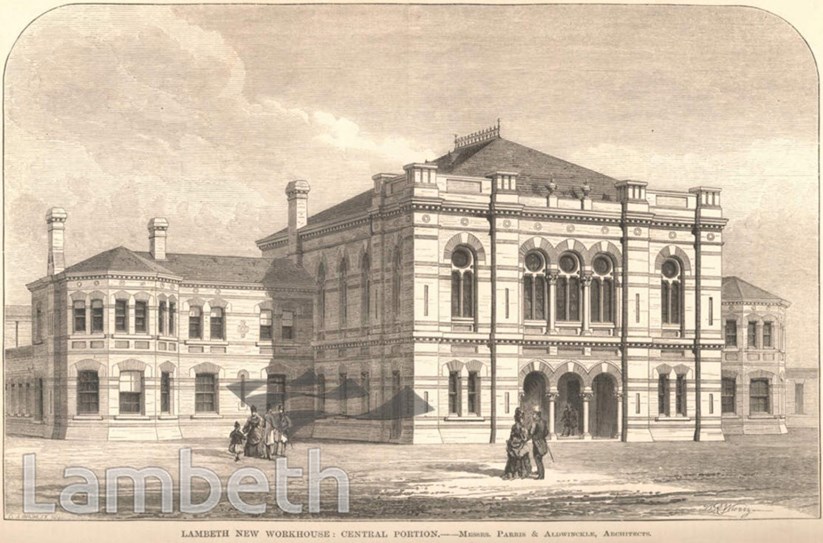 The records for April 1915 are particularly interesting.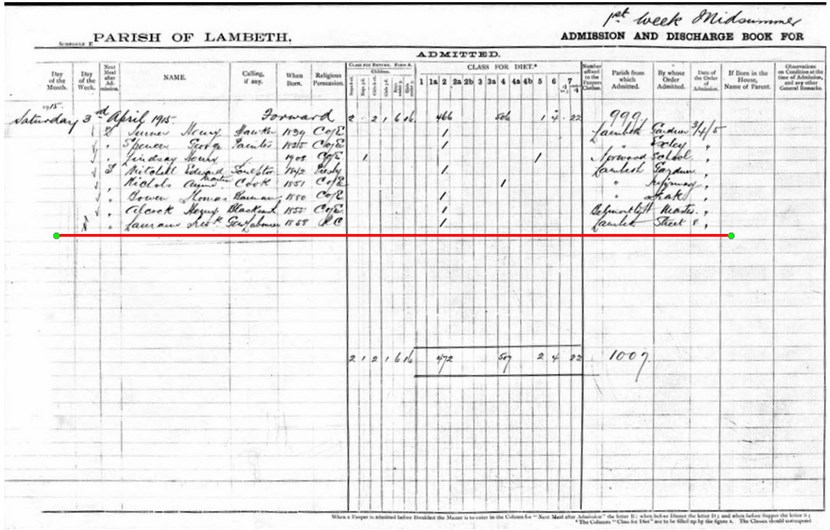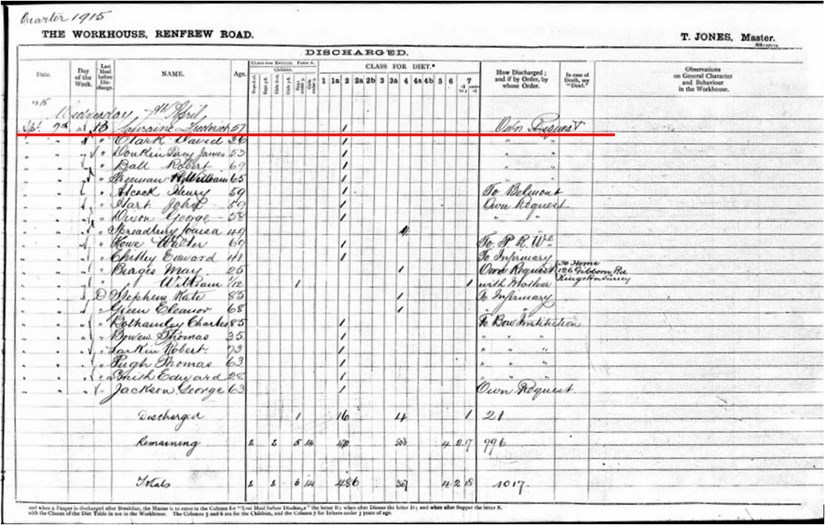 Frederick was admitted to the workhouse on 03/04/1915 and discharged, on his own account, aged 57, on 07/04/1915, which is the date he enlisted in the Army, as shown on his Silver War Badge record. It would be fascinating to know what age he claimed on his attestation form, sadly consigned to ashes in the Walworth warehouse fire of 1940. 
Having been discharged from the army in June 1916, it is very sad to see Frederick back in the workhouse in September 1916, and subsequently discharged just before Christmas, hardly the welcome home promised for returning heroes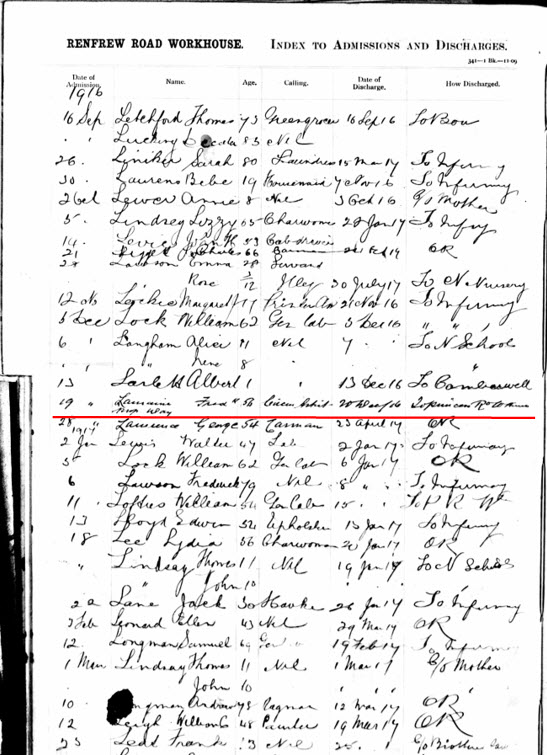 This 1916 record is particularly important as it has a rather difficult to read annotation underneath his surname, which actually reads 'prop nDay' in other words referring to his proper name being Day, proving beyond all doubt that this is the man on the pension card. Strangely his occupation is recorded as general labourer, rather than ex-soldier.
He is back again in 1917, with the final entry shown below for 1922, the year, according to his pension card, that he entered the asylum. He is known to have been in the asylum in 1927, according to his medal index card, and still there at the time of the 1939 register. Presumably he stayed there until he died. With a statutory hundred year closure on asylum records it is not possible to know the circumstances of his illness, although it may well be related to his war service.
Although his 'calling' or occupation is often recorded as genl. labourer, i.e. general  labourer, it was discovered that a good many  of his workhouse entries,  including those in 1914, and again in the 1916 and 1922 records shown above, indicated that he had at one time a very different lifestyle, with the occupation of circus artist or circus artiste recorded .
Attention was now focused on trying to discover Frederick's circus career, under the name of Frederick Lauraine.  A general web search unearthed a very interesting advertising flier from 1884.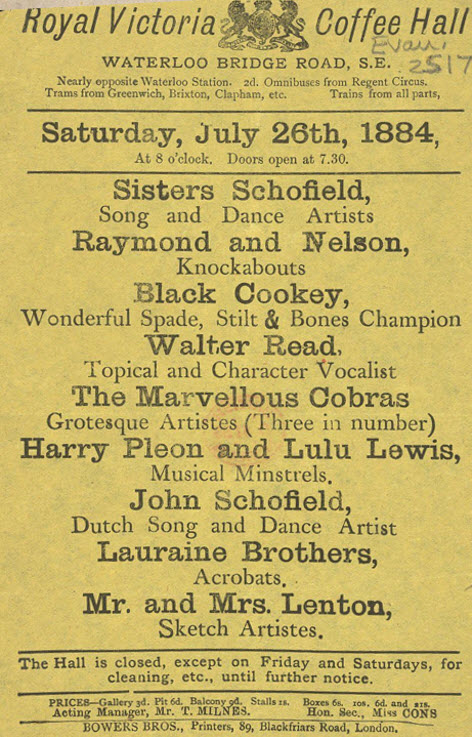 It seemed very likely that he was one of the Lauraine Brothers act, although it was considered very doubtful that they were actually brothers. The breakthrough came when searching online newspaper summaries. 'The Era' of 15/10/1887 refers to 'the two Lauraine Brothers (Frederick and Charles) acrobatic variety eccentrics and comedians', showing that Our Frederick was indeed part of the acrobatic act. 'The Era' of 27/08/1887 also gives both Christian names.
It would seem that although Frederick and Charles stayed together professionally, Charles later went under the surname Hector, the pair then being known as Hector and Lauraine. There is evidence for this from a court case taken out against Northern Theatres Co. Ltd., by a Mr Frederick Lauraine and a Mr Charles Hector, comedians, reported in the 'Yorkshire Evening Post' of 09/04/1902.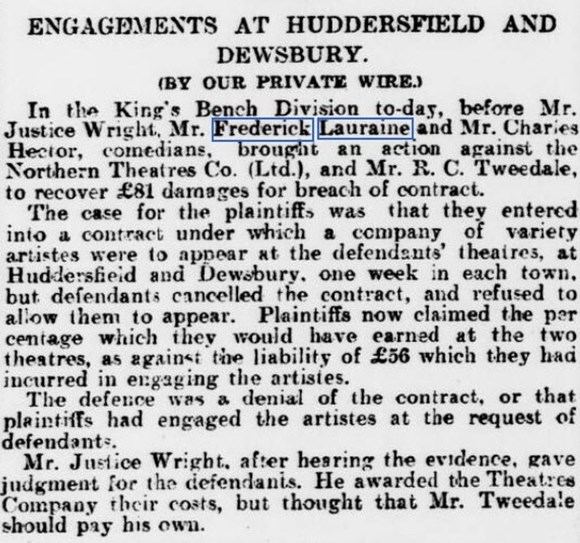 'The Era' of 05/11/1887 gives a little more detail of their act - 'The Lauraine brothers in an upside-down fisticuff entertainment are amusing'.  A PhD thesis by a Paul Michael Walter Babiak, Toronto 2015, entitled 'Knockabout and Slapstick: Violence and Laughter in Nineteenth Century Popular Theatre and Early Film' quotes this article, and states that their unusual act was known as 'fistina'.
'The Music Hall and Theatre Review' of 26/05/1893 describes them as 'Hector and Lauraine 'The Wonderful Whirligigs', presumably an interim name for their act.
'The Era' of 12/03/1910 describes Hector and Lauraine as 'the only upside-down boxing comedians in the world. It is known the act were still performing in 1913 as the 'Montrose Standard' of 28/03/1913 mentions 'Hector and Lauraine, the men who cause peals of laughter with upside down boxing'.    
Further investigation revealed that Frederick Lauraine, almost always in partnership with Charles Hector, had had a career spanning more than three decades in the music halls. They played almost every major town and city in the UK and Ireland, usually as a headline act and always getting rave reviews in the press. When playing their annual seasons in London, they often appeared at three theatres concurrently – one at 8.40pm, one at 9.35pm and the third at 10.30pm. For many years, they played one month residencies in the capital cities of most countries of Western Europe, and they undertook several tours of the eastern states of America. It must be concluded that, by the end of the nineteenth century, they were one of the hardest working acts in the UK and would certainly have been household names.
The breakthrough came with the discovery of an entry in 'The Era' of 05/05/1888 relating to Frederick's marriage.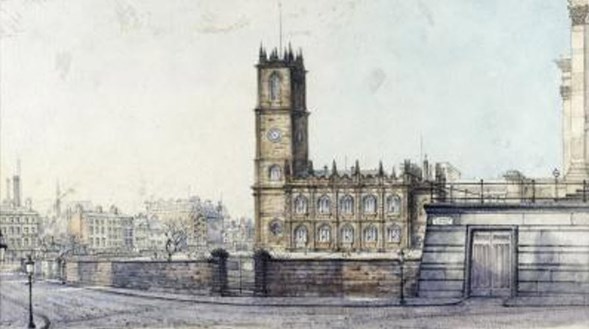 Their marriage certificate was found on Ancestry.com, and took place at St John's church, Old Haymarket, demolished in 1898, and apparently considered by many to be a local eyesore.

Note that although the marriage was recorded in the newspaper under his alias, or stage name, he signed the marriage certificate under the rather more mundane name of Frederic Day, and his bride signed with the less than exotic name of Nellie Wilson. No doubt the O'Malleys, Patrick and Mary, were also in the entertainment business.
There is an interesting reference to his wife in the Argyle Theatre Collection of The University of Sheffield, which refers to 'Miss Nelly Bertini, Serio Comic, Songstress, and Burlesque Actress'.
The chance of finding him, or his wife, in an early census is somewhat remote as their names, plus those of their fathers, are so common.  Note that his date of birth would be 1862/3 according to the certificate, but we don't know how reliable this is, and it conflicts with the bulk of his later records, suggesting a slightly earlier date.
An attempt was made to trace him as Frederick William Day, always assuming this was his real name, but there were too many problems. Firstly, according to the workhouse records, he was a Roman Catholic, which makes finding an online baptism very difficult, although this is partially contradicted by his marriage in a protestant church. Even just assuming his true birth year to lie between 1859 and 1861 there were eleven possible births in the indexes. Using the district where the births were registered, and the census records from 1861 to 1911, it was possible to eliminate seven, mainly on occupation grounds in later years, so no positive identification was possible. The fact that Frederick was a circus artist for much of his career makes it unlikely that he would in any case be found in a census, as he would most likely have been living in temporary accommodation.
I have experienced similar challenges trying to track one of my own family, a music hall director who served in the army. Although he had a very unusual name, it could never be found in any census or press article. It wasn't until I found an obituary that I realised he went under a stage name. I know his wife's stage name, have their marriage certificate, and yet cannot be sure of her real name. By a coincidence, she too died in an asylum.
The last part of the 2000 piece jigsaw fell into place when we discovered the marriage for the man who it is believed was originally the other half of the Lauraine brothers, and subsequently went by the name of Charles Hector when they rebranded themselves as Hector and Lauraine. The following article was found in 'The Era' of 02/11/1895, indicating that the marriage took place on 28/10/1895.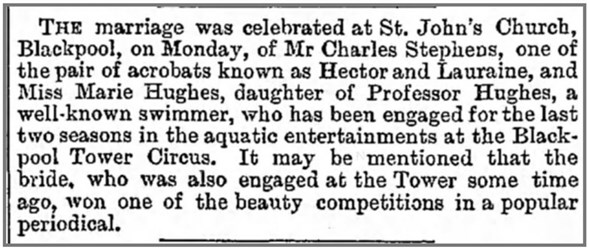 The marriage certificate is shown below, and there were the usual anomalies, for example Charles' bride was Maria, not Marie, and there is something very 'fishy' indeed about the claim that her father was a professor.

The church of St John the Evangelist, where they married is shown below: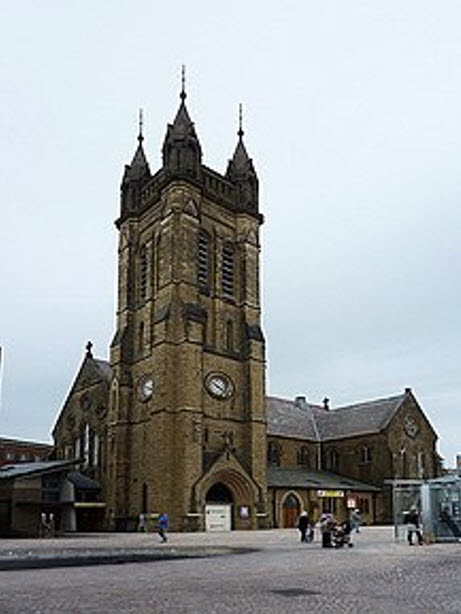 Hopefully, this part of the research may prove useful to anybody trying to follow a member of the family in the entertainment industry, and perhaps show some of the pitfalls.
To summarise, this is a sad case of a man falling on hard times just before the Great War, and being in and out of the workhouse. Unusually he then joined up in 1915, although in his mid-fifties, before being discharged as an invalid after a year overseas. He subsequently returned to the workhouse, before entering an asylum in 1922, and eventually dying there in 1941. Although it has not proved possible to confirm his given name, or to find his birth record, we do have his marriage certificate. I feel that we have actually found the real man, Frederick Lauraine, professional acrobat and entertainer, and a performer who had a unique and well known act with his partner Charles Hector.
My thanks to Pam Raven for highlighting the card's interest, and to 'er indoors (Margaret) for delegating the task of investigating what turned out to be a fascinating challenge.
Dr Alan Hawkins
(Additional research into the stage act 'Hector and Lauraine' by John Taylor and Simon Phillips)