By far the most famous 'ace' of the Great War was Manfred Albrecht von Richthofen, popularly known during the war in Germany as Der Rote Kampfflieger (The Red Battle Flyer).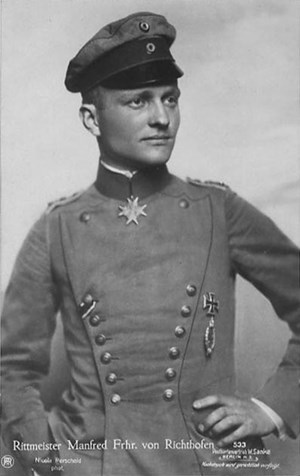 Above: Manfred von Richthofen, the Red Baron. 
By late winter of 1917 von Richthofen was already one of the leading German fighter pilots, having shot down no fewer than twenty one British aircraft between September 1916 and February 1917. However, March was to see him not only add a further ten victims to his tally, but also be shot down himself. 
First week of March
The 4th March was a successful day for the Red Baron. Just before 1pm this day, von Richthofen, flying a Halberstadt D.II (he had switched to this type the previous month when his preferred aeroplane, the Albatros D.III, proved to have a manufacturing fault) attacked a slow moving B.E.2d flown by Lt James Benjamin Crosbee.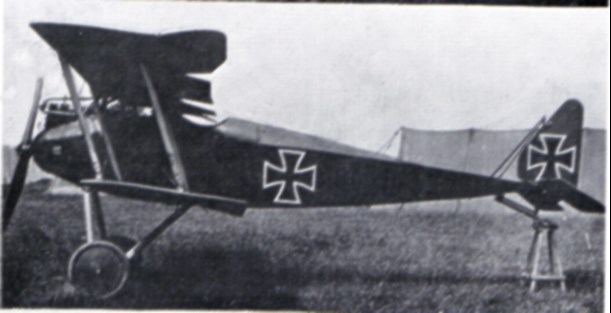 Above: The Halberstadt D.II was flown by the Red Baron in February and March 1917 until the manufacturing fault on the Albatros D.III was rectified.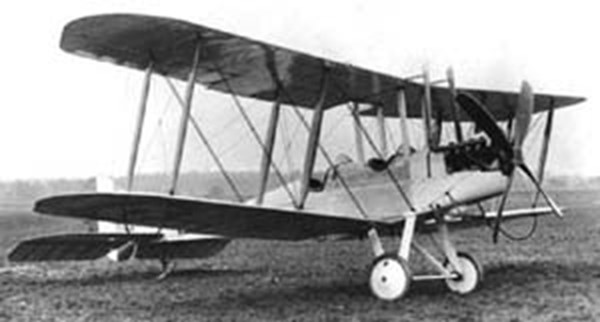 Above: There were a number of variants of the B.E.2, this image is of a B.E.2c. Unable to defend itself against even the primitive Fokker E.I in 1915, it was virtually helpless against the newer German fighters of 1916-1917, when its stability (which was helpful in its artillery observation role) made it difficult to escape when attacked by German aeroplanes. The British press dubbed it "Fokker Fodder" whilst German pilots nicknamed it Kaltes Fleisch ("cold meat").
Crosbee was lucky; he managed to return safely to his airfield, although this did not stop von Richthofen claiming a victory. Slightly less fortunate was Crosbee's observer Serjeant John Prance who was wounded. This was not the end of von Richthofen's activities that day, as within four hours, he had claimed his twenty-third victim, a Sopwith 1½ Strutter crewed by 2/Lt Herbert Green and 2/Lt Alexander Reid. Both of these officers were killed and are now buried at Cabaret-Rouge British Cemetery. They lay side by side in graves XII.E.3 and XII.E.4.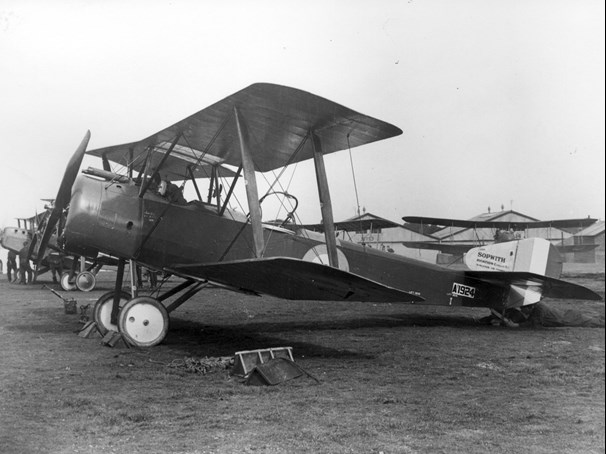 Above: The Sopwith 1½ Strutter was lightly built and did not stand up very well to arduous war service. It was also too stable to make a good dogfighter.
Down! The Red Baron forced to the ground
The 6 March was to be a significant one for the Red Baron. Although he would not have known it, he was to meet in combat for the second time Captain Edwin Benbow. Flying the fragile looking F.E.8, Benbow had already clashed with von Richthofen on 23 January when in a dogfight with other aircraft; on this occasion, Benbow's machine gun had jammed.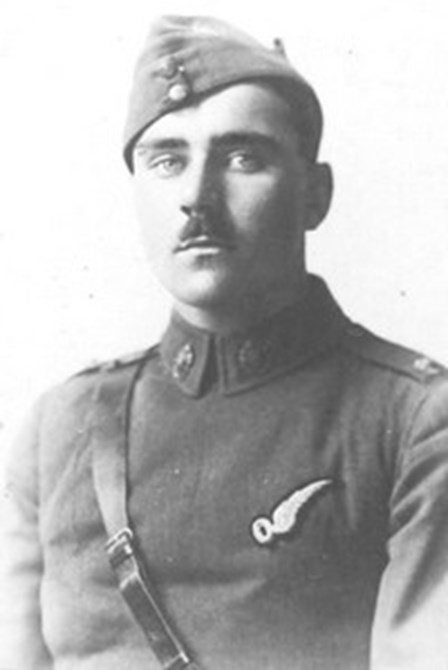 Above: Captain Edwin Benbow, MC
Whilst in the process of clearing the stoppage, Benbow managed to evade an attack by the Red Baron. The second encounter, on 6 March, was to almost prove to be von Richthofen's last.

 Above: The F.E.8 was one of the first single-seat  or "scout" aircraft. In order to overcome the problems of forward facing machine guns not (initially) being able to fire through the arc of the propeller, it was designed as a "pusher" (i.e., with its propeller behind the cockpit). The drag created by its tail ensured it was no match for the Halberstadt and Albatros aircraft.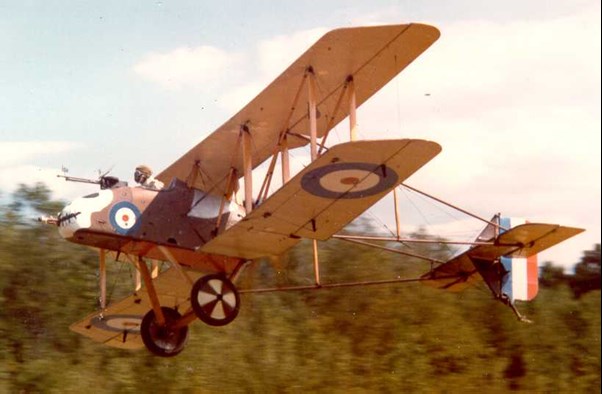 On the morning of 6 March, nine aircraft of 40 Squadron came into contact with five German aircraft. These were being led by von Richthofen who attacked a Sopwith 1½ Strutter, but failed to spot Benbow who sprayed his machine with bullets, causing damage to The Red Baron's engine and holing his fuel tanks. Richthofen's aeroplane made a forced landing but he was not hurt despite the damage to his aircraft. He was Benbow's eighth and final aerial victory. Benbow was injured later in the month and transferred to a training establishment in the UK. Returning to the front in 1918 he was killed in May of that year and is buried at Duhallow A.D.S. Cemetery.
Meanwhile, after his forced landing, von Richthofen returned to his base and took to the skies again. At 5pm that afternoon he came across another easy target – the B.E.2e piloted by 2/Lt Gerald Gosset-Bibby, from Bedford who was just 19 years old. In the observers seat was a Canadian officer, 2/Lt Geoffrey Brichta. They were on an artillery observation patrol near Vimy. In his combat report, von Richthofen stated that he "attacked two enemy artillery flyers at a low altitude over the other side of the lines. The wings of the plane I attacked came off - it dashed down and crashed on the ground".
According to his obituary:
Gerald Gosset-Bibby was the only son of the Rev. A. G. Gosset-Bibby, late headmaster of Kimbolton Grammar School, and Mrs. Gosset-Bibby, of 11, St. Augustine Road, Bedford. Born in 1897, he was educated at Wells House School, Malvern Wells, and Oundle, where he was in the Officers Training Corps.  In the first year of the war he enlisted in the R.F.C., and was an observer during the advance on the Somme in July 1916. For distinguished service in the field he was granted a commission in the R.F.C., and returned to England to train as a pilot.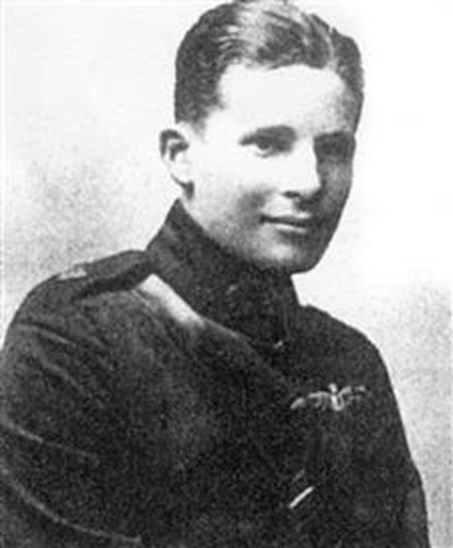 Above: Gerald Maurice Gosset-Bibby
Gosset-Bibby's aeroplane, from 16 Squadron, crashed near the Canadian trenches and the bodies of Gosset-Bibby and Brichta were recovered. Both men are buried at Barlin Communal Cemetery Extension in adjoining graves I.J.53 and I.J.54.
Arthur Pearson
Just three days later, on 9 March, von Richthofen claimed his twenty-fifth victim when, flying an Albatros D.III, he shot down the DH2 of Lieutenant Arthur Pearson.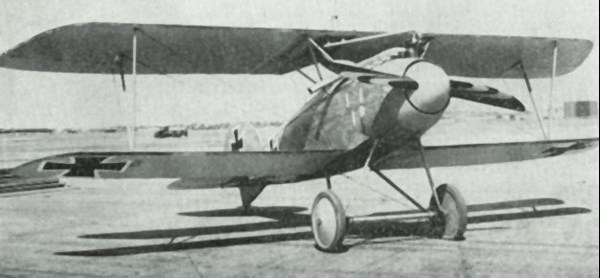 Above: The Albatros D.III was first flown by the German air service in December 1916, and was immediately noted for its great manoeuvrability and excellent rate of climb, but it soon began experiencing failures in its wings. On 24 January von Richthofen suffered a crack in the lower wing of his new D.III. This resulted in an order grounding all of these aircraft until the problem was rectified.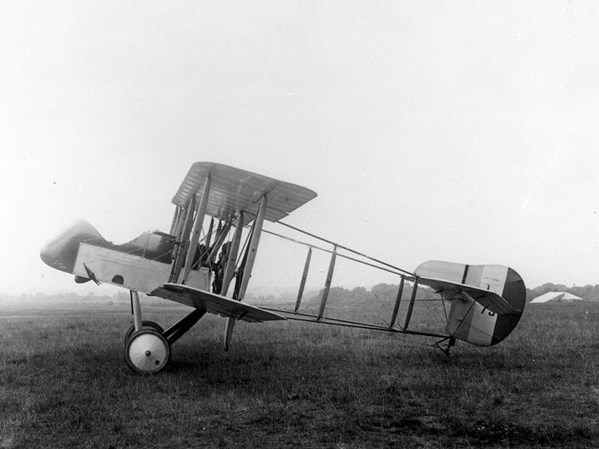 The D.H.2 initially had a high accident rate, gaining the nickname "The Spinning Incinerator" but it was recognised as highly manoeuvrable and, with adequate training, was easy to fly. The arrival of more powerful German fighters from September 1916 meant that the DH.2 was outclassed by the end of that year, but it remained in first line service in France until June 1917.
Arthur John Pearson was born in July 1887 in Steeple Claydon. He was the son of Charles and Esther Pearson. They were a prosperous family, being coal and iron agents, and were able to give Arthur a good education, firstly at The Royal Latin School and later at the City and Guilds Institute. He was employed by the Western Electric Company as a telephone engineer, installing telephone exchanges in China, South Africa, Australia and Belgium. At the outbreak of the war, Arthur enlisted as a private in Royal Fusiliers but was later commissioned as Second Lieutenant in the Northamptonshire Regiment. After transferring to the Machine Gun Corps in 1916, Arthur was awarded the Military Cross, the citation of which reads:
For conspicuous gallantry during operations. When held up by the enemy's fire after an advance through heavy fire, he established himself in a shell hole and held on for five hours. He then withdrew, bringing back his gun and a wounded man.
In 1916 he again transferred, this time to Royal Flying Corps and trained as a pilot at the Central Flying School in Upavon. After completing his training, he joined 29 Squadron in December 1916, and it was with this unit that he was shot down by von Richthofen. Unfortunately Arthur Pearson has no known grave and is therefore commemorated at the Arras Flying Services Memorial.
On 11 March, von Richthofen was again in combat, bringing down yet another B.E.2, this time flown by 2/Lt James Smyth and 2/Lt Edward Byrne. Both men are buried in Cabaret-Rouge British Cemetery in graves XII.E.8 and XII.E.9. (Possibly it is just coincidence, but they are buried very close to 2/Lt Herbert Green and 2/Lt Alexander Reid mentioned above.)

Cabaret-Rouge British Cemetery, Souchez.
Mid-March - further victims
The next of von Richthofen's victims were to fall on 17 March. At 11.30am, 2/Lt Arthur Boultbee and Air Mechanic 2nd Class Frederick King of No 25 Squadron RFC were flying a F.E. 2b when they were shot down near Oppy whilst on a photographic mission.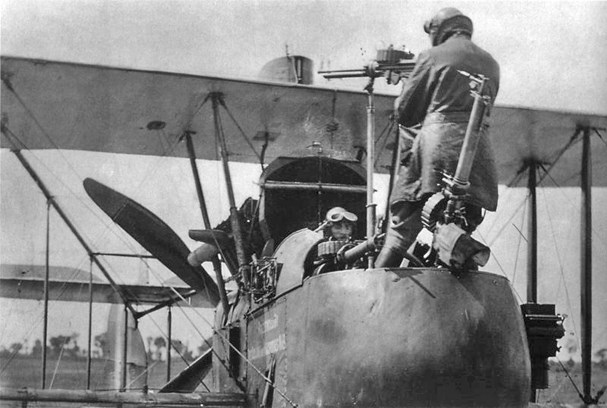 Lieutenant W C Cambray demonstrates the precarious stance required to use the rear-facing Lewis gun fitted to an FE 2d of No 20 Squadron, Royal Flying Corps at Ste Marie-Cappel. Imperial War Museum catalogue number Q 69650 
Arthur Boultbee was born in November 1897 at Colne, in Huntingdonshire, a son of the Reverend Frederick Boultbee and Henrietta Eleanor Boultbee. Arthur was educated at King's School, Ely, and at St John's School, Leatherhead, Surrey. He then went to St Catherine's College, Cambridge where he joined the Cambridge University Officer Training Corps. He was commissioned into the Northamptonshire Regiment in December 1915 but transferred to the Royal Flying Corps during 1916.

Arthur who was aged 19 is buried alongside his observer, the 22 year old Frederick King in Canadian Cemetery No. 2 at Neuville St.-Vaast.

This was not the end of the Red Baron's activities on this day. By 5pm, von Richthofen was bringing down his 28th aircraft, a B.E.2 time flown by 2/Lt George MacDonald Watt and Sjt Ernest Howlett.  Watt and Howlett, who were members of 16 Squadron RFC, are buried in adjoining graves in Bruay Communal Cemetery Extension.

Yet another B.E.2 was to fall to von Richthofen four days later on 21 March, when pilot Flight Serjeant Sidney Quicke and observer 2/Lt William Lidsey were brought down whilst on an artillery observation mission. For the third time this month, this was a 16 Squadron aeroplane. Flight Serjeant Quicke was killed in action, while 2/Lt Lidsey died of wounds the following day.
Sidney Quicke is buried in Bruay Communal Cemetery Extension and William Lidsey is buried at Aubigny Communal Cemetery Extension.
On 24 March, von Richthofen claimed his 30th victim when he shot down Lieutenant Richard Baker who was flying a SPAD VII.
Above: The French designed and built SPAD VII was a rugged aircraft with good climbing and diving abilities - its was capable of  diving safely at up to 250 mph which was a great advantage that allowed its pilots to leave a dog fight with no fear of pursuit. The SPAD VII was also capable of absorbing more damage than its flimsier predecessors. A significant shortcoming, however, was that it only carried one machine gun when most German scouts had two. 
This was one of the relatively few occasions, up to this point in the war, when von Richthofen shot down an aircraft of higher performance than his own. (Before he shot down this SPAD, 21 of his 29 earlier victories had been against versions of the B.E.2 or F.E.2b.)
Richard Barker could count himself lucky; he was wounded and made prisoner but survived the war, living until 1966. Even more fortunate was the last of the Red Baron's victims from March 1917. Lieutenant Christopher Gilbert, flying a Nieuport 17 was shot down on 25 March, and was lucky enough not to be injured, although he did spend the rest of the war as a prisoner. He lived until 1973.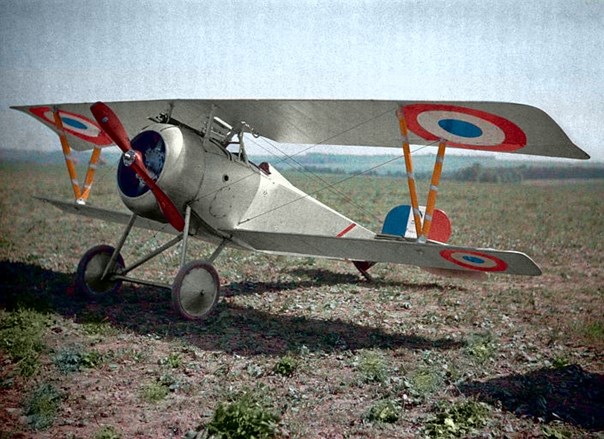 The Nieuport 17 had a good rate of climb and manoeuvrability but its lower wing was weak resulting in it having a tendency to disintegrate in high speed dives. By early 1917, the Nieuport was outclassed by the latest German scouts. Many Allied air aces flew Nieuport scouts, including Albert Ball, V.C. and the Canadian ace 'Billy' Bishop, V.C.
March proved to be a very successful month for von Richthofen with ten aircraft brought down, but it was to become far worse for the British during April. In this month (known as 'Bloody April') the number of losses suffered by the RFC were the highest of the war, the British lost 245 aircraft with 211 aircrew killed or missing. The average life expectancy of a new subaltern on the front line dropped to just eleven days. The Red Baron was to take full part in this; he was to shoot down 21 British aircraft in April 1917. It is incredible to think that just one pilot could bring down nearly 9 percent of British losses in April.
Manfred von Richthofen went on to claim an incredible total of 80 aircraft, all flown by British or commonwealth aviators. He was eventually shot down and killed on 21 April 1918 while flying over Morlancourt Ridge, near the River Somme. Although the credit for this was given to a Canadian pilot, Captain Roy Brown, controversy rages to this day as to who fired the fatal shot that brought the Red Baron down.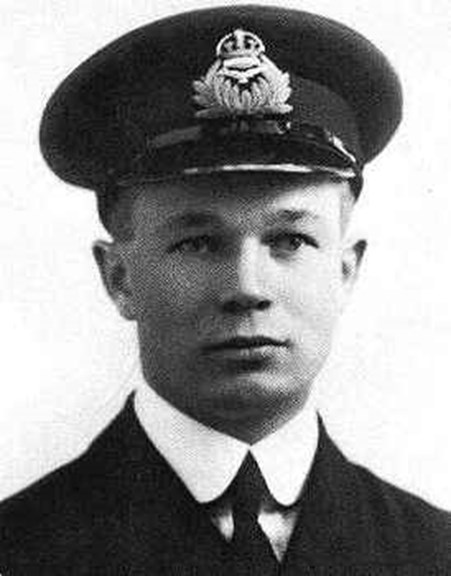 Above: Captain Arthur Roy Brown, DSC & Bar. Although credited with shooting down Manfred von Richthofen, there is considerable doubt that Captain Brown fired the fatal shots in 1918.
A full list of Manfred von Richthofen's victims is shown below, with links to the places of burial or commemoration for those who were killed.
Article by David Tattersfield
Further Reading:
Biggles' Last Flight: the flying career of Captain WE Johns
Further viewing: 
From the WFA's YouTube channel a talk given by Mike O'Neal "A recreation of Wings". Mike's presentation gives the fascinating inside stories behind a museum's creation of several flying replica World War I aircraft including a Fokker Dr I triplane, Sopwith Pup, and a SPAD XIII.
Complete list of von Richthofen's victims, in chronological order.
Note: the names of some are in dispute, and occasionally vary according to the source used.
| | | | |
| --- | --- | --- | --- |
| 1 | 17/9/16 | | |
| 2 | 23/9/16 | |   |
| 3 | 30/9/16 | | |
| 4 | 7/10/16 | |   |
| 5 | 16/10/16 | |   |
| 6 | 25/10/16 | Either 2/Lt W Wilcox (wounded and POW)or 2/Lt Arthur Fisher |   |
| 7 | 3/11/16 | | |
| 8 | 9/11/16 | |   |
| 9 | 20/11/16 | Lt. Thomas Clarke (POW) | 2/Lt. James Lees (POW) |
| 10 | 20/11/16 | | 2/Lt George Doughty (died of wounds) |
| 11 | 23/11/16 | |   |
| 12 | 11/12/16 | Lt Benedict Hunt (POW) |   |
| 13 | 20/12/16 | |   |
| 14 | 20/12/16 | | |
| 15 | 27/12/16 | Capt J B Quested (wounded) | Lt H J H Dicksee (unhurt) |
| 16 | 4/1/17 | |   |
| 17 | 23/1/17 | |   |
| 18 | 24/1/17 | Lt John MacLennan (Wounded and POW) | Capt Oscar Greig (Wounded and POW) |
| 19 | 2/2/17 | | |
| 20 | 14/2/17 | Lt Cyril Bennett (POW) | |
| 21 | 14/2/17 | Capt George Bailey (wounded) | 2/Lt George Hampton (unhurt) |
| 22 | 4/3/17 | Lt James Crosbee (unhurt) | Sjt John Prance (wounded) |
| 23 | 4/3/17 | | |
| 24 | 6/3/17 | | |
| 25 | 9/3/17 | |   |
| 26 | 11/3/17 | | |
| 27 | 17/3/17 | | |
| 28 | 17/3/17 | | |
| 29 | 21/3/17 | | 2/Lt William Lidsey (died of wounds) |
| 30 | 24/3/17 | Lt Richard Baker (wounded and POW) |   |
| 31 | 25/3/17 | Lt Christopher Gilbert (POW) |   |
| 32 | 2/4/17 | | |
| 33 | 2/4/17 | 2/Lt Algernon Warren (POW) | |
| 34 | 3/4/17 | 2/Lt Donald McDonald (POW) | |
| 35 | 5/4/17 | 2/Lt.Arthur Leckler (wounded and POW) | Lt Herbert George (died of wounds) |
| 36 | 5/4/17 | Lt Alfred Adams (POW) | Lt Donald Stewart (POW) |
| 37 | 7/4/17 | |   |
| 38 | 8/4/17 | Lt John Heagerty (POW) | |
| 39 | 8/4/17 | | |
| 40 | 11/4/17 | Lt Claude Derwin (wounded) | Gunner H. Pierson (wounded) |
| 41 | 13/4/17 | | |
| 42 | 13/4/17 | Sjt James Cunniffe (wounded) | Air Mechanic W. J. Batten (wounded) |
| 43 | 13/4/17 | | |
| 44 | 14/4/17 | Lt William Russell (POW) |   |
| 45 | 16/4/17 | 2/Lt.Alphonso Pascoe (wounded) | 2/Lt Frederick Andrews (died of wounds) |
| 46 | 22/4/17 | Lt Waldemar Franklin (wounded) | Lt William Fletcher (wounded) |
| 47 | 23/4/17 | | |
| 48 | 28/4/17 | | 2/Lt Frederick Kirkham (POW) |
| 49 | 29/4/17 | |   |
| 50 | 29/4/17 | | |
| 51 | 29/4/17 | | |
| 52 | 29/4/17 | |   |
| 53 | 18/6/17 | | |
| 54 | 23/6/17 | Lt Robert Farquhar (unhurt) |   |
| 55 | 24/6/17 | | |
| 56 | 25/6/17 | | |
| 57 | 2/7/17 | | |
| 58 | 16/8/17 | 2/Lt William Williams (died of wounds) |   |
| 59 | 26/8/17 | |   |
| 60 | 1/9/17 | Lt John Madge (wounded and POW) | |
| 61 | 3/9/17 | Lt Algernon Bird (Prisoner of War) |   |
| 62 | 23/11/17 | Lt James Boddy (wounded) |   |
| 63 | 30/11/17 | |   |
| 64 | 12/3/18 | 2/Lts Leonard Clutterbuck (POW) | 2/Lt Henry Sparks (POW) |
| 65 | 13/3/18 | Lt Elmer Heath (wounded and POW) |   |
| 66 | 18/3/18 | 2/Lt William Ivamy (Prisoner of War) |   |
| 67 | 24/3/18 | |   |
| 68 | 25/3/18 | |   |
| 69 | 26/3/18 | |   |
| 70 | 26/3/18 | | |
| 71 | 27/3/18 | Capt Thomas Sharpe (wounded and POW) |   |
| 72 | 27/3/18 | | |
| 73 | 27/3/18 | |   |
| 74 | 28/3/18 | | |
| 75 | 2/4/18 | | |
| 76 | 6/4/18 | |   |
| 77 | 7/4/18 | 2/Lt Albert Gallie (unhurt) |   |
| 78 | 7/4/18 | Lt Ronald Adams (wounded and POW) |   |
| 79 | 20/4/18 | |   |
| 80 | 20/4/18 | 2/Lt David Lewis (Prisoner of War) |   |