There are many ways that The Western Front Association's pension records can be used for research purposes. In this article, I wish to take a brief look at the 'other ranks' that became victims of Manfred von Richtofen - the Red Baron.
Probably more books have been written about von Richtofen than any other individual who served in the First World War. Even if members of the public have not heard about Sir Douglas Haig, many will know the name 'The Red Baron'. He has been credited with having shot down around 80 aeroplanes - all of them British or crewed by British (or Commonwealth) aviators.
The majority of these aircraft seem to have been flown by inexperienced crews (there are exceptions to this, for instance von Richtofen's eleventh success was against the vastly experienced Major Lanoe Hawker VC).
Of the 80 aircraft brought down, it seems that 84 men were killed (some of the aircraft he shot down are disputed, and some of the victims may have been shot down by other German aviators). Another 40 or so men escaped with their lives (although many became Prisoners of War).
Of those men that were killed, the vast majority - not surprisingly - were officers. However, thirteen of the fatalities were 'other ranks'. Can we use the WFA's Pension Records to find out more about these men? The answer is for all but one of them, yes we can !
The Red Baron's first victims were two officers (2/Lt Morris and Capt Rees) who were shot down and killed on 17 September 1916. Less than a week later, on 23 September, von Richtofen shot down his second victim, being Sgt Herbert Bellerby who, as part of 27 Squadron RFC was flying a Martinsyde Elephant. The squadron's base was at Hedin, west of Arras.
As can be seen from the pension card, Bellerby was detailed as 'missing' and his mother, who lived at 25 Warren Road, Chingford, claimed a pension.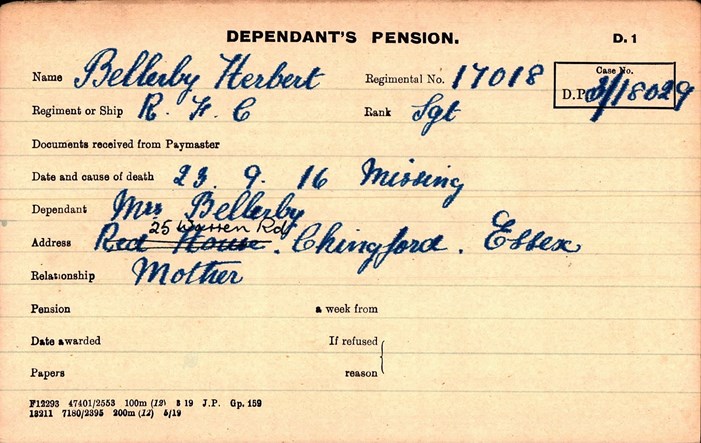 The Red Baron's third victim fell a week later. Lt EC Lansdale and Sgt Albert Clarkson were flying a FE2b from 11 Squadron (as an escort to a bombing mission carried out by 12 and 13 Squadrons on a German airfield) when they were shot down in flames by von Richtofen. Clarkson was quite experienced as a gunner - having been credited with three victories.
The Pension card for Clarkson is quite detailed, and refers to a ledger (3/D/6769) which is also shown below. Clarkson his buried at Bancourt Communal Cemetery, alongside his pilot, Lt Ernest Lansdale.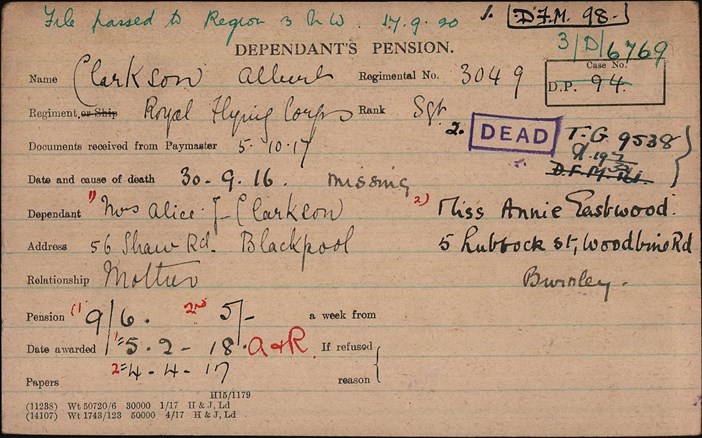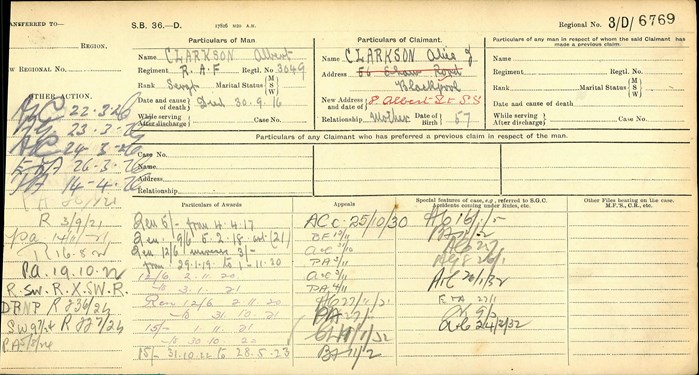 Three more victories followed for the Red Baron in October, and on 3 November he claimed his seventh victim - and another FE2b - this time flown by Sgt Cuthbert Baldwin as pilot and with him 2/Lt George Bentham as a gunner.
From Baldwin's pension card, we can immediately see that his mother emigrated to Canada at some stage after her son's death.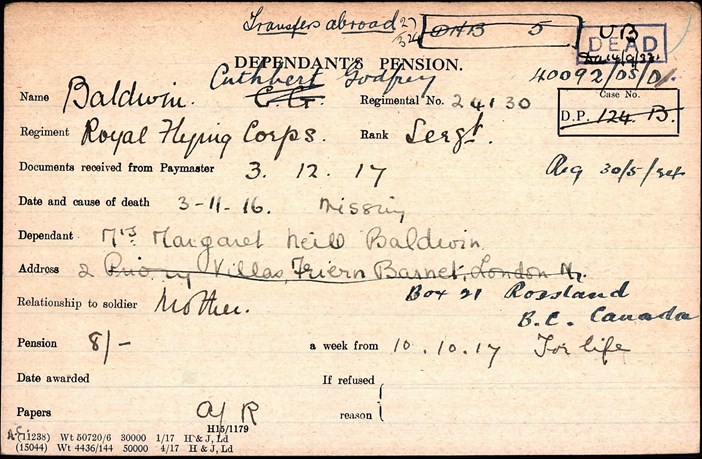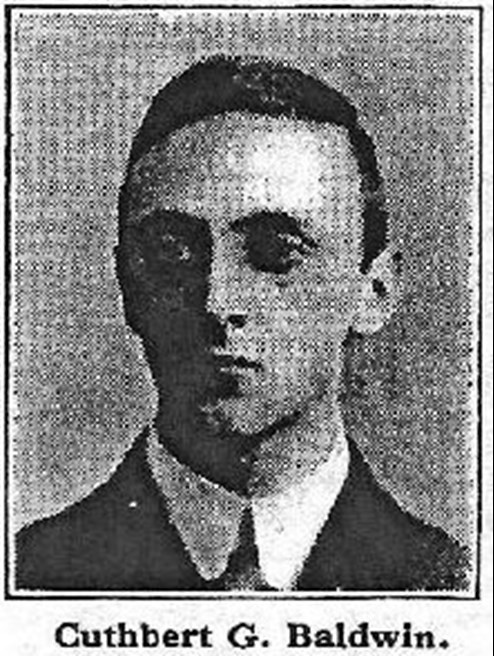 It is now necessary to jump forward four months to March 1917. In the intervening period, von Richtofen had rapidly increased his tally, and had (by the end of February) shot down 21 aircraft.
In March of that year, he was to increase his trophy cabinet (he was in the habit of awarding himself a silver cup for each aircraft he brought down) by ten.
His 27th victim (brought down on 17 March) was another FE2b piloted by Lt Arthur Boultbee with Air Mechanic 2nd class Frederick King as his gunner. The action took place over Oppy, near Arras. King's Pension Record, below, shows his mother seemingly ran the Blue Bell pub at Deeping St. Nicholas. Pilot and observer are buried side by side at Canadian Cemetery No 2, Neuville-St. Vaast.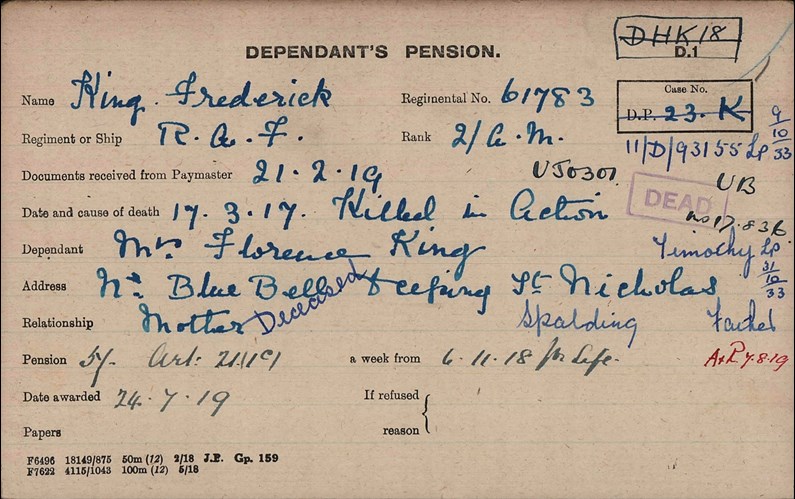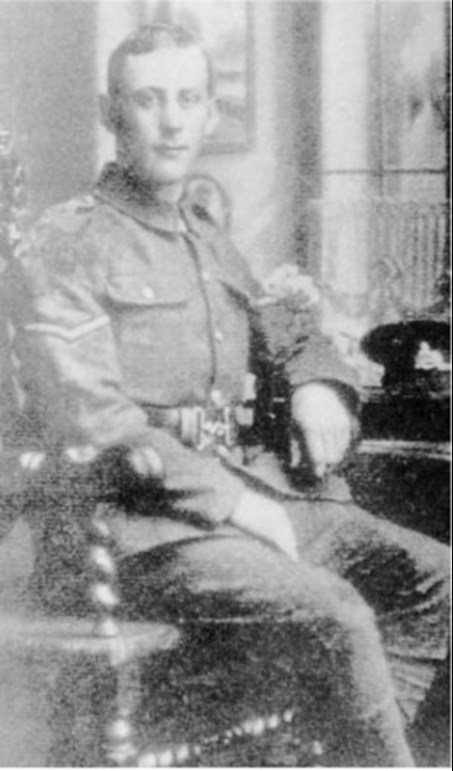 Above: Frederick King
On the same day, in the same general area, but this time nearer to Vimy, the Red Baron brought down his 28th aircraft, this time a slow moving BE2g. The pilot (Lt George Watt) and the observer (Sgt Ernest Howlett) were both killed. They are buried - again side by side - at Bruay Communal Cemetery Extension.
On this occasion we have a pension - claimed by Howlett's mother - being refused by the Ministry of Pensions.  Again we have the exact address provided on the card, being 39 Amersham Road, New Cross. The ledger relating to this unsuccessful pension claim is also shown below.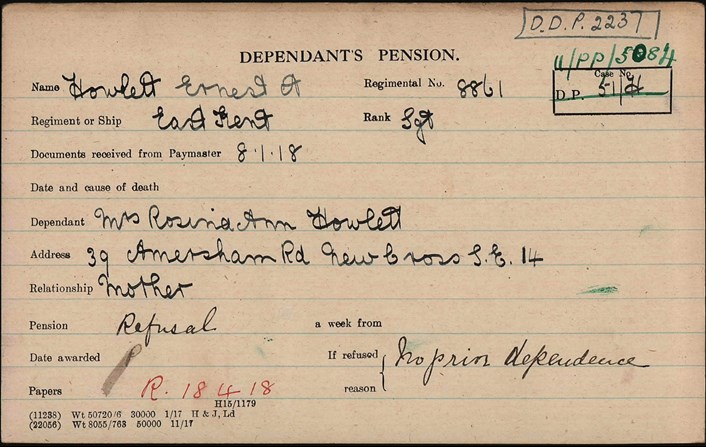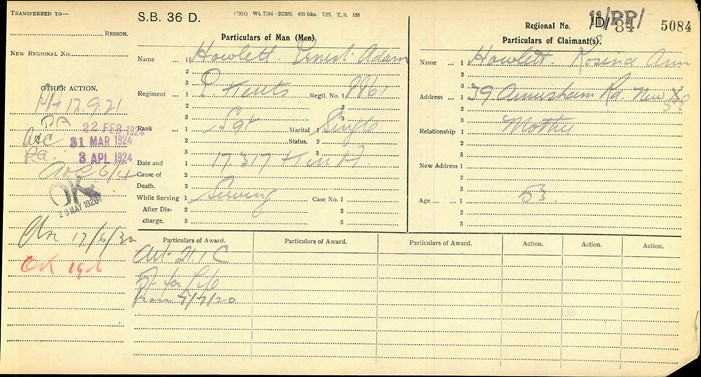 Just four days later, von Richtofen brought down his 29th victim. This time a BE2e - a variant of the type flown by Watt and Howlett, this was piloted by an NCO - F/Sgt Sidney Quicke with an officer - 2/Lt William Lidsey as his observer.
An extract from von Richtofen's combat report explains what happened.
Message came through that enemy planes had been seen at 1,000 metres altitude in spite of bad weather and strong east wind. I went up by myself intending to bring down an infantry or artillery flyer....After one hour I spotted at 800 metres a large number of artillery flyers beyond the lines. They sometimes approached our front, but never passed it. After several vain attempts I managed, half hidden by clouds, to take one of these BEs by surprise and to attack him at 600 metres, one kilometre beyond our lines.
The adversary made the mistake of flying in a straight line when he tried to evade me, and thus he was just a wink too long in my fire (500 shots). Suddenly he made two uncontrolled curves and dashed, smoking, into the ground. The plane was completely ruined; it fell in section F.3
The aircraft crashed behind British lines. Quicke was found to be dead but Lidsey - although badly wounded - was still alive. He passed away the following day. Quicke is buried at Bruay Communal Cemetery Extension, whilst 2/Lt Lidsey is at Aubigny Communal Cemetery Extension.
Sidney Quicke's mother was awarded a pension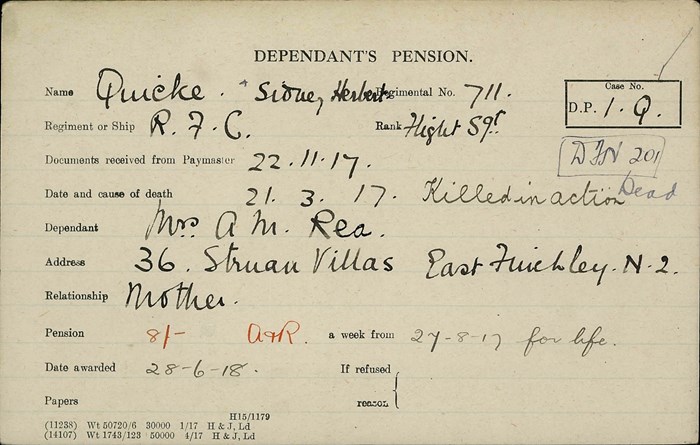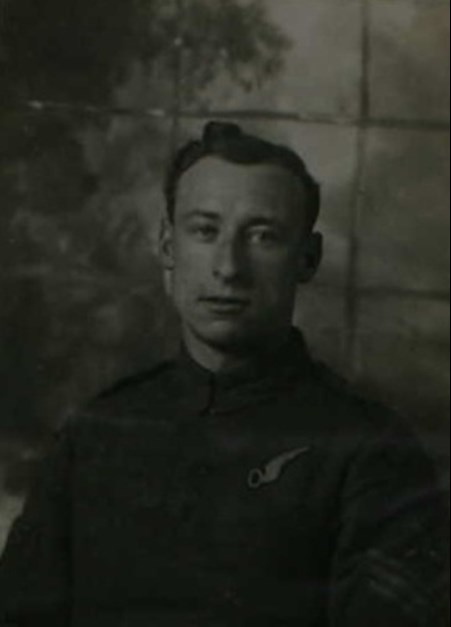 Above: Sidney Quicke
If March was to be bad for the RFC, April was to be much worse. Later dubbed 'bloody April', losses among aircrew increased dramatically. Not surprisingly the Red Baron was in the thick of it. On 2 April he show down his 32nd aircraft, a BE2d. The pilot was Lt Patrick Powell, with 1st class Air Mechanic Percy Bonner as his observer.
The report from von Richtofen tells us at least part of the story:
After a long fight I managed to force adversary nearly to the ground, but without putting him out of action. the strong and gusty wind had driven the enemy plane over our lines. my adversary tried to escape by jumping over trees and other objects. Then I forced him to land in the village of Farbus where the machine was smashed against a house. The observer kept shooting until the machine hit the ground.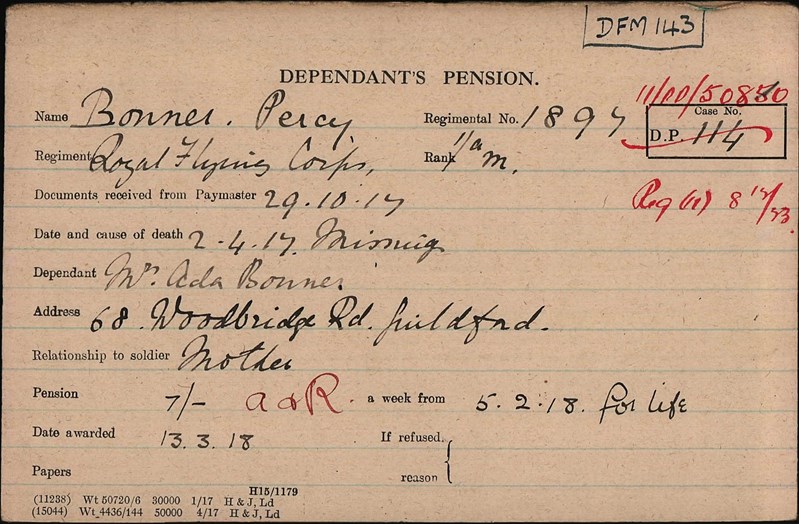 Within just three hours von Richtofen claimed his 33rd victim, this time a Sopwith 1 1/2 Strutter. On this occasion the pilot (2/Lt Algernon Warren) survived - being taken prisoner, but the observer, Sgt Reuel Dunn was killed.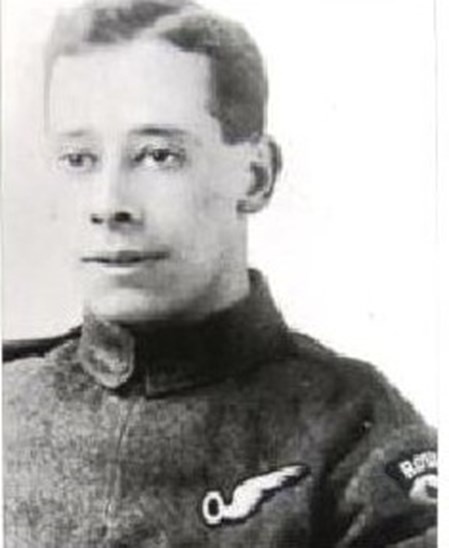 Above: Sgt Reuel Dunn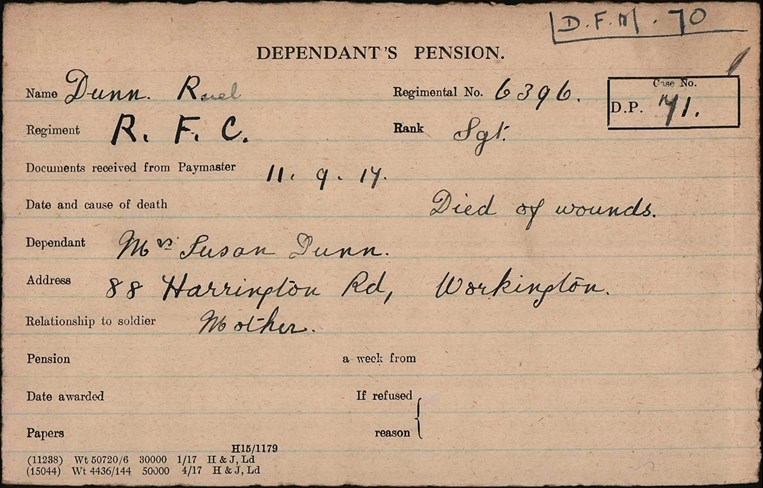 Although the Pension Card doesn't give a date of death, we see on this the phrase 'died of wounds'. Sergeant Dunn is buried at Cabaret Rouge Cemetery at Souchez.
The 13th April was to be one of the Red Baron's most successful days in the air, with three aircraft brought down on this day. The third of these on this day was his 43rd victory, with 2/Lt Bates and Sgt William Barnes falling to his guns. On this occasion, no pension card can be found for Barnes. Both men are buried in a CWGC plot in the communal cemetery at Noyelles-Godault.
Ten days later 2/Lt Eric Welch and Sgt Amos Tollervey were flying a BE2f, they were on a photographic reconnaissance mission but shot down over Mericourt. It is recounted that Tollervey should have been on leave but had allowed a comrade to go home so to be at the birth of a child. That such an act of kindness be rewarded in such a way is particularly poignant.  The two airmen are buried side by side at Petit Vimy British Cemetery.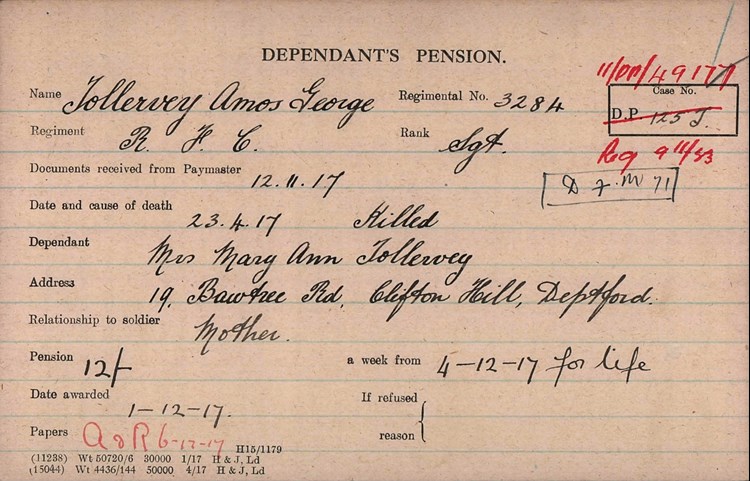 The single most successful day for Manfred von Richtofen was 29 April 1917. On this day he shot down no fewer than four aircraft, the second victim on this day being his 50th victory of the war so far. Sgt George Stead and Cpl Alfred Beebee were the NCO crew of a FE2b - a type that was obsolete but still acting as escort fighters for other aircraft on photographic duties.
Stead - aged 19 was married (and as can be seen from his pension card) had just become a father eight weeks previously. Beebee was even younger, enlisting under-age. From the pension records we can see the different types of card here, with Stead's referring to his young son and widow, with Beebee's detailing his mother's address.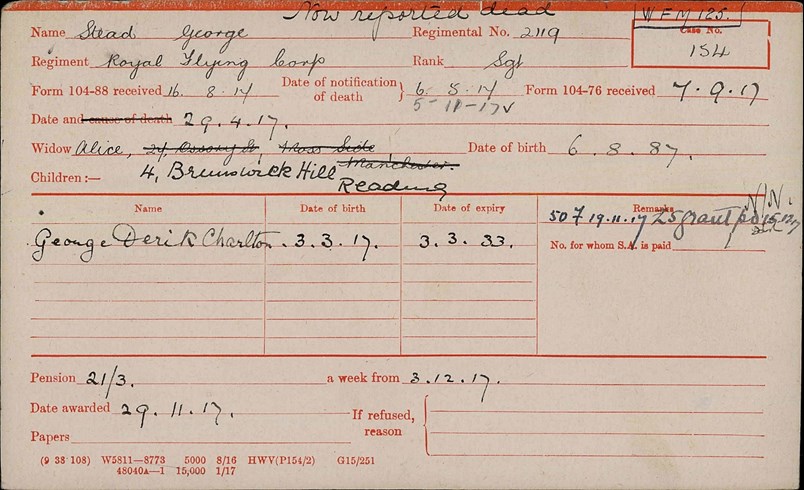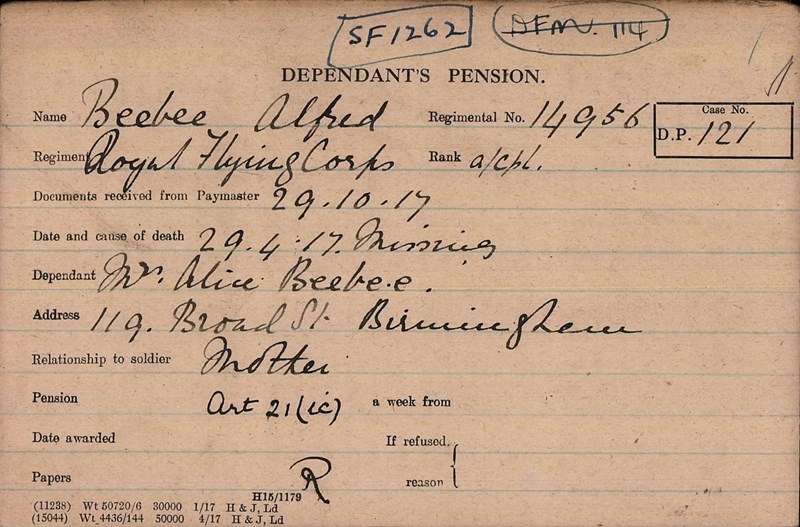 The final NCO victim of the Red Baron was Sgt Hubert Whatley, who was piloting a RE8 (nicknamed 'Harry Tate' by its crews) bomber. His gunner was 2/Lt Frank Pascoe. They were killed on 2 July 1917 near Deulemont on the French/Belgian border. This crew were his 57th victim.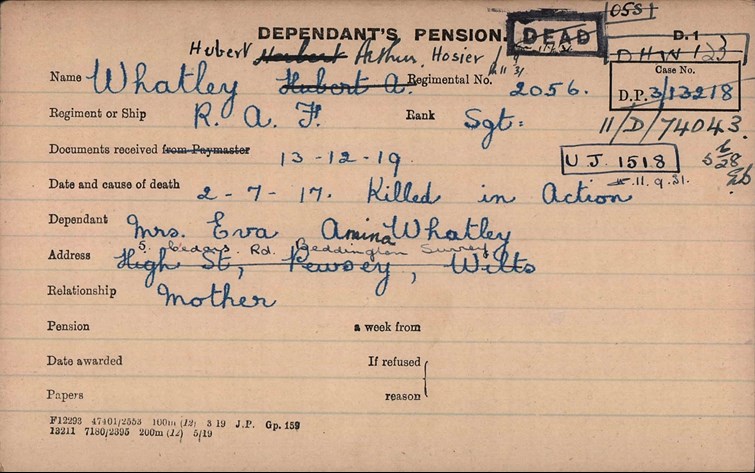 Using the WFA's Pension Records has been able to open up a few new lines of enquiry, even though these men are well documented in numerous books on the subject. 
David Tattersfield, Vice Chairman, The Western Front Association