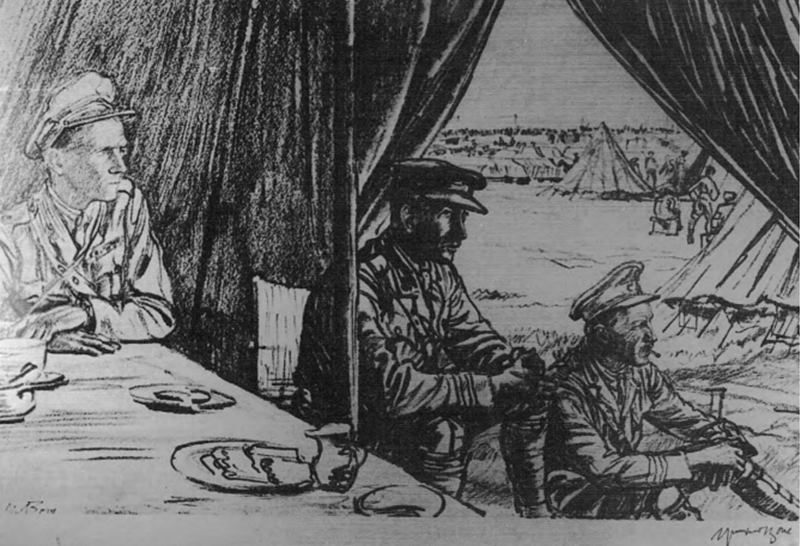 The late David Cohen made a huge contribution to The Western Front Association during his lifetime. He had a professional interest in the gallery he established 'David Cohen Fine Art' in 1984 featuring the work of artists and illustrators of the First World War, commemorative ware and ephemera.
David Cohen was closed involved in the affairs of The WFA early on becoming the Deputy Chairman in 1985  [Stand To 14 Summer 1985] and Chairman of The WFA in 1987. [Stand To 19 Summer 1987] retiring as Chairman two years later. [Stand To 27 Winter 1989].
His articles 'War Art' featured in every issue of Stand To! From 1988 to 2016, writing with his wife Judith Cohen from 2009. In addition he contributed book reviews on sculptors Eric Kennington and Charles Sargeant Jagger. He wrote 69 articles, in later years working with his wife. 
Find David Cohen's Articles as part of the 'War Art' series in Stand To! here: 
'Night Scene' painted in 1916 by Veteran Member Mr E G Williams [Stand To 24 Winter 1988]

Eric Kennington by David Cohen [Stand To 35 Summer 1992]

'How Todger Jones Won the VC' by Stanley L Wood [Stand To 41 Summer 1994]

'The Soup March' by Robert Walker [Stand To 42 January 1995]

'Waiting for the Wounded' by Sir David Muirhead Bone (1876-1953) [Stand To 43 April 1995] 
'The Care of the Wounded Horses in Northern France' by Fortunino Matania

[Stand To 44 September 1995] 

'The Spirit of the Regiment' by Colonel Henry Bathurst Vaughan [Stand To 45 January 1996]

'Farrier at Forge' by Eric Henri Kennington R.A [Stand To 46 April 1996]

Punch Cartoon dated 17 March 1915 by George Belcher R.A. [Stand To 47 September 1996]

'Artillery on the Dunes - Flanders 1915' by Adrian Jones [Stand To 48 January 1997]

Jean Berne-Bellecour b. 1874 [Stand To 49 April 1997]

William Cecil Dunford, FRSA, RDS (1885-1969) [Stand To 50 September 1997]

Wind Up by Lieutenant Ernest Stafford Carlos (1883-1917) [Stand To 51 January 1998]

Plugstreet Observation Post on the St.Yves Ridge May 1916 by Lieutenant Richard Barrett Talbot Kelly MC [Stand To 52 April 1998]

Australian Artillery Gun Team, France 1918 by Lieutenant Harold Septimus Power (1879-1957) [Stand To 53 September 1998]

Tank Battle on the Somme by Captain Bryan De Grineau, 1883-1957 [Stand To 54 January 1999]

'Gallipoli - The Welsh Casualty Clearing Dressing Station' by Norman Wilkinson CBE PRI  ROI (1878-1971) [Stand To 55 April 1999]

Ernest Procter (1886-1935) 'Verdun and Advanced Dressing Station on the heights behind the town' [Stand To 56 September 1999]

Stirrup Charge by Countess Feodora Gleichen, RA (1861-1922) [Stand To 57 January 2000]

George James Charlton [Stand To 58 April 2000]

Balliol Salmon (1868-1953) [Stand To 59 September 2000]

G20333 Lance Corporal Harold Earnshaw 8th (Pioneer) Battalion, Royal Sussex Regiment (1886-1937) [Stand To 60 January 2001]

92100 Sergeant E Claude Rowberry MM 4th Battalion D 

Squadron Tank Corps (1896-1962) by David Cohen [Stand To 62 September 2001]

Gunner F J Mears, Royal Garrison Artillery [Stand To 63 January  2002]

Florence Kate Upton (1873-1922) [Stand To 65  September 2002]

1914-1919 by Deborah Cohen [Stand To 65  September 2002]

Portrait of Major Oliver Stewart, MC, AFC by Reginald George Jennings (1872-1930) [Stand To 66  January 2003]

Silhouettes by David Cohen [Stand To 67 April 2003]

Worcestershire Regiment by David Cohen [Stand To 67 April 2003]

Captain Charles Sargeant Jagger, MC, ARA (1885-1934) 13th Battalion [Stand To 68 September 2003]

Joyce Dennys 1893-1991 [Stand To 69 January 2004]

Two French Artists: Pierre Comba (1895-1934) and Raymond Desvarreux (1876-1961) [Stand To 70 April 2004]

Will Dyson (1880-1938) [Stand To 71 September 2004]

Lance Corporal William Fyffe by David Cohen [Stand To 72 January 2005]

Major John Empson Tindall, MC (Part I)  [Stand To 73 April 2005]

Major John Empson Tindall, MC (Part II) [Stand To 74 September 2005]

Major John Empson Tindall MC (Part III) [Stand To 75 January 2006]

Major John Empson Tindall, MC (Part IV) [Stand To 76 April 2006]

Jean-Jacques Berne-Bellecour (1874-1939) [Stand To 77 September 2006]

Sculpture of the Great War : Sir Jacob Epstein [Stand To 78 January 2007]

Fortunino Matania

(quoting Clement K Shorter) [Stand To 79 April 2007] 

Fortunino Matania

(Part II) [Stand To 80 September 2007] 

Christopher RIchard Wynne Nevison (1889-1946) [Stand To 81 January 2008] 

Charles Gilbert Holiday [Stand To 82 April/May 2008] 

Lieutenant James Whale 2nd/7th Worcester Regiment [Stand To 83 August / September 2008] 

Ludovic-Rodolphe Pissarro (1878-1952) [Stand To 84 December 2008 / January 2009]  

Percy John Delf Smith (12 March 1882 - 30 October 1948) (Stand To 86 August/September 2009)

[Issues 48 onwards with Judith Cohen]

386202, Acting Sergeant Herbert Gibson MM, 1st Northumbrian Field Ambulance, Royal Army Corps (Stand To 87 December 2009/January 2010) 

Charles Johnson Payne 'Snaffles' (1884-1967) (Stand To 88 April/May 2010)

Captain Lester Howard Sacré, Essex Regiment, Aide-de-Camp to the Adjutant General, British Armies in France (1916-1917), Lieutenant-General Sir G H Fowke, KCB, KCMG (Stand To 89 August/September 2010)

Art of the Great War - Some Examples from the German Side (Stand To 90 December 2010/January 2011) 

Lieutenant L. Van den Bergh (Stand To 91  April/May 2011)

The Tank As Art: (Stand To 92 August/September 2011) 

Walter Percival Starmer (1877-1961) (Stand To 93 December 2011/ January 2012) 

Private William Harold Hutchings (1885-1962) 2nd/1st West Lancashire Field Ambulance, 55th Division BEF (Stand To 94 May 2012) 

74559 Corporal William Briggs Twibell (1893-1968) (Stand To 95 September 2012)

760345 Acting Sergeant Ernest Blaikley, MSM, MBE 2/28 County of London Battalion - Artists' Rifles (1885-1965) (Stand To 96 January 2013)

Second Lieutenant Bertram Warner, Second Lieutenant Archibald Warner and Sergeant Evan Warne (Stand To 97 May 2013) 

313870 Gunner Vivian John Cummings, 3rd Canadian Expeditionary Force (Stand To 98 September 2013) 

A 1/10 Scale Model of a First World War British 60-Pounder Breech Loading Mark I Field Gun, built by the Elswick Ordnance Company (Stand To 99 January 2014) 

CSM Major Alexander Gibb, 2nd Battalion Argyll & Sutherland Highlanders (Stand To 100 June 2014 Centenary Edition) 

Private Eric Henri Kennington, RA (Stand To 101 September 2014) 

Erna Plachte (1893–1986) (Stand To 102 January 2015) 

Jean–Jacques Berne–Bellecour (Stand To! 103 May 2015) 

The Battle of Loos (Stand To 104 September 2015 Special Edition) 

Second Lieutenant William Hugh Duncan Arthur (Stand To 105 January 2016) 

Lieutenant Richard Barrett Talbot Kelly, MBE, MC, RI 52 Brigade – Royal Field Artillery (1896–1971) (Stand To 106 July 2016 Special Edition) 

Second Lieutenant Thomas Ivester Lloyd (1873–1942) Royal Field Artillery

(Stand To 107 October 2016) 
Find David Cohen's Book Reviews here: 
No Man's Land: A postwar sketch book

by George Pratt (reviewed by David Cohen) [Stand To 38 Summer 1993]

The Sculpture of Charles Sargeant Jagger by Ann Compton

(Reviewed by David Cohen) 

The Sculpture of Eric Kennington by Jonathan Black

(Reviewed by David Cohen) 

Stanley Spencer: Journey to Burghclere by Paul Gough

[reviewed by David Cohen]