In the years leading up to the First World War, one of the most famous sportsmen of the Edwardian era was Anthony (Tony) Wilding. An excellent all-round sportsman, Wilding had been born in New Zealand but returned to England in 1902 (from where his parents had emigrated) in order to study with the intention of making a career in the law.
He visited Wimbledon for the first time in 1903 as a nineteen year-old spectator, but was back the next year as a competitor, being defeated in the 2nd round. He managed to balance his studies at Cambridge University with his increasingly successful tennis career, and graduated from the university in 1905; he also made it to the quarter finals at Wimbledon in that year.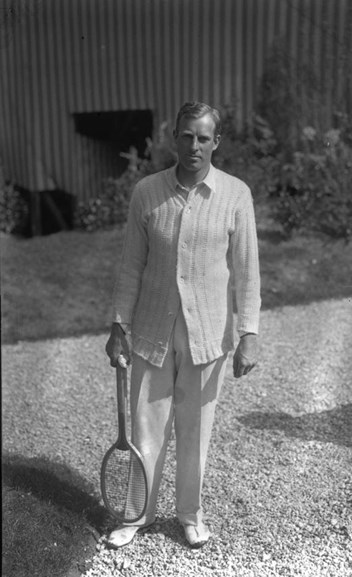 Above: Tony Wilding. Image courtesy of www.heralddeparis.com
Wilding was becoming well known and although he had intended to return to New Zealand to join his father's law firm, the glamour of the tennis circuit could not be easily put to one side and he pursed this avenue, travelling, often by motorbike, to tournaments all over Europe, but in particular in France, winning the Riviera Championship in 1906. (In this year he took part in thirty tournaments and reached the semi-finals at Wimbledon).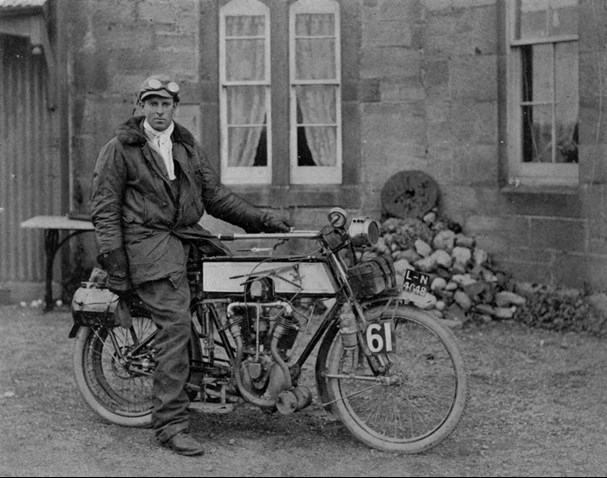 Above: Wilding about to embark on a Land's End to John O'Groats trial in 1908. He won a gold medal.   
The actor Gerald du Maurier described Wilding's personality:
"Anthony Wilding was once of the most attractive men it has been my good fortune to meet.  He was so healthy, clean-minded; it braced one to talk with him..."
AW Myers, Captain Anthony Wilding (London: Hodder and Stoughton, 1916)
One of his closest friends was fellow tennis player Craig Biddle, from Philadelphia, who said this of Tony:
" I knew him well and loved him. He was a big character, a strong one [Wilding] said what he thought usually ; never sulked, or got peevish over small things (as so many of us do at times), and he had the soundest, well-balanced mind I have been in contact with. His reasons for what he did were always pretty rational, when one thought them over. His straightforwardness, and, I might say, boldness, got him usually what he wanted. We were in rooms connecting with each other in my little house at Cannes for four months or more and under such conditions one's character shows up.
AW Myers, Captain Anthony Wilding (London: Hodder and Stoughton, 1916)
Further success followed his Wimbledon semi-final appearance and he participated in dozens of tournaments at this time, winning many. He again reached the quarter finals at Wimbledon in 1908 ...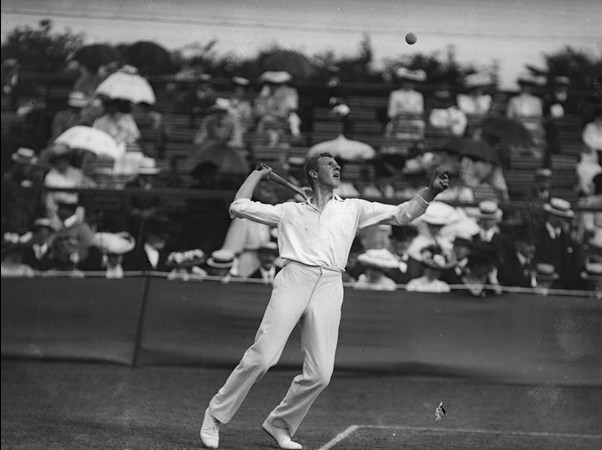 Above: July 1908, Anthony Wilding of New Zealand in action during the tennis championships at Wimbledon
....and in 1910 won the men's singles for the first time. He went on to dominate the event for the next three years, beating Maurice McLoughlin of the USA in 1913.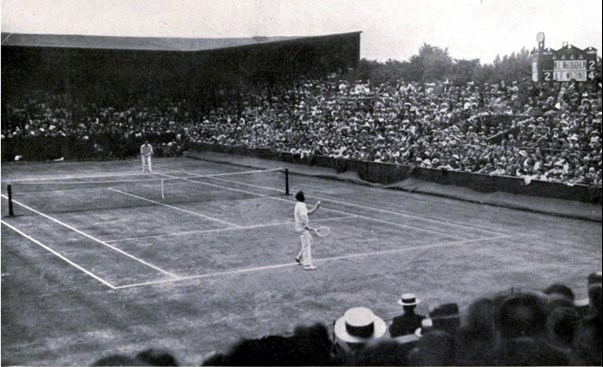 Above: The Wimbledon final 1913, Wilding (far side) vs McLoughlin. Wilding won 8–6, 6–3, 10–8
Magazines show him with such figures as the daughters of Grand Duke Michael and the Prime Minister's daughter, Elizabeth Asquith.  He became friends with the politician Arthur Balfour, offering him coaching tips and partnering him in doubles matches. No doubt to the disappointment of his many female fans, he became engaged to the glamorous silent film star, Maxine Elliott who was 15 years older than Tony.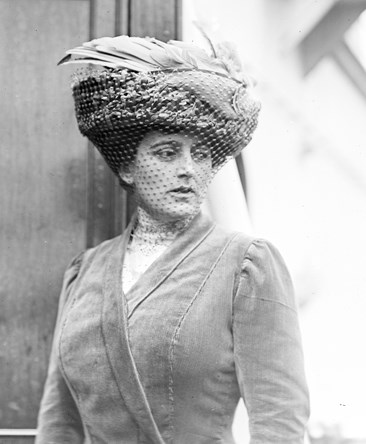 Maxine Elliott. Image courtesy of the Library of Congress
There was to be no Wimbledon victory in 1914, in this year he lost in the final to Australian Norman Brookes but had, earlier in the year, taken part in and won the Riviera Championship. As a memento of this win, his friend Craig Biddle had presented him with a gold cigarette case (this despite Wilding being a non-smoker).
War Breaks Out
Being an enthusiastic motorist, on the outbreak of war (after talking to Winston Churchill) Tony volunteered his services when the Royal Navy appealed for "fifty gentlemen...to bring their own cars and place them at the disposal of the Admiralty". Many of these were despatched to Dunkirk in the opening weeks of the conflict. It seems, however, that Wilding went to France a little later, being attached to headquarters due to his knowledge of the continent (this from his numerous journeys over Europe with his cars motorbikes) and his skill as a driver.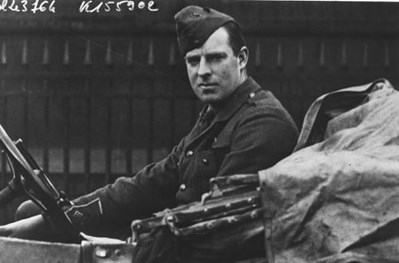 Above: Wilding in uniform, possibly behind the wheel of one of the cars he drove around Northern France in the early months of the war. Image courtesy of Bibliothèque nationale de France
Wilding described his adventures in a letter home:
FRANCE, October 16, 1914. I go out about 5.30 a.m. and motor as near to the German lines and outposts as possible and report all information to head-quarters. I motor the senior intelligence officer, an awfully nice chap. I cannot tell you any news, as this letter is censored. There are hundreds of motors with machine-guns. Some also with armour, which buccaneer all over the country. We left a little town yesterday just before—ten minutes before—the Germans shelled it.
Extracted from AW Myers, Captain Anthony Wilding (London: Hodder and Stoughton, 1916), p.261
After a week's leave in March 1915 Wilding was transferred to the Armoured Car Division of the Royal Naval Air Service, shortly after this he was promoted to Captain.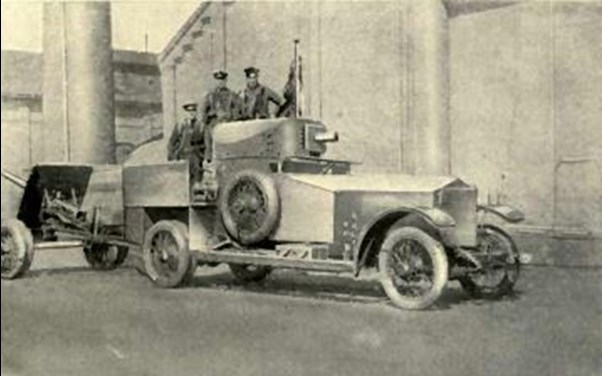 Image above, captioned "Dunkirk, April 1915". This shows the armoured car with a trailer attached. From AW Myers, Captain Anthony Wilding, p.272
On 12 April Tony and his junior officer, Lieutenant HC Woodward, RNVR, went down to the firing-line, about thirty miles away, with two wagons, each a 25-h.p. Seabrook, weighing about eight tons. They also had a powerful Mercedes the car belonging to his American friend, Craig Biddle.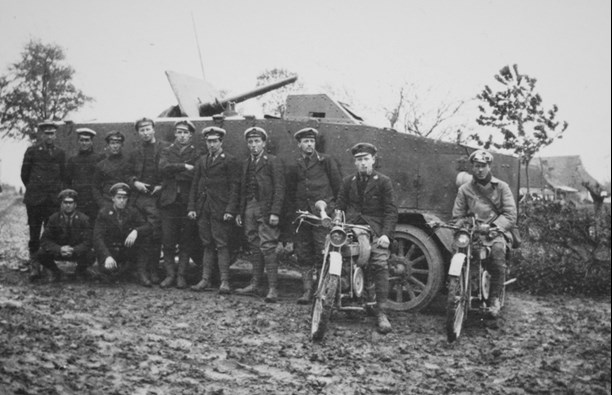 A group of men with what is believe to be a Seabrook truck.
A few weeks later, he was ordered to provide covering fire for the attack at Aubers Ridge, on 9 May.
"When Tony arrived at the trench to instruct the gun-layer as to the emplacement and his gun was to be exposed for four feet over the parapet he found the officer of the platoon in the immediate section to be none other than Lieutenant Milburn, of the 4th Suffolks, a well-known lawn tennis player and a personal friend. Milburn later reported: He was in splendid health...and seemed thoroughly pleased that at last he had been allowed to bring his gun right into the firing-line...." "...He had not troubled to put on the regulation breeches and puttees, but strolled up in 'slacks' and low shoes, looking for all the world as if he were about to pop down in his car to Wimbledon. All the time I was out at the front I never saw any other officer in any branch of the service who turned out, with the certainty of a very strenuous time in front of him, in such a casual manner."
Extracted from AW Myers, Captain Anthony Wilding (London: Hodder and Stoughton, 1916), pp.288-290
Another tennis friend, Lt Barnes, of the 4th Suffolks joked with Tony about his poor form when he had played in the final at Wimbledon.
Wilding's machine-gun crew opened fire at 4.50am and continued firing for over ten hours.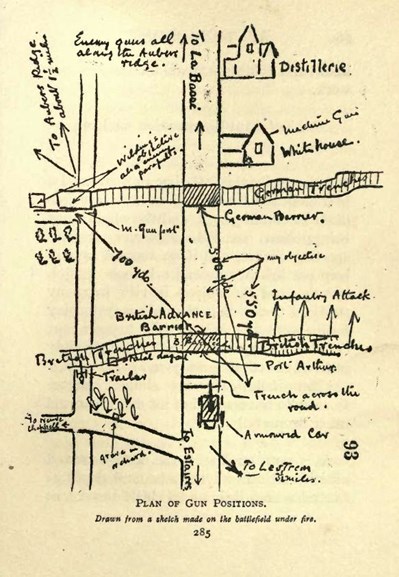 Image: A map showing the position of Wilding's Armoured Car on the 9 May. Note "Grave in Orchard" caption. From AW Myers, Captain Anthony Wilding, p.285. 
At 4.30pm, no doubt exhausted, he looked for a place to rest, and found a dug-out which, he was warned, was in an exposed position and dangerous. Ignoring the warning, he entered the dug-out. It is likely one of the occupants, Lieutenant Donald Pretty (again of the 4th Suffolks) could not believe his eyes, as Donald was a gifted tennis player, and to have the former Wimbledon Champion suddenly appear must have been a tremendous surprise.
At 4.45 there came a hearty burst of laughter from the dug-out. Immediately afterwards a heavy shell exploded on its roof. The catastrophe was complete. Aided by four men of the Suffolks, Chief Petty Officer Robbins dug through the debris. The bodies of two privates were taken out first; then Lieutenant Pretty, still breathing; finally, from a mass of iron, earth, and sandbags, all that remained of Captain Wilding. He had been killed instantly. His face was not damaged by the shell.
Lying intact amid the wreckage, blown out of his pocket, was a gold cigarette-case, a souvenir of Riviera lawn tennis triumphs in 1914, presented to Anthony by his friend and doubles partner, Craig Biddle.
Extracted from AW Myers, Captain Anthony Wilding, p.292
His death was reported back home in New Zealand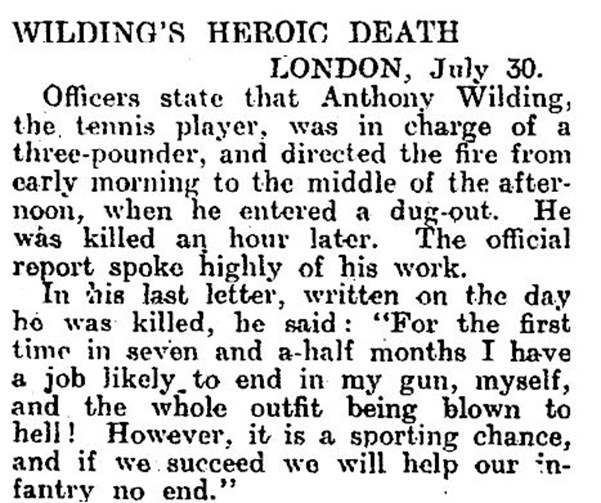 Poverty Bay Herald, Volume XLII, Issue 13750, 31 July 1915, Page 3 via Paperspast (National Library of New Zealand).
Reverently gathered together, Anthony's remains were quietly buried the next morning, with many another hero, in an orchard which lay at the back of the trenches. The shelling had ceased. It was a Riviera day, warm and sunny.
Extracted from AW Myers, Captain Anthony Wilding, p.293
A rough cross was made from packing-case wood and his name and rank inscribed on it. The orchard in which he was buried had already been used to bury at least two men, and was later used to bury a further twenty or so who were killed later in 1915. It was named Edgware Road Military Cemetery after a road running into Neuve-Chapelle village.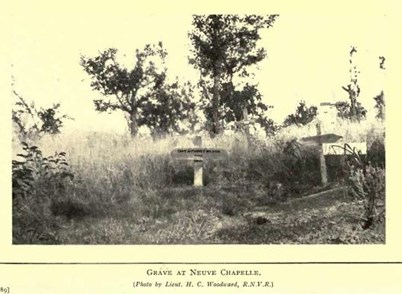 Image: AW Myers, Captain Anthony Wilding, p.289
The Area today
Many of the fatalities from the Battle of Aubers Ridge were buried in a number of cemeteries around the village of Richebourg l'Avoué. The Rue-Des-Berceaux Military Cemetery is the nearest permanent cemetery to these now long-disappeared original burial plots and contains 27 men originally buried in Edgware Road Cemetery
Tony Wildling's grave was, along with the other men, disinterred in February 1920 and was re-buried at Rue-Des-Berceaux Military Cemetery. A visit to Tony's grave would be most worthwhile, as the headstone is most significant. It is the very first commemoration to an officer or 'other rank' of the Royal Marines killed in France in the First World War. 
Lieutenant Pretty, who was badly injured did not survive long. He died two days later, and is buried a few miles away at Bethune Town Cemetery.
Also buried nearby are the two private soldiers of the Suffolk Regiment who were killed when the dug-out was hit. It is almost certain that the two Privates of the Suffolks who were killed were Private Herbert Taylor and Private Charles Weavers. Privates Taylor and Weavers are buried next to each other and very close to Tony at Rue-Des-Berceaux Military Cemetery.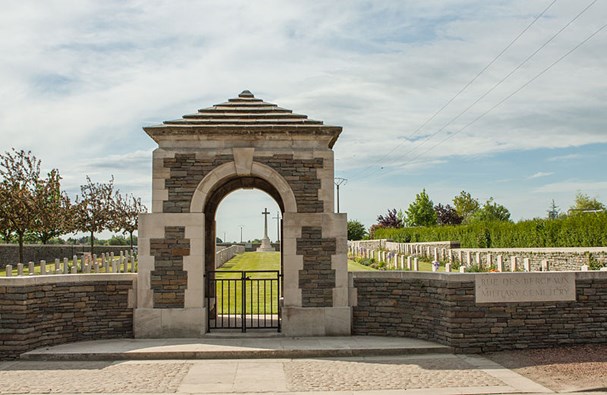 Above: Rue-Des-Berceaux Military Cemetery.
Further reading
To learn more about the Royal Automobile Club and the drivers who volunteered in 1914, click this link: Royal Automobile Club Volunteer Force 1914 
To learn more about the Battle of Aubers Ridge, click this link: Absolution at Aubers
To read more about another personality who was killed at Aubers, click this link: The Baron and the Barmaid 
To read more about a musical family at Aubers click this link: The Grimson family and WW1 
Article by David Tattersfield