At 6.25am on 13 August 1914, No.2 Squadron Royal Flying Corp mobilised for France. They were to follow their commanding officer Major C J Burke, a pioneer of military aviation who was noted for his courage and who had not only insisted that his squadron be the first to leave – but that his aircraft be the first to land.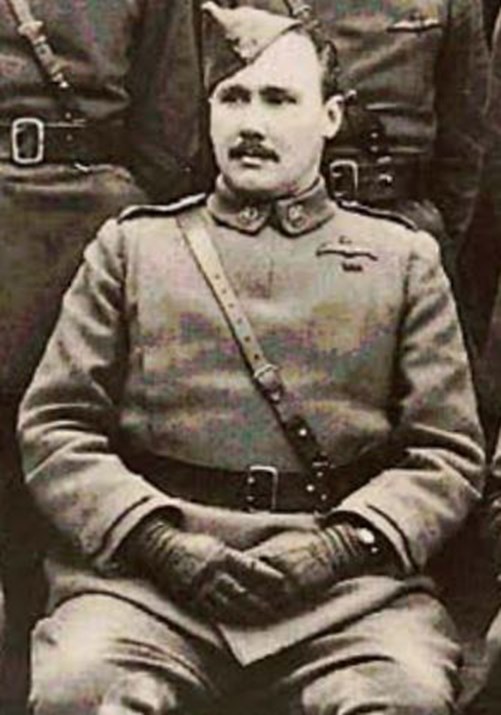 Above: Major Charles Burke, a pioneer of military aviation
Unfortunately for Burke, one of his young pilots, Herbert Dunsterville 'Bay' Harvey-Kelly, had other ideas. Furthermore, Harvey-Kelly's plan to steal his senior officer's thunder - and the title of 'first flyer to arrive for war' – appears to have been a poorly kept secret among the wider squadron, with a sweepstake reported to have strongly favoured Harvey-Kelly as the likely victor.
Burke opted for a simple but sensible route that reflected the dubious reliability of aero engines at that time: the squadron would fly their BE2a aircraft from Swingate to Boulogne before following the coast south and finally heading inland along the Somme valley to Amiens.
All pilots safely followed this coastal route as planned, except for Bay Harvey-Kelly who deviated inland from Boulogne on a cross-country flight. Harvey-Kelly and his air mechanic Harris subsequently touched down at Amiens at 8.20am - two minutes before Major Burke.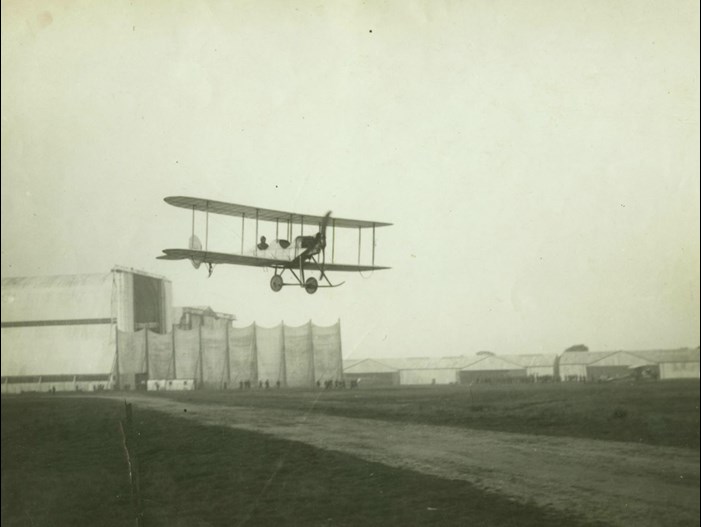 Above and Below: A BE2a in flight and a view from the cockpit of this early machine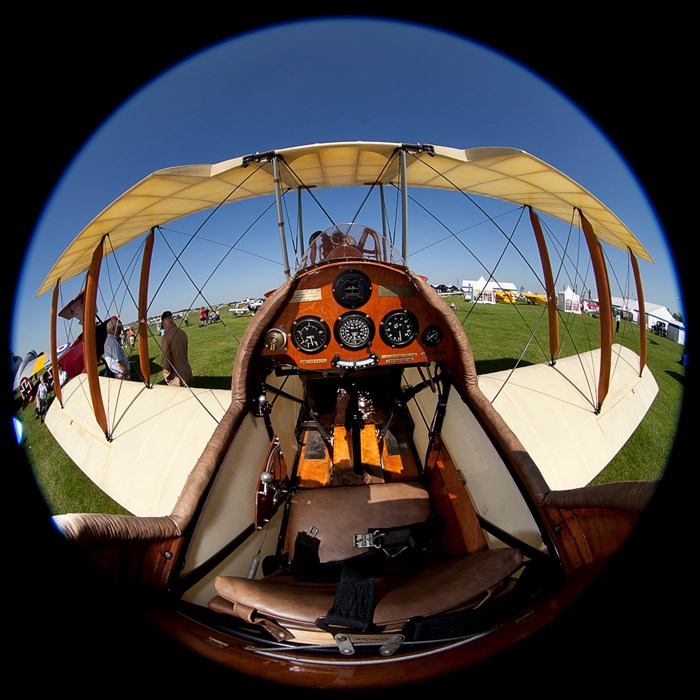 Although understandably angered at the flagrant disregard of his orders, Burke seems to have responded to Harvey-Kelly's actions generously – perhaps seeing them as an example of the younger man's infamous playfully competitive nature.
A fellow pilot, Archibald James, described Harvey-Kelly as 'the funniest man I have ever met. He kept me in roars of laughter the whole time'. It seems likely that the important role that Harvey-Kelly had to play in relation to the morale of the squadron had come into Burke's thinking when he delivered a stiff reprimand to his junior with no further action.
Born into a military family in February 1891, Bay Harvey-Kelly's career path may have appeared predestined, but there was little conventional about this young man.
Above: Harvey-Kelly pictured in his civvies in 1913
Described by his contemporaries as 'brawny, free spirited, fearless, irreverent, fair-skinned and baby faced', Harvey-Kelly had enrolled at Sandhurst after schooling and had gone on to receive a commission with the Royal Irish Regiment in October 1910.
Despite appearing to have been a competent soldier, by early 1913 his free-spirited nature had resulted in him applying for a transfer to the RFC. Harvey-Kelly was subsequently commissioned into the RFC Reserve in August of the same year, before joining No.2 Squadron.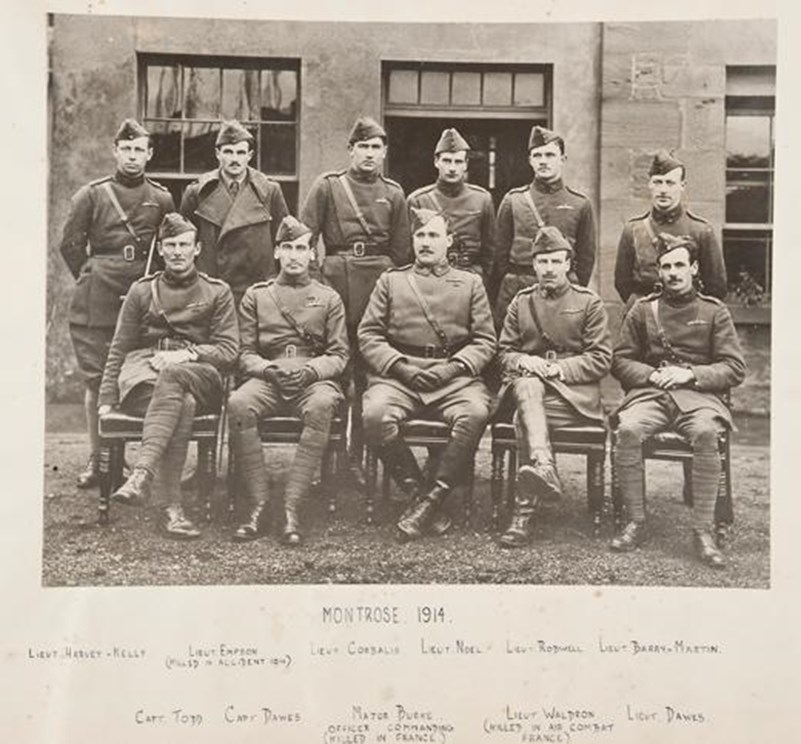 This squadron operated out of an air station at Montrose and was tasked with protecting the new battlecruiser fleet at Rosyth and its escorts of destroyers at Cromarty.
No. 2 was led by the redoubtable Major Burke, who had also transferred from the Royal Irish Regiment and is said to have demanded, and got, the highest of standards from all in his squadron.
In September 1913, No.2 successfully completed the RFC's first overseas deployment to Ireland and in June 1914 they travelled 570 miles south to Netheravon with only one fatal accident (the result of a forced landing).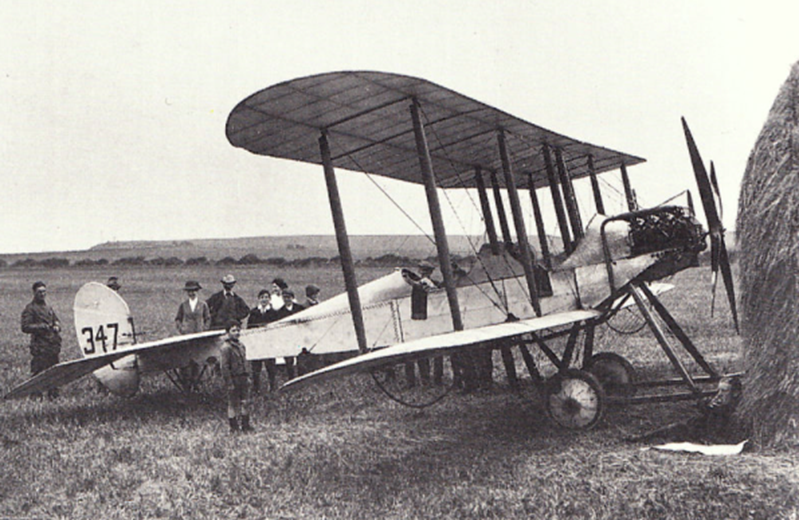 Three weeks later they returned north without incident, only to repeat the move south on 3 August to prepare for deployment to France.
From 7 August Harvey-Kelly was one of several pilots to carry out anti-submarine patrols while the RFC gathered for the Channel crossing in which Kelly was to usurp his commanding officer.
On arrival, the RFC soon moved en-masse to Maubeuge to begin recce patrols and engage in combat with their German counterparts. Always in the thick of the Action, in February 1915 Harvey-Kelly was gazetted for a DSO and promoted Captain in May 1915 and Flight Commander in June.
A young observer with his squadron, Sholto Douglas, recorded: "The outstanding pilot in the unit was Harvey-Kelly. With fair hair topping a rubicund complexion, he was one of the most likeable of men, and he was already famous for his great sense of humour and his light-hearted and gay approach towards everything that he ever did. Even in the zestful company of the Flying Corps he was a noted individualist." It was noted that "his exploits, and his manner of relating them had become legendary".
In January 1916 Harvey-Kelly was promoted (Temporary) Major commanding No.3 Squadron. Despite promotion, he is said to have remained as funny as a man and as aggressive as a pilot as ever. The South African airman Jack Slessor described him as "mad as a hawk".
In January 1917 Kelly was appointed CO of 56 Squadron, and in February of the following year CO of 19 Squadron.
The obsolescence of existing aircraft became painfully obvious in the 'Bloody April' of 1918, with pressure on the few well-equipped units (including Harvey-Kelly's) to stretch resources to breaking point. On 29 April, acting against orders, Harvey-Kelly led an offensive patrol with two others (Richard Applin and W.N. Hamilton) against six of the Red Baron's flying circus.
Disadvantaged in height and dependent on 'getting his blow in first', the trio attacked. Applin fell to the Baron himself and Hamilton was the next to come down – the former was killed outright and Hamilton survived as a PoW after a crash landing behind enemy lines.
Fighting furiously, Harvey-Kelly was finally shot down by Kurt Wolff, the highest scoring German pilot during this period. Three days after his crash landing he succumbed to his injuries (2 May 1918) and was laid to rest in Browns Copse Cemetery, Roeux. He was 26 years old.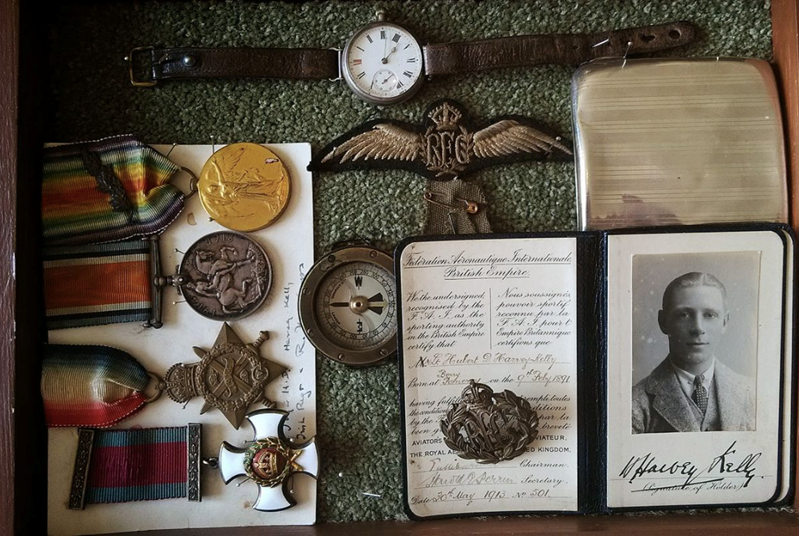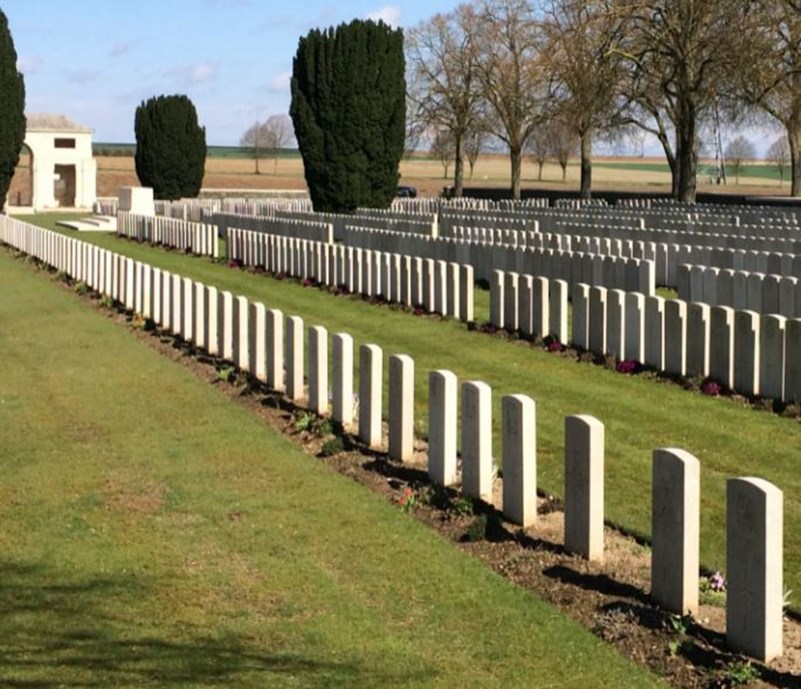 Above: Browns Copse Cemetery Roeux where Harvey-Kelly now lies (photograph by Robert Clarke) 
After the war Bay's family received a Red Cross package from Germany containing his watch, knee compass and cigarette case.
Major Charles Burke, who Harvey-Kelly had beaten to become the first RFC airman to land in France, had left the RFC and returned to front-line infantry duty in June 1916. He was killed leading a battalion of the East Lancashire Regiment on the first day of the battle of Arras in April 1917. Lt Col Burke now lies at Point-Du-Jour Cemetery - just two miles from the young man who beat him to Amiens in August 1914.
Original research by John Gilder, Edited by Dr Martin Purdy
Image of Browns Copse Cemetery from Researching the Lives and Service Records of First World War Soldiers. All other images in the public domain or available to use through Creative Commons and credited accordingly.