During the First World War, for a variety of reasons, many soldiers enlisted and served under an 'alias' name i.e. a name other than their family name. Official records often exist for these men under both of their names – their 'real name' and their 'alias name'. This makes it difficult for family members and other researchers to find all of the records pertaining to a particular soldier – indeed they may be unaware of the existence of 'another name' for the man.
The Western Front Association rescued the Pension Record Cards for soldiers from the Great War and these have progressively been made available online in Ancestry's Fold3.
Upon studying these cards, it became apparent that more 'aliases' were shown than would have been expected. Why was this?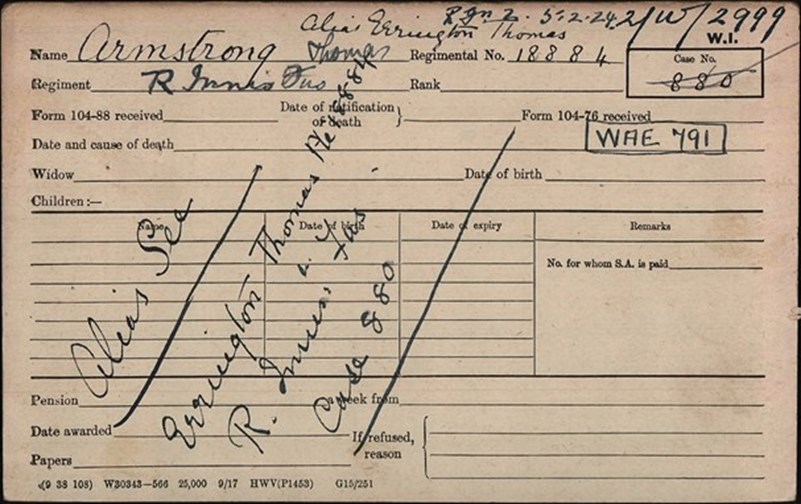 Investigations were made and it was found (using data obtained from the CWGC) that approximately 3,500 men were recorded by the CWGC who used an 'alias'. We have seen these headstones in CWGC cemeteries, where the alias is recorded using the words 'served as'. Two examples of this can seen below.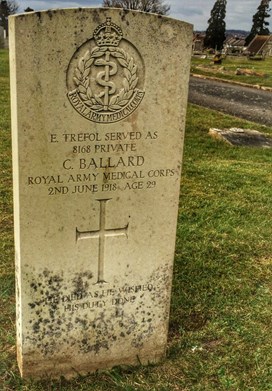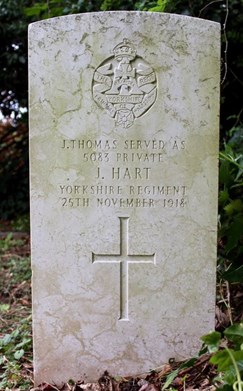 But a sample of the cards suggested a lot more pension cards for soldiers who were killed had an 'alias' noted. This was the start of what turned into a very sizeable piece of work. 
Early in 2020 a project called Project ALIAS was set up, involving approximately 150 members of the WFA, to find these cards and to add his 'other name(s)' to the index. This ensured that anyone searching for the soldier's records would find them under either or both of the names. At the time, only the Pension Records cards for 'Soldiers Who Died' were available – a future project will add the aliases for 'Soldiers Who Survived' which have recently been made available online. These aliases will be added to this list.
During Project ALIAS, it became apparent that, as well as these 'genuine' cases of alias names, there were other reasons for records being recorded under different names. Some were spelling corrections – a soldier might have records under, for example, both 'Mackie' and McKay'. 
Sometimes, there was clearly an 'alias' even though the card did not explicitly say 'Alias' as in the case here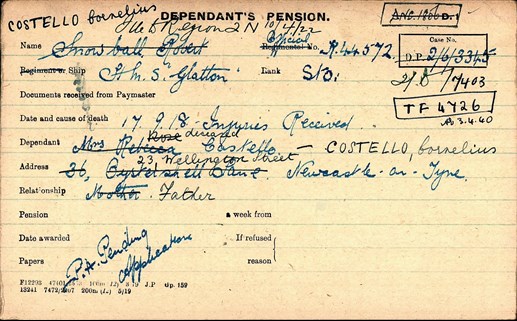 The following list represents ALL of the records thus far from Project ALIAS where more than one name was involved. (Some cards recorded details for more than one soldier – for example, brothers – where there was a single dependent relative. It wasn't the intention to record these as 'other names' but a small number may have slipped through the net). However, as described above, most are genuine 'aliases names' with a proportion being corrections of clerical errors. Despite this list therefore not being exclusively 'alias' names, it is hoped though that it will be taken in the spirit in which it is intended and may be of help to family members and researchers in identifying another possible name that may help with their investigation into a particular soldier.
The outcome of the project has been to increase by 300% the total number of 'known aliases' previously recorded by the CWGC. As such it will be immensely valuable to researchers who are unable to trace a family relative if that relative - for whatever reason - chose to enlist either under an alias or with a subtly changed name. 
It is certain that there will be omissions from the list, for example if the 'alias' was not recorded by the Ministry of Pensions. We therefore invite contact from anyone who believes there is a genuine alias that needs to be added to contact us via the link here SUBMISSION OF NEW ALIASES. 
Download PDF
How to search 

Press the <Ctrl> and <F> keys simultaneously. This will bring up a search box
Type in the name that you're looking for  e.g.  McMurtrie. As you are typing, it will be looking for the Name and highlight the first one that it finds
Use the up and down arrows to see the other entries that the search has found.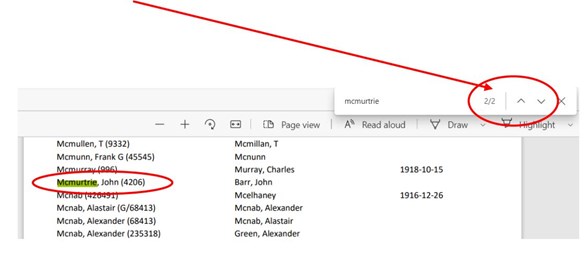 The Western Front Association is delighted to make this resource available to members and non-members alike via the downloadable pdf below. This represents approximately 98% of the reviews of the 'Other Ranks Died' Pension Record Cards saved by the association. For technical reasons the remaining 2% have yet to be accessed, but this will be done within a few months and the list (below) will be updated. 
Unfortunately, again due to technical reasons the Date of Death isn't available in all cases.
Without the assistance of the 150 or so WFA members who worked on this project, this would not have been possible. For obvious reasons we can't detail these members individually, but our thanks go out to every single person who has made this project possible. 
Simon Phillips
David Tattersfield
Read more about the project via these two links
Project ALIAS: A major scheme to locate men who served using a 'different' name
Project ALIAS - the largest collaborative project in the history of The Western Front Association
Read some of the stories that came out of the project
Project ALIAS reveals the man who is listed twice
Two men with five names: The Curious Case of Cornelius Costello
Access the Pension Records here