As the project to learn more about those men who served in the British Army using a false name continues, various fascinating examples are being found. One of these, tracked down by 'Alias volunteer' Chris Ludlam is that of L/Cpl John Cross of the 19th Middlesex.
Chris noted the 'alias' referenced on the pension card as shown in the image below.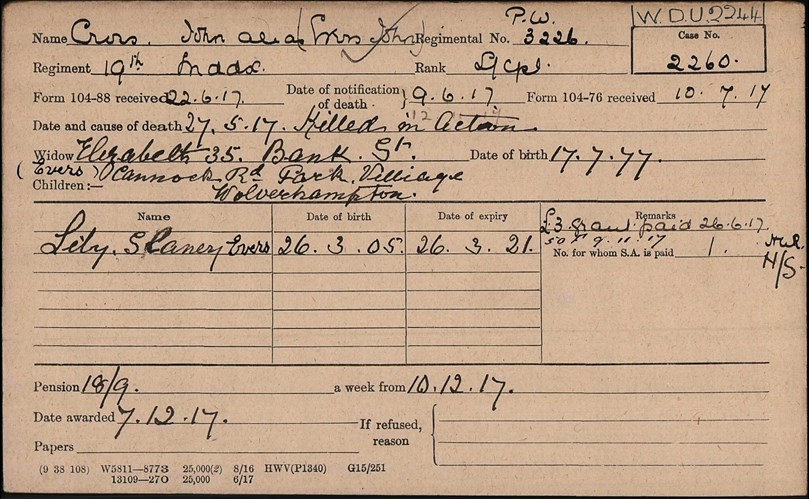 As is usually (but not universally) the case there is a corresponding card under his real name (which is John Evers).
As interesting as this is, the occurrence of these cards is becoming fairly routine for the dozens of volunteers who are working on the project.
Part of the process is to identify the Commonwealth War Graves Commission entry for these men, so that a check can be made later in the project. This is where things became very interesting.
John Evers (aged 43) is buried at Dickebusch New Military Cemetery and Extension (Plot III, Row A, Grave 10) but John Cross (aged 41) is also commemorated on the Menin Gate Memorial at Ypres (Addenda Panel 60).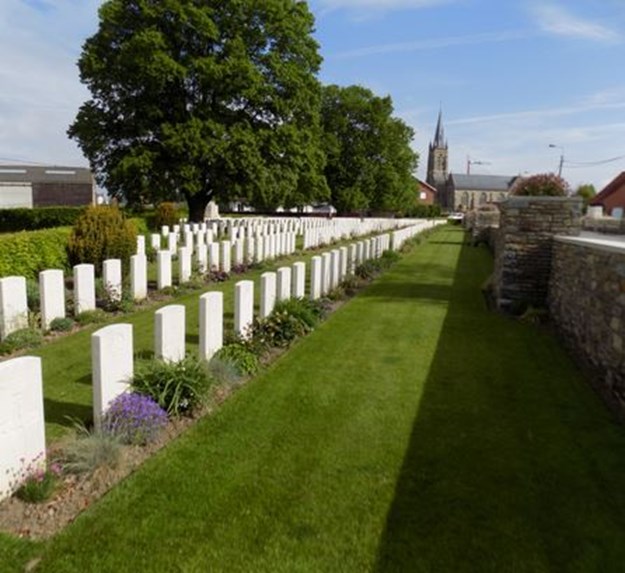 Above: Dickebusch New Military Cemetery and Extension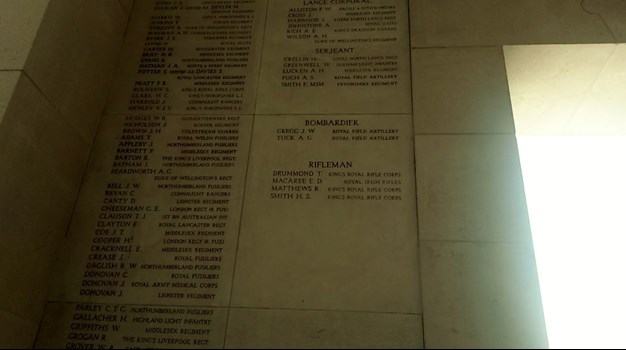 Above: Addenda panel 60 on the Menin Gate

Above: A close up showing the name of L/Cpl J Cross, Middlesex Regiment
Whilst not unique, this is one of the fascinating aspects that are being turned up by the team of volunteers.
What seems to have happened is that John Evers (as this was his real name) enlisted in May 1915 as Joseph (or possibly John) Cross but, just two months later (in July 1915) admitted the alias to his commanding officer as can be seen in the document in his service file.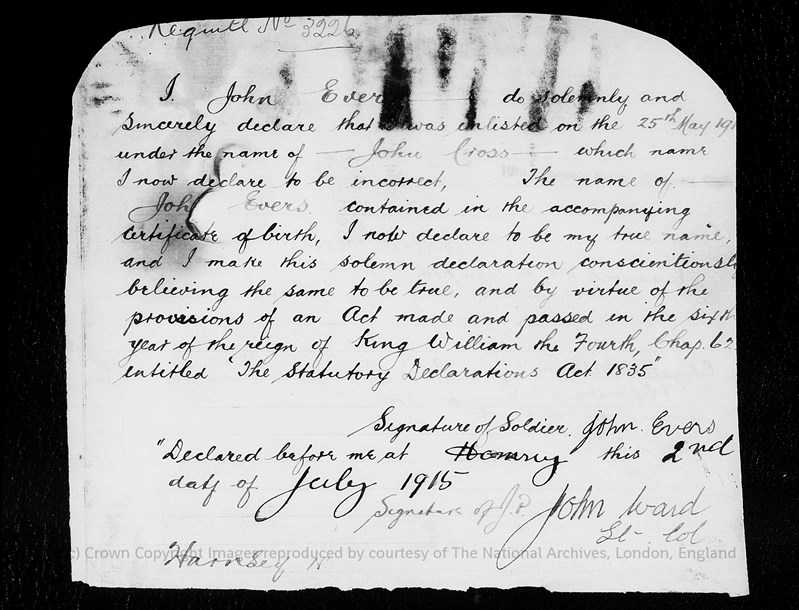 The text of the above document reads as follows:
I John Evers do solemnly and sincerely declare that I was enlisted on the 25 May 1915 under the name of John Cross which name I now declare to be incorrect. The name of John Evers contained in the accompanying certificate of birth I now declare to be my true name, and I make this solemn declaration conscientiously believing the same to be true, and by virtue of the provisions of an act made and passed in the sixth year of the reign of King William the Fourth Chap 62 entitled 'The Statutory Declarations Act 1835'.
The document was signed John Evers on 2 July 1915 and counter-signed by John Ward, Lt Col.
Unfortunately, almost exactly two years to the day after enlisting, John was killed - this being on 27 May 1917. Assuming the age declaration on his attestation form is correct, he was 41 when he died
.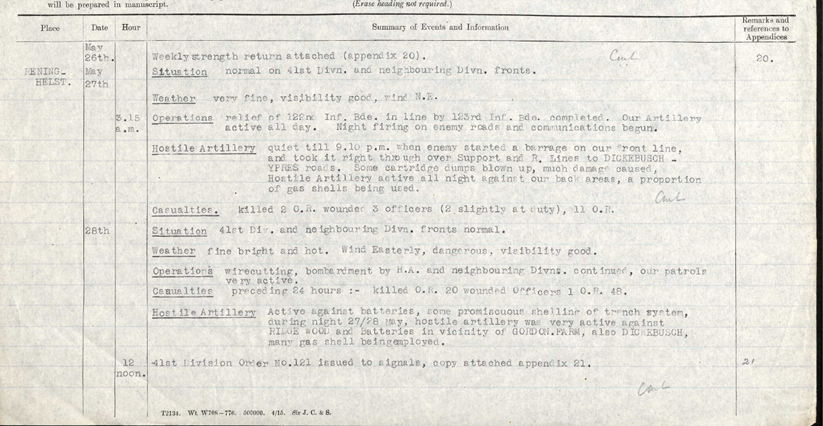 Above: the 41st Division's war diary (which surprisingly gives more detail than that of the battalion) describes a German barrage falling and two other ranks being killed). 
His mother remarried and in a couple of censuses he is recorded with his stepfather's name Cross. He married in 1904 as Evers (hence his widow's and child's name on the Pension card shown above).
A document located showing 'Soldier's effects' gets totally confused originally detailing Evers John (corrected to Joseph), alias Cross but later being changed to Cross alias Evers !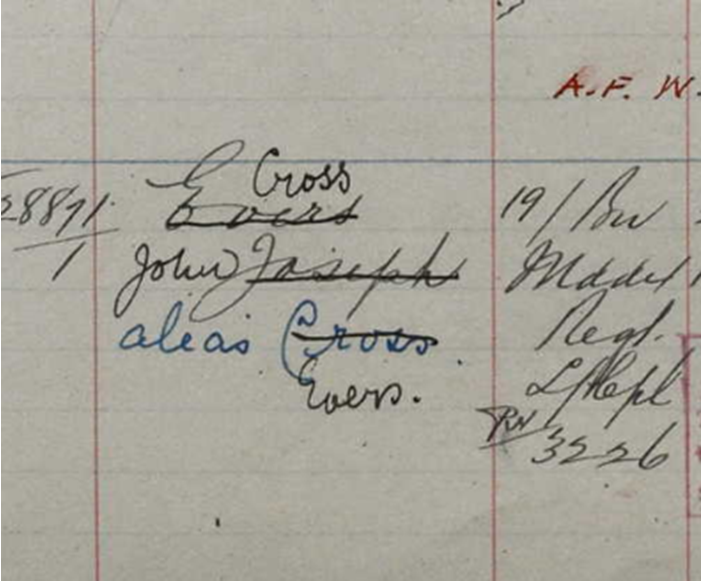 Why he was added to the addenda panel is unclear, and this, according to the CWGC register, as 'John' not Joseph. There is evidence of further confusion because the attestation form details his Christian name as Joseph but the signature clearly says 'John Cross'.
The confusion is compounded by the pension card which refers to John. It would be assumed that the name that was recorded on his attestation form Joseph Cross (rather than John Cross) would have been used.
It is likely that the Commission, relying on information supplied by the military authorities, added him without realising that he was already buried at Dickebusch. Terry Denham, who runs the 'In From The Cold Project', has been alerted and commented, saying "For missing men whose names are now on memorials to the missing, the CWGC usually have no records at all. So every name is taken on trust from the military – who made mistakes."
Within 48 hours of being informed, the CWGC corrected their database, and 'Cross' is no longer detailed as being listed on the Menin Gate, but is instead shown as being buried (under the name of 'Evers') at Dickebusch. In addition, the previous digital entry for Cross on the CWGC database now records this as being an alias for Evers. 
So next time you visit the Menin Gate Memorial and come across panel 60, please take a look for L/Cpl A Cross of the Middlesex Regiment. You'll be able to say to anyone you are with "actually, he's not really 'unknown', I know where he is buried"!
It is pleasing that Project Alias is able to assist with resolving instances like this as part of the work that is being undertaken to uncover men who served using an alias.
If you would like to volunteer to take part in Project ALIAS, which is absolutely fascinating, please read all about it via the article here: Project ALIAS: A major scheme to locate men who served using a 'different' name  
Further reading:
Project ALIAS: what is it and how is it going?
Project ALIAS - early results and discoveries  
Project ALIAS: A major scheme to locate men who served using a 'different' name
Project Alias and Project Capture - how WFA members are working on the Pension Records
Project ALIAS reveals the man who is listed twice
John Shirley - the soldier with two commemorations