Western Front Association members will already know that the Naval Records were released a few weeks ago, but today (10 November 2018), Ancestry have made 1.5 million records available on their Fold 3 platform (please see FAQs below regarding WFA members' access to these).
Until The Western Front Association stepped in to save these ledgers and other records they were scheduled to be destroyed.
These ledgers, which have been somewhat 'weeded' (probably after the second world war) provide a wealth of information that is unlikely to be available from other sources. They relate to British servicemen who were killed (in which case their relatives would have claimed a pension) or survived (in which case, subject to assessment, the pension would be awarded to the individual soldier) and claimed a pension.
Some records of rejected applications are evident, but it is possible that if a claim was not submitted, that no record will be in existence. Although this scenario can't be ruled out, it is assumed that a failure to claim will be relatively unusual.
Australian, Canadian, New Zealand and other Commonwealth soldiers would have been paid pensions by their respective governments, so their records are not included within this archive.
The documents (Form S.B. 36 - with variants) were bound together in books of 100 pages, and grouped together into a number of sub-categories.
How were the ledgers grouped?
The ledgers are contained in approximately 15,000 'books'. Each of the 1.5 million pages relates to one pension claim. The books are divided unequally into the following types:
Disabled Soldiers, Naval Ratings and Airmen

Widows

Dependents

APD cases (Alternative Pension: Disablement)

APW cases (Alternative Pension: Widow)
The ledgers were pre-printed with reference numbers and were then filled in with the claimant's personal details. These reference numbers were then transposed onto cards which formed a series of three alphabetical cross reference index cards. These index cards will be published later by Ancestry.  
This article on the release of First World War Pension Records by Ancestry is a much simplified explanation to the indexing of the ledgers. A fuller explanation is provided > HERE  'Understanding the Ledger Indexing'. 
It is hoped that, over time, further research into these records may reveal more information about pension payments and the type of wounds and injuries soldiers suffered from.
Soldiers Survived - with pension
Approximately 1.2 million of the 1.5 million records relate to soldiers who survived the war. There are two reasons for this, firstly: far more men survived the conflict than were killed, but secondly: one geographic area (London and the South East) of the Ministry of Pensions seems to have 'weeded' their ledgers whilst other areas kept theirs intact. This weeding has therefore reduced the number of ledgers for men who survived. Thankfully all other regions seem to have largely left the ledgers totally intact.
The first example is that of Robert William Walter of the Cheshire Regiment. We can see he was discharged from the army on 26 February 1919 and his pension commenced the following day. He suffered a 'Gun Shot Wound' to the head which (not surprisingly) was 'attributable' to his war service. From this record we can see his home address
Another example is that of Charles Thomas Lewis of the KSLI. This shows that, post war, he suffered from the effects of gas.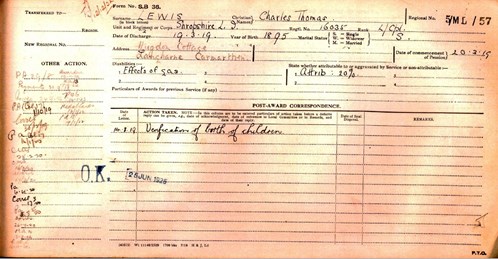 The reverse of the ledgers often detail medical board summaries. These can be interesting. The ledger (below) for Edward Coffey of the Labour Corps shows his '40% disabled' rating was increased to 50% but a year later it is noted 'no grounds for increase continuing' and subsequently he was reduced to 30% disabled. The actual payments of his pension fluctuated from 24s per week down to 12s in 1922.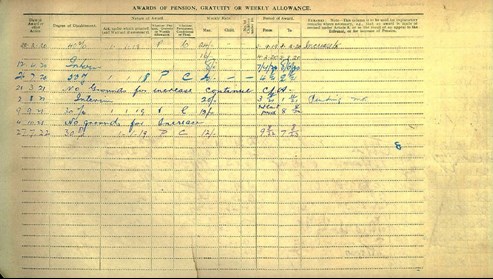 William Knight is one of the 'Alternative Pension' cases.  He had both legs amputated. His pre-war earnings of £1 18s was translated into a 40 shilling pension 'for life'.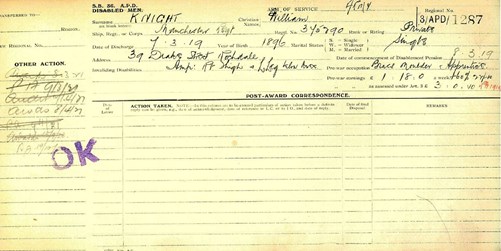 Another alternative pension case is Issac Sillender who we find, pre-war, was a handyman earning £1 13s a week.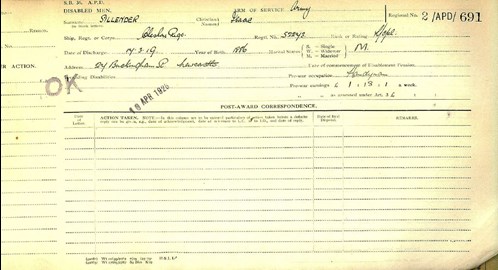 The reverse of Issac's ledger (an extract of which is provided here) shows that his application for the alternative pension was declined.

There is a second ledger for Issac Sillender (below) which was his original pension claim (before the 'Alternative Pension' was applied for). This ledger gives other information such as that he was suffering from the effects of gas.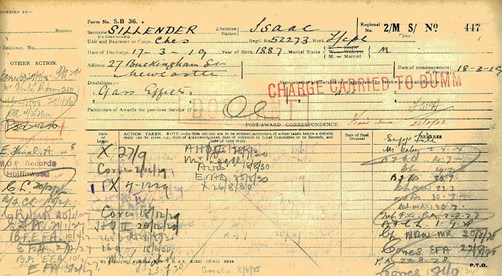 We can speculate that Private Edward Keogh (or Keough) of the Royal Defence Corps was not fit for front line action when he enlisted.  His Pyorrhoea (a dental problem) may have prevented him serving in a combat role. The ledger indicates that his condition was seemingly 'aggravated' by his war service.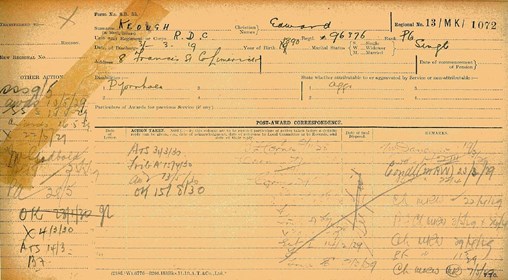 It is only with an internet search that most people will learn that 'Otitis Media' from which Private Thomas Lynass suffered is an infection of the middle ear. We have, on this record, the added benefit of two home addresses.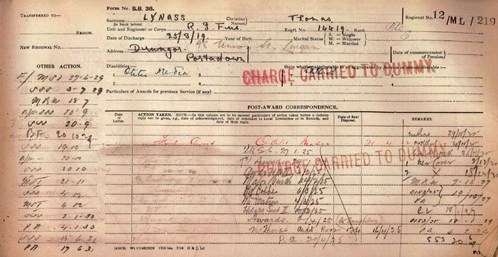 Sadly some men didn't live long to claim their pension. The case of William John Wilson indicates he was discharged from the army in 1920 but a pencil note states 'man died 20.4.1920'. One can only assume the Tuberculosis proved fatal.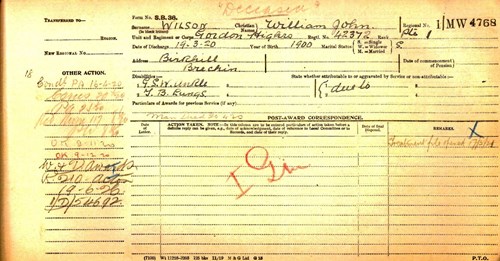 Soldiers who were killed - claims by their next of kin
A smaller proportion of the ledgers relate to soldiers (and sailors and airmen) who were killed. These claims are split into 'Widows ledgers' and 'Dependents ledgers' (the 'W' and 'D' on the ledger being the easiest way to differentiate between these two types of claim).
Below is the ledger for Albert Cooksey (9280, KOYLI) who was killed in 1917. If all we had was the basic CWGC information, rather than this ledger, we would not know that Albert's next of kin was Amelia who lived at Royston, near Barnsley. This level of detail enables researchers to be sure that the 'correct' man has been located.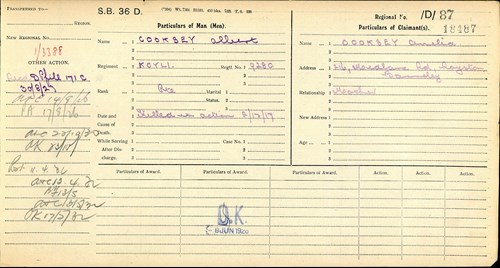 Albert Cooksey
Other ledgers have helped researchers with stories they are looking into. Daniel Horgan and John Walsh were two soldiers who were killed on the same day - 25 February 1915. Their stories are, however, more closely linked than just by their date of death.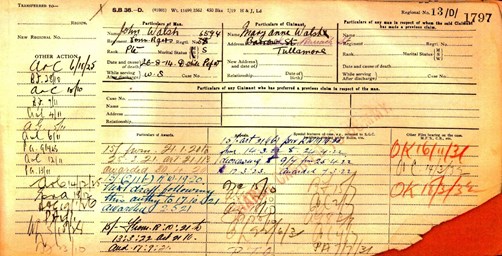 These two men were amongst a large group executed by the Germans after their capture. Hogan is noted on the ledger as being 'missing' from 27 August 1914, while Walsh has a date of 26 August. They evaded capture for a number of months until they were - with others - located by the Germans, and executed on  25 February 1915. These ledgers help to identify the next of kin.
[Those with an interest in the story of the 'Iron Twelve' will find it told in two parts by Hedley Malloch in The Western Front Association journal Stand To! No.87 pp 6 - 11 and in Stand To! No.88 pp.11 - 15. WFA Members have a Member Login to this archive as part of their WFA Membership].
Not all ledgers are easy to interpret. Some detail multiple claims. Eliza McKenzie lost three of her sons in the war and her ledger page reflects the three fatalities for whom she was paid a pension.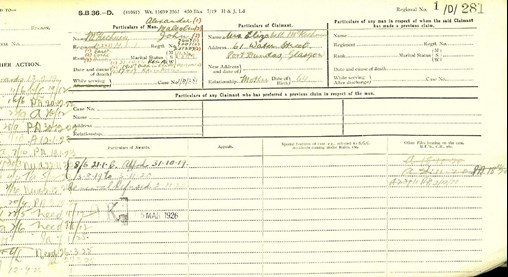 One son was John (201207, Highland Light Infantry) who was killed on 17 April 1917. According to the CWGC he is buried in Gaza War Cemetery, his CWGC entry mirroring the ledger here in terms of his mother's name and address.
Another son was Malcolm (7001, HLI again) was killed some months earlier. Malcolm is buried at Baghdad North Gate - but this ledger suggests that he died as a PoW - something not apparent on the CWGC entry. For whatever reason, the next of kin details are not shown on the CWGC entry.
The third brother, Alexander (7447, again in the HLI) was killed early in the war, in October 1914. He is commemorated on the Menin Gate at Ypres but once again his next of kin details are not shown by the CWGC, so this ledger is the only obvious link that connects these brothers.
The above are 'Dependents' cases. Below is a 'Widows' case which shows the award of a widows pension and a children's allowance, paid to Elizabeth Kay (widow of Herbert 8928 of the Lancs Fus). The large allowance was due to there being six children under the age of 16.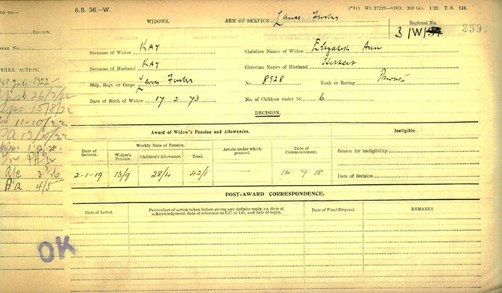 Finally, we can speculate if the note on Thomas Lalley's ledger which says 'Staff File' is an indication he worked for the Ministry of Pensions? Perhaps he was one of those hundreds of men and women who worked for the Ministry of Pensions at various locations throughout the UK in the immediate post war era.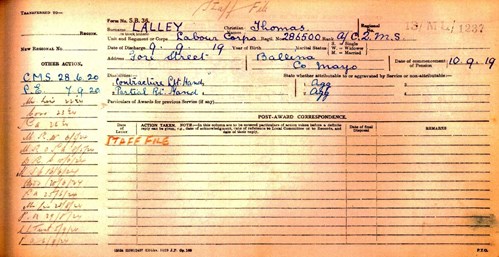 These men and women, who diligently administered these records would have had no idea that the ledgers they worked with would now be so interesting for modern-day historians and those trying to find what their ancestors went through in the First World War.  
David Tattersfield
Further reading:
Famous, Infamous, Extraordinary and Ordinary
Dear David...Pension Record Cards Feedback
Understanding the Ledger Indexing
Great War Pension Records : Deeper Understanding 
Further sets of Pension Records saved by The Western Front Association 
Pension Record Cards - claims for soldiers who were killed
FAQs  
Can WFA members access these records?
Yes, members accessing THIS PAGE on the WFA web site can use their username and password to click through to the WFA's Library edition of Ancestry's Fold 3 where the records are available. This access to the WFA's Pension Records is free for all paid up WFA members. If you are unsure of your username or password, please click 'forgotten password' on the page detailed above and type the email address the WFA office holds for you as the user name. you can then generate a new password to log into these records. 
How do I join The Western Front Association?
Join Online (there is a Digital Membership option too) or by phone the WFA office on 0207 118 1914
Does this release amount to most of the records?
No, not by a long way. There remain millions more records which will be made available in the course of 2019. Ancestry are working hard on the digitisation of these.  
What's yet to be released?
As previously reported, the Naval and Mercantile records were released some weeks ago but these ledgers are a much larger release (about 1.5 million pieces of paper) but there remains the following major sets to come out:
Cards  for Soldiers Died (whose next of kin claimed a pension)

Cards for Dependents of Soldiers Died

Cards for Soldiers Survived (who claimed a pension)
These three sets feed into the Ledgers which have been released 
Finally there will be a series of 'Officers' and 'Officers Widows' cards, however this is a relatively small set which 'stands apart' from the Ledgers.
Are the images clear?
Yes, the low-resolution reproduction on this web page (which have been extracted from pdf's) does not reveal the excellent clarity of the copies on Ancestry. The digital copying of these is of the highest order, but it is simply not possible to enhance images if the original document is faded: please remember these are 100 year old records which have been kept for years in various Ministry of Pensions / Ministry of Defence buildings.
Will members be informed of the next release?
Absolutely. Once the next release is ready, Western Front Association members will be promptly informed.