This item first appeared in Stand To! No. 31 (Spring 1991). It was the 22nd piece in a series titled 'The Home Front'.
The First Strategic Air Offensive Against Britain
The first-ever strategic air offensive commenced against Britain on 19 January 1915 when two German naval Zeppelins bombed the Norfolk towns of King's Lynn and Great Yarmouth. Four civilians were killed and some material damage caused but militarily the raid could not be regarded as a great success—the intended target was in the North-East!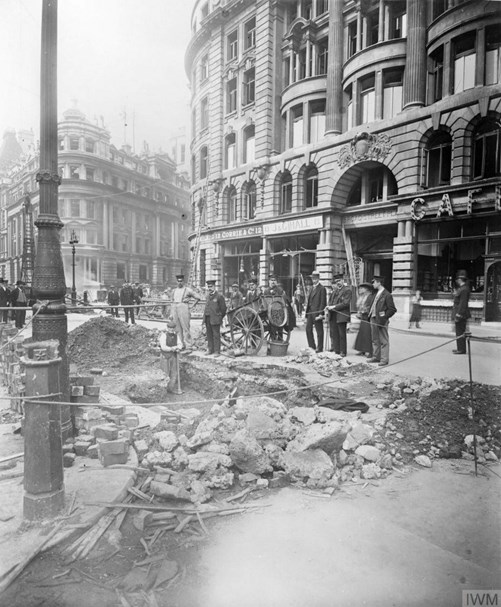 Damage to Liverpool Street in London following the Zeppelin raid on the night of 8 - 9 September 1915. © IWM (LC 32)
Civilian morale never weakened
For the next twenty-one months naval and army airships (strictly only the former were Zeppelins) continued to raid Britain at intervals. The casualties inflicted and damage caused, although not entirely insignificant, were not nearly serious enough to achieve their aim of weakening civilian morale to such an extent that the government would be forced to sue for peace. The raids nevertheless did succeed in causing disruption and some loss of munitions production.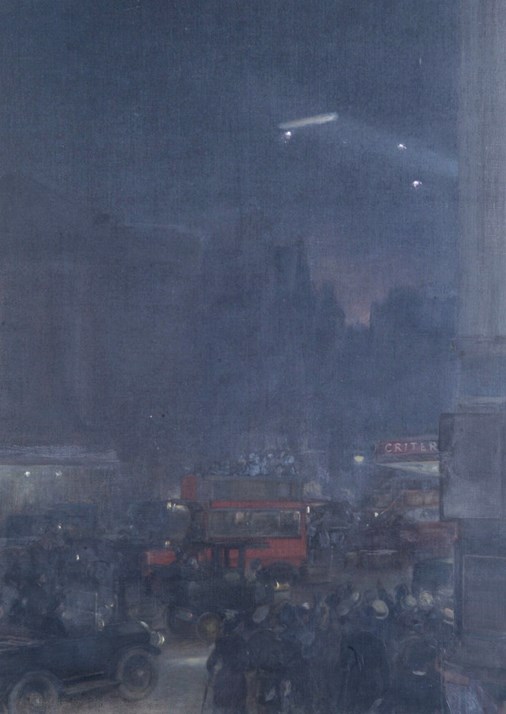 A dark and gloomy evening scene in Piccadilly Circus with a German Zeppelin airship and barrage balloons visible in the night sky. Andrew Carrick Gow, 1915. © IWM (Art.IWM ART 5216)
Ground and Air Defences limited at first developed rapidly
At first Britain was practically defenceless against air attack so that the raiders had it all their own way. Later, when the ground and air defences improved, the airships' vast bulk made them extremely vulnerable and their days were then numbered.
The airship offensive reached its climax in September 1916
On the 2nd of that month the German navy and army combined to send sixteen airships to raid Britain. They failed to achieve a concentrated attack: bombs were scattered over a very wide area and only one airship managed to bomb London. Casualties and damage were negligible and the raid was little more than a fiasco. Worse—an army airship was brought down in flames over Cuffley, Hertfordshire.
The September 1916 Zeppelin raids were a fiasco
On the night of the 23rd/24th twelve naval airships set out to bomb Britain. They included four of the latest 'big thirties' type of which so much was expected. Only two of the twelve achieved anything of importance. L33 reached London and bombed the East End causing casualties and fires. On its way home it was hit and damaged, at first by anti-aircraft fire and then by a fighter. It crashed-landed in a field between Little Wigborough and Peldon near Mersea Island in Essex. Miraculously it had not caught fire.
The crew were unharmed and later captured
L32 was only able to reach the southern approaches to London when anti-aircraft fire and searchlights caused its captain to jettison his bombs. Caught in searchlights, it was brought down in flames by a fighter. It landed on Snail's Hill Farm, Great Burstead, near Billericay, also in Essex. The crew perished.
The very able captain of L31 was able to outwit the defences and bomb London and return to base. Between them, the two Zeppelins had caused about 150 casualties in London, some of which occurred when a bomb wrecked a tramcar standing outside Streatham Hill railway station.
According to London County Council records thirty fires were started in the administrative County of London, and over £60,000 worth of damage caused.
Another unsuccessful attack on London 1 October 1916
This attack resulted in only two civilian casualties. Zeppelin L31, caught in searchlights, was attacked by a fighter and burst into flames and crashed. The crew perished.
The loss of four airships within a month, and the deaths of two of the boldest and most skilful captains, signalled the end of one phase of the bombing offensive. The next, using the army's more efficient Gotha and Giant bombers, was about to begin.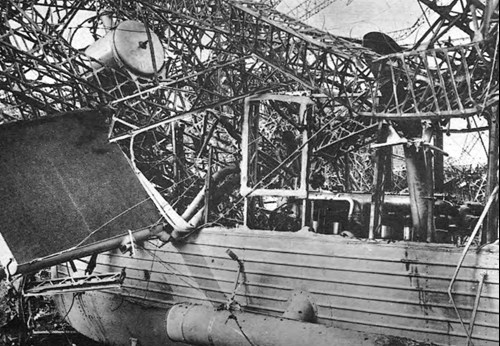 Part of the wreckage of one of the two German Naval airships L.32 or L.33., shot down by pilots of the Royal Flying Corps in the course of the raid on the night of 23/24th September, 1916. Both airships fell in Essex, one near Little Wigborough (L.33), and the other at Billericay (L.32).  IWM photograph Q63892
Articles on WFA web site
There is a rich set of resources on the WFA web site detailing Zeppelin air raids
The Enemy Above: British Reactions to German Zeppelin Raids in the Great War by Frank A Blazich
The Bombing of London by Ian Castle
The First Air Raid: Great Yarmouth by Bob Wyatt
Zeppelins over Norfolk by David Tattersfield