As with many spheres of life, the arts suffered many losses as a result of the First World War as exemplified by the Grimson family.
Samuel Dean Grimson, described as a Professor of Music in the 1881 Census, and his wife, Maria Bonarius, brought up a musical family in London. All seven children (an eighth child died in infancy) became musicians and/or composers.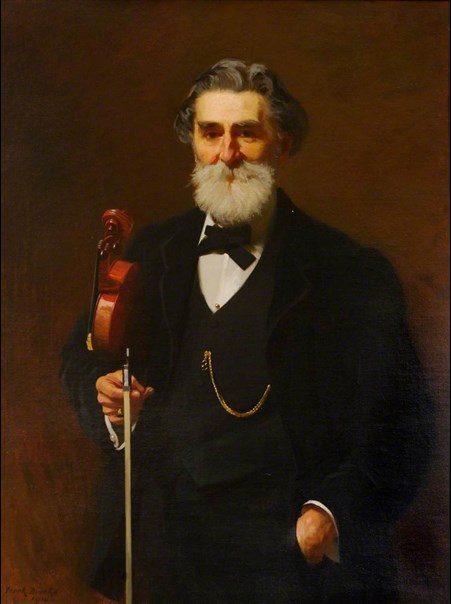 Above: Samuel Dean Grimson. Photo – Artuk.org
Jessie Grimson (born 1873) was the first violinist member of Queen's Hall Orchestra.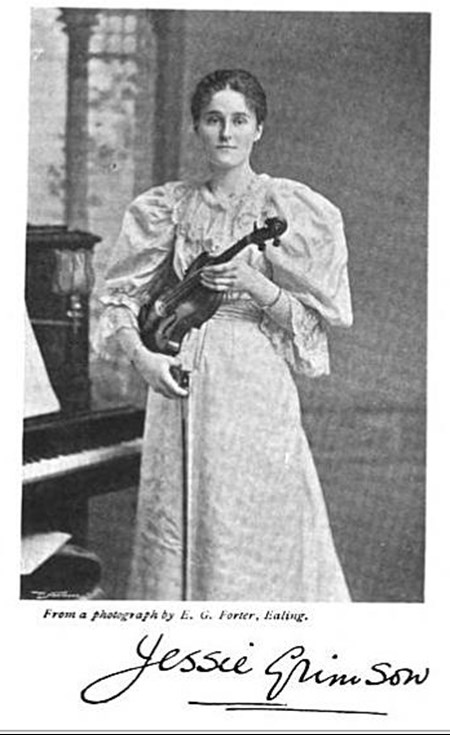 Above: Jessie Grimson
She formed the Jessie Grimson Quartet which also included her husband, Edward Mason, who she married in 1905.  Edward, born in Coventry in 1878, began his musical life as a chorister in St Michael's Church and later studied at the Royal College of Music where he won many Exhibitions. On leaving the College, he was appointed assistant to Dr. Lloyd at Eton, a post he held until the outbreak of war. A cellist, he made his first appearance at the Bechstein Hall in 1900 and became well-known as a soloist and as a quartet player at Chamber concerts. Edward later established the Edward Mason Choir, formed principally to produce new works by younger British composers. In 1912 he toured USA with the London Symphony Orchestra. On the outbreak of war, he joined the Universities and Public Schools Battalion in September 1914 and received his commission in February 1915. Attached to the 2 Northants Regiment, 2nd Lieutenant Edward Mason went to France at the end of March 1915.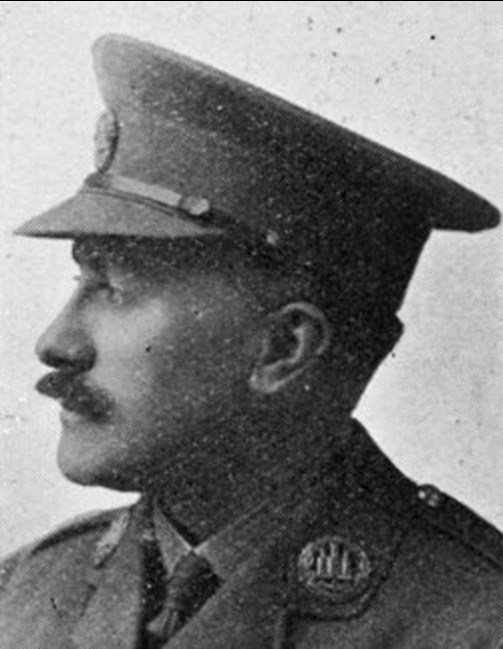 Above: Edward Mason
9 May 1915 saw the disastrous attack by the British on Aubers Ridge, in which 2 Northants took part. (See below for further reading on this battle).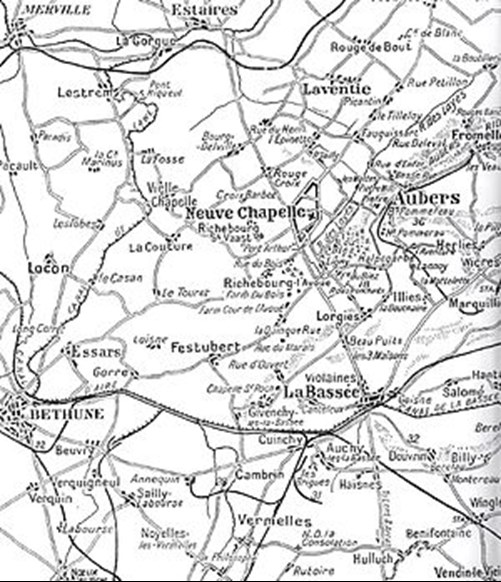 Edward was killed that day, with a brother officer later writing 'He was killed gallantly leading his men in the attack on 9 May against the German trenches'. His platoon sergeant also wrote that Edward's detachment came under a devastating fire from German machine guns near Fromelles and that he fell in a hail of bullets.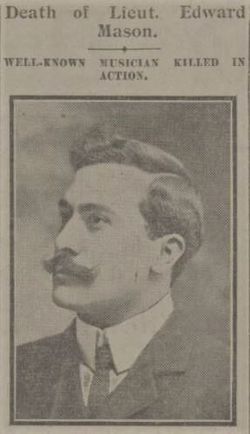 Above: Edward Mason
News of his death was greeted with dismay and sorrow from the musical world. The Royal College of Music Magazine in 1915 commented:
'Edward Mason, the man, had many lovable qualities, which endeared him to his friends. He was generous-hearted, good-humoured, and at all times a charming companion. He hated any kind of pose or pretence and might be described as the antithesis of the conventional musician of the 'long haired' variety'.
Edward is commemorated on the Ploegsteert Memorial.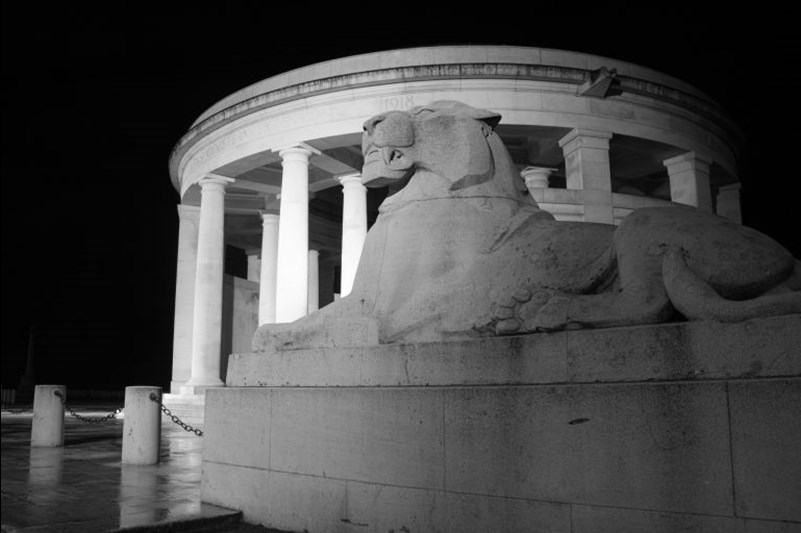 Caption – Ploegsteert Memorial (© Andrew Bailey 2014) / Dorking Museum 
Jessie would experience further loss throughout the war. Her brother Harold (born 1882), a violinist, enlisted as a Private in 6 Iniskilling Dragoons on 15 August 1914 and went to France in January 1915. During 1917, he spent time in hospital in France suffering from bronchitis, rejoining his regiment in the field on 2 November 1917.   On 1 December 1917, the Dragoons took part in action to prevent the Germans reaching Metz en Couture. At 09.35 am on 1 December, the 2nd Lancers (Gardner's Horse) of the Mhow Brigade commenced a charge followed by a squadron from the 6th Inniskilling Dragoons. This was against German positions in Gauche Wood and Villers Guislain. The Inniskillings charged northwards from Peiziere towards Villers Guislain with the leading squadron and the 11 Machine Gun Squadron brought to a halt a kilometre short of the village. Few of them were seen again and the rear squadrons were forced to retire.
Harold was initially reported killed in action on 1 December 1917, then reported 'missing, believed to be a prisoner of war'
His death on that date was confirmed when it was reported that his identity disc had been sent in by an officer of the Graves Commission and therefore his death on or after 1 December 1917 was assumed.
Originally buried by the Germans, Harold's grave was later concentrated in Beaurevoir British Cemetery, situated between Cambrai and St Quentin.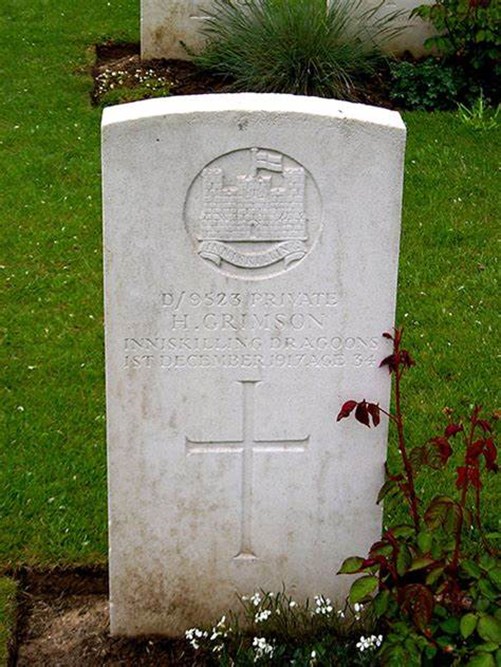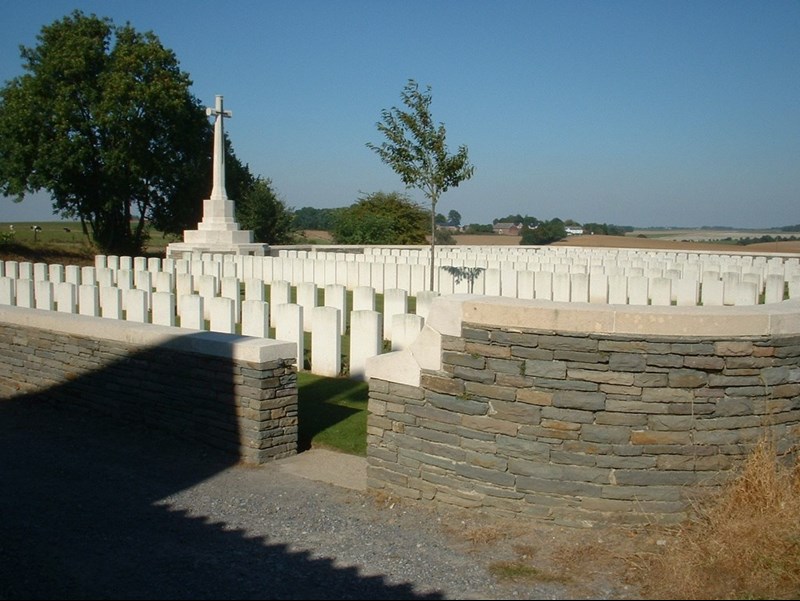 Above: Beaurevoir British Cemetery. Photo (c) CWGC 2021
Her brother Samuel Bonarius Grimson was also an accomplished violinist who served in Italy from July 1918 as a 2nd Lieutenant in the Royal Army Service Corps. Although he survived the war, as a result of injuries sustained during his service (including crushing injuries to his hands as a result of an accident with a truck), he never played again.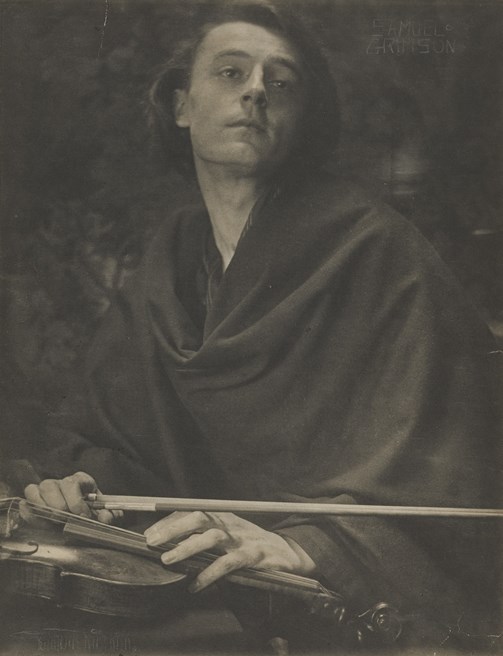 Above: Samuel Grimson. Photo – MoMA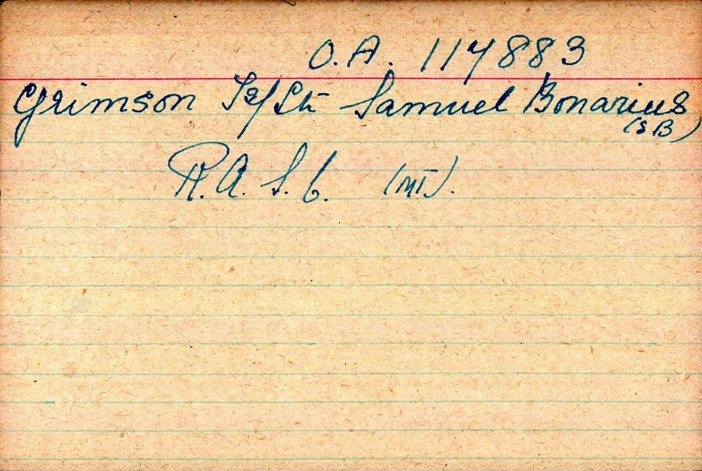 Above: The pension card for Samuel Grimson 
Samuel later lived in USA where he died in New York in 1955. He is buried in Sleepy Hollow Cemetery, Westchester County, New York.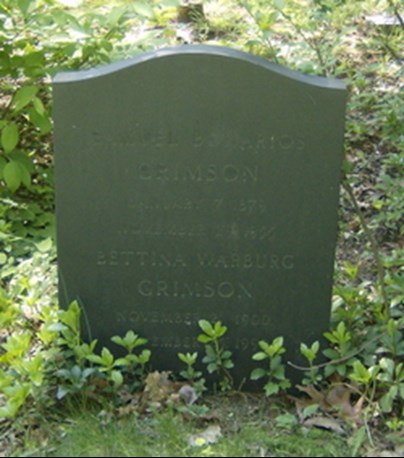 Jessie never really got over the loss of her husband and brother in the war. She retired from performing in 1927.
Article contributed by Jill Stewart, Honorary Secretary, The Western Front Association
Further Reading: 
'Aces Low': The Wimbledon Champion at Aubers