It is often asserted that the first British soldier to be killed in the war is buried very close to the last soldier to be killed, at St Symphorien Military Cemetery, Belgium. Indeed, the Commonwealth War Graves Commission note that Private John Parr, who was killed on 21 August 1914, is 'Believed to be the first British battle casualty of the war.'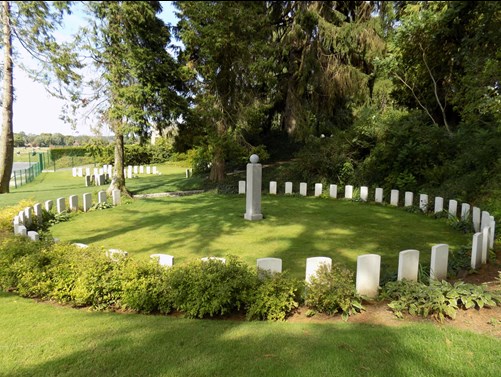 Above: St Symphorien Military Cemetery (image courtesy of the CWGC)
Over the years, other names have been suggested as 'the first to be killed', but these other soldiers were likely to be non-battle fatalities or have their dates of death possibly incorrectly recorded. In this article it is intended to look at a few of the 'other men'. It is not intended to be an exhaustive study, and without doubt other names can be offered.
First of all, there are a number of men recorded by the CWGC who died on the first day of the war. It is without doubt that many of these men died of disease, indeed many of these early records show deaths occurring in places where disease and heat were likely cause sickness. In the first 48 hours of the war it seems eleven men serving in British forces died in the UK, but the first action that caused a major loss of life was the sinking of HMS Amphion. The story of one of the sailors is told on this article Charles George McConachy.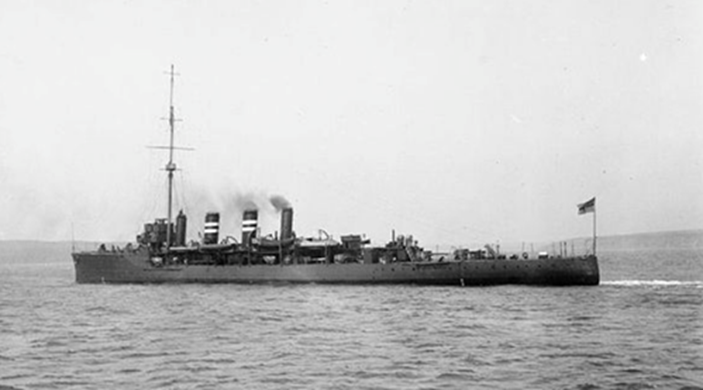 HMS Amphion
But what of those men from the BEF who crossed to France?
Whilst thousands embarked, it seems that not all of them made it to French soil. There is the case of Major Arthur Hughes-Onslow who apparently shot himself whilst crossing the channel. He died on 17 August.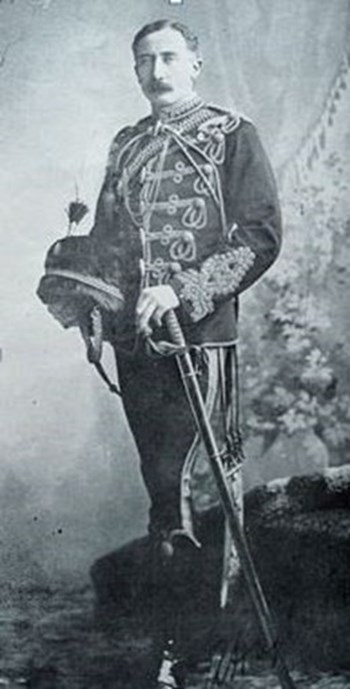 However Arthur was not the first member of the BEF to be buried in France. Private George Gooch (9437, Northamptonshire Regiment) apparently died on 11 August 1914 but there is some doubt as to the date of death here, it is possible this is a clerical error. However if this the case the Pension Ledger for Gooch also adds to the mystery by confirming the 11 August date.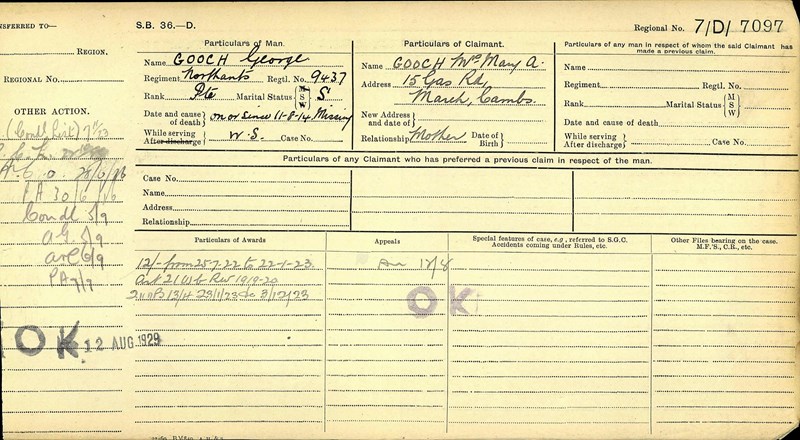 Above - the pension ledger
Below - a close up of the ledger

Another 'dubiously early' death is that of Private Duncan McDonald who, like Gooch, is commemorated on La Ferts-sous-Jouarre memorial. McDonald's date of death is recorded as 13 August 1914. If the date is accurate, his death may be attributable to falling overboard on the crossing to France. The alternative is that this is a transcription for 23 August which would be more logical. Again, his Pension Record does nothing to resolve the date as this also confirms the 13th.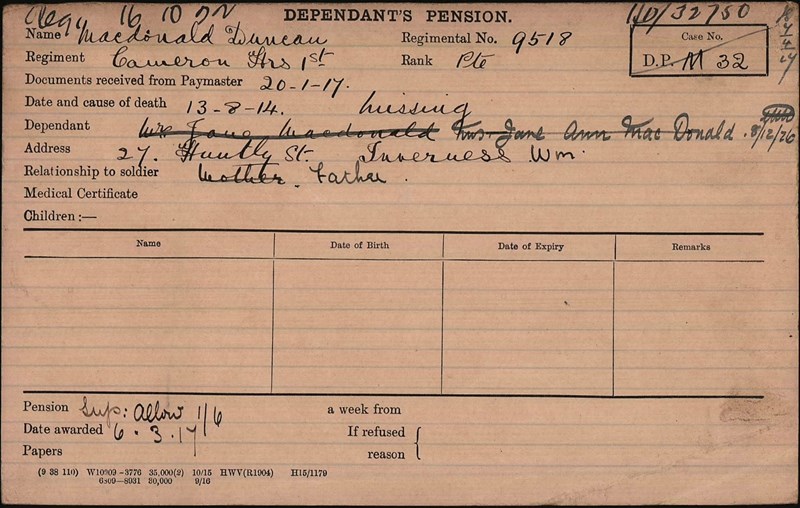 In the same battalion as McDonald (1st Cameron Highlanders) we have Private John Cameron who has a 'known' grave. He is buried at Ste Marie Cemetery, Le Havre. Cameron died of disease and is the first fatality of the BEF buried in France with a known grave. In this instance his Pension Record Card fails to state the date of death.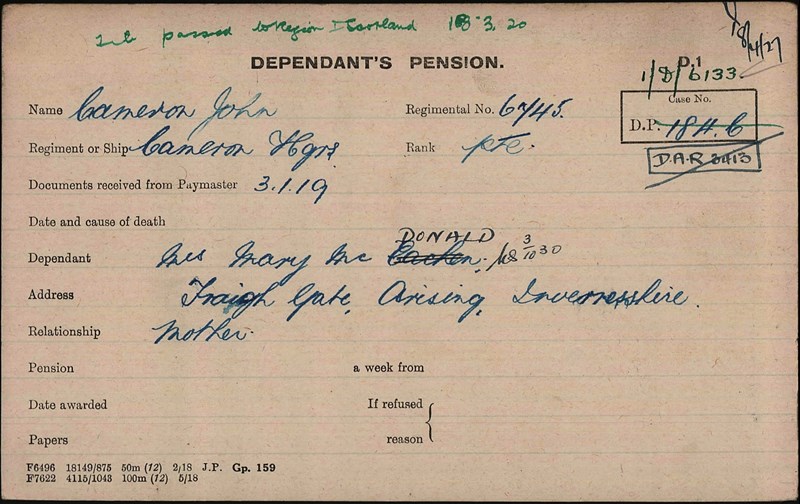 Of course it may be otherwise, but it seems that Gooch, McDonald and Cameron all died either later than recorded, or of disease. The same can't be said of 2/Lt Evelyn Perry and Air Mechanic 2nd Class Herbert Parfitt who died on 16 August when their aeroplane caught fire at Amiens aerodrome. Although not being killed 'in combat' are these two airmen possibly the first men of the BEF to have died in France due to war-like activities?
Below is the Pension Card for Parfitt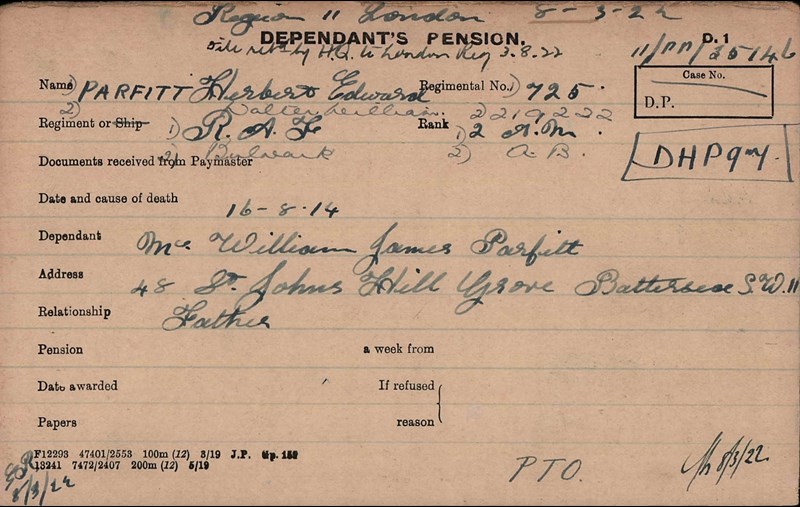 Of course, it can be argued that other men who were killed by the accidental discharge of weapons whilst in the UK were killed 'due to the war'. There are several cases of these types of accidents.
None of this obviously reduces the impact of visiting St Symphorien Military Cemetery where besides the grave of John Parr, there is also the grave of Private George Edwin Ellison who is often said to be the final British fatality of the war. But that is of course another area for debate entirely...!
Below - the Pension Record Card of George Ellison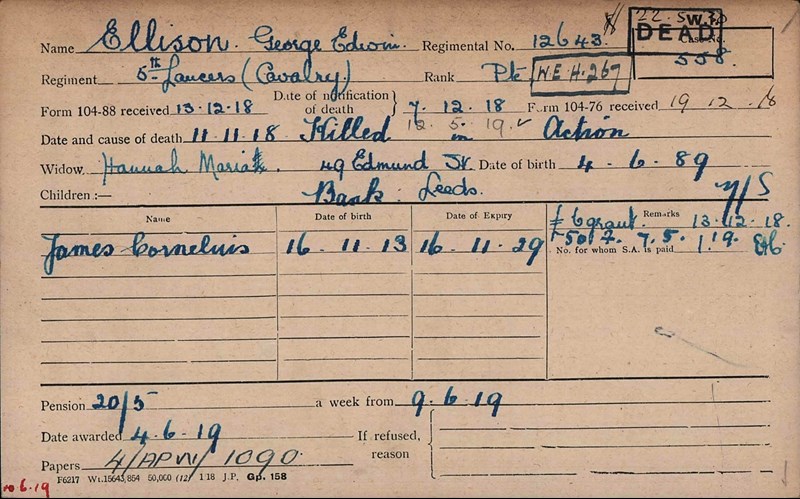 Article contributed by David Tattersfield