The Western Front Association is delighted to announce a major new initiative which we are certain will be of great interest to everyone who has an interest in the First World War.

We have launched a web-based portal which enables members and non-members to use our new 'TrenchMapper' to interact with (and also download) thousands of trench maps, images, and sketches that were created during or immediately after the Great War.

TrenchMapper covers mostly the British held sector of the western front, but we also have maps of Gallipoli and the UK, with hopefully other fronts to be added in future releases.
The Western Front Association has come to an agreement with Imperial War Museums that enables these maps to be downloaded for a very nominal cost (£4 per map) with two free maps available as examples. Members of The Western Front Association can also download two maps for free every calendar month. The revenue from the sales of these downloadable maps will be used in supporting the work of both the The Western Front Association and IWM.
The most innovative aspect of this is that you can use this free portal to see hundreds of maps for most 'front line' sectors of the front. At the moment, we have over 1,000 maps and images available, but this will rapidly grow over coming weeks and months. We aim to achieve an expansion of the available maps by asking members to help us to increase the number of maps and photos available on the portal from 1,000 to over 7,000.
What TrenchMapper does
The Western Front Association's TrenchMapper is a cutting-edge system that enables users to identify from a Google satellite image, street map, or topographical map the area of the front they are interested in. It is then easy to locate the maps (or mosaics of photographs) that appear at that point. The maps range from those that appeared in the Official History (and cover massive areas of the front), through to 1:40,000, 1:20,000 and 1:10,000 trench maps, and even a number of 1:5,000 maps. Mosaic images have also been built from RFC/RAF photos which show fine detail (trenches, craters, pill boxes, tanks, artillery barrages in progress). We also have German and Turkish maps available.
Using an 'opacity' slider it is possible to incrementally compare the maps and mosaic photos to what is on the ground 'now'.
There are lots of other 'bells and whistles' such as the ability to go to Google street view, measure distances from point to point and use advanced search functions. Not all functions will be needed by all users, but we do feel that the advanced options may well prove extremely useful to some members.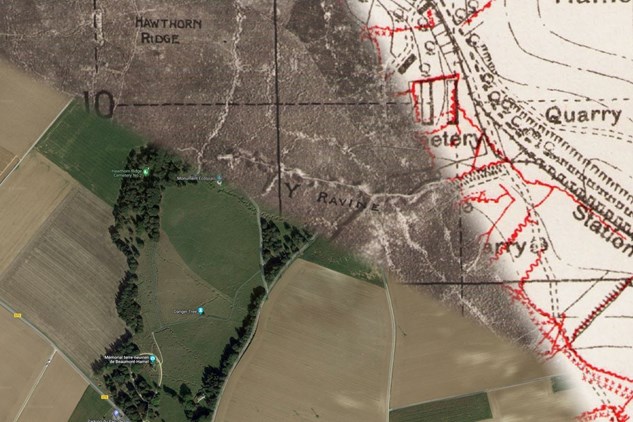 Above: A composite image using elements of TrenchMapper, to show how the portal displays modern satellite images, reconnaissance photos and trench maps. This is 'Y' Ravine on the Somme. 
Who can use this?
This is being made available to members and non-members of The Western Front Association, however, those users that are members can 'zoom' into the maps to a much greater degree of detail than non-members and also have the ability to download a limited number of maps for free every month.  
How many maps are there going to be
At the moment of launch we have over 1000 maps available. This is a significant number in itself, but is only about 15% of the entirety of what will ultimately be available. Getting more of these available in the shortest possible time is what we are now hoping to do, with an aim of completing this within six months. However, this ambitious time scale can only be achieved with the help of members of The Western Front Association.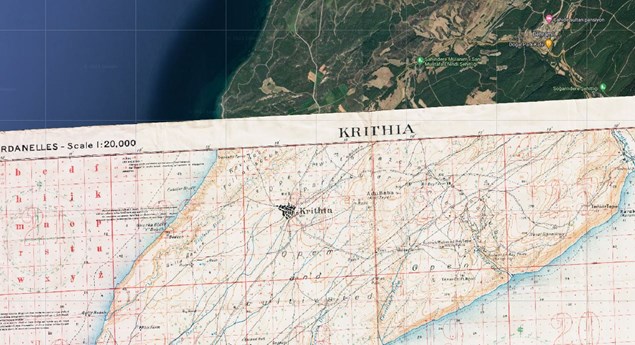 Above: A screen-grab from TrenchMapper, showing one of the maps aligned on the Gallipoli peninsula. 
Does this cost us anything to use?
This is entirely free, the only cost is a modest £4 per map if you wish to download (but WFA members can download two maps per calendar month for free).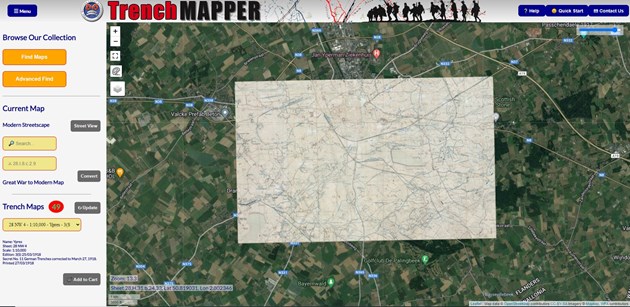 Further reading: