Gunner A E Wheeler, RFA.
Died 7 May 1982.
Memorial: Headstone at Herenthagestraat, Zillebeke, SE of Ypres.
Guardian: Vanhove and Wheeler Families.
Albert Edwin Wheeler was born on 19 August 1897 and died on 7 May 1982. In those eighty four years he had fought in the Great War, married Violet May Wilton, had a family and emigrated to Canada.
But the Great War had made a great impression on him. He served in 345 Battery Royal Field Artillery in 110 Brigade and later the Royal Horse Artillery with whom he was seriously wounded on 1 July 1916 by the lake at Zillebeke. That was the end of his war but the beginning of treatment which to last four years.
Towards the end of his life he expressed a wish to be buried with his comrades in Flanders Fields and by a chance meeting in the Middle East of his son and a member of the Renson family from Zillibeke this came true. Mr Wheeler could not be buried in a military cemetery, of course but at a ceremony at Bedford House his ashes were scattered among his comrades on 1 August 1982. And the necessary consents having been obtained, a memorial headstone in marble was erected in 1983 on land belonging to the Renson family who undertook to maintain it. The inscription reads:
'GNR A E WHEELER R.H.A. BORN 19 AUG 1887 WOUNDED 01 JUL 1916 ZILLEBEKE DIED 07 MAY 1982' and at the bottom 'RESTING WITH HIS COMRADES'.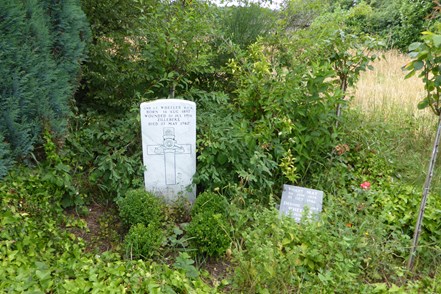 There is also a small garden.
In 1993 the land was sold to Mr and Mrs Vanhove who still look after the memorial and say they are "proud to have it on their property". The memorial stands close to the site of the Herenthage Chateau near the crest of what the British called Tower Hamlets Ridge.