Sapper Thomas Blakeley
Sapper Richard Choat
Sapper Charles Ellison (or Ellisson)
Sapper William Haviland
Sapper John Higgins
Sapper James Joiner
Sapper Ambrose Robotham
Pioneer Fred Tregidgo
Sapper Charles Vernon
82 Field Company, Royal Engineers
Killed in Action 29 - 31 July 1916
Commemorated on the Thiepval Memorial: Blakeley, Choat, Haviland, Joiner, Robotham, Tregidgo, Vernon
Buried at Catepillar Valley Cemetery: Ellison (Ellisson)
Buried at Becourt Military Cemetery:Higgins
Memorial: Brick Grave like structure at the Pozieres-Martinpuich crossroads, Bazetin-le-Petit, Somme,
Guardian: Commune of Bazentin.
The Official History (Vol 2 1916) in a footnote on page 162 says "No 3 Section of the 82nd Field Company RE, working under the 57th Brigade (19th Division) was engaged under fire in building strong points in front of Bazentin le Petit village during the night of the 29th/30th July. The infantry assisting the section was withdrawn to prepare for an attack next day, but the sappers volunteered to go on with the work and did so, until nine were killed and nearly all the others wounded. In the village there now stands a brick memorial 'To Nine Brave Men'."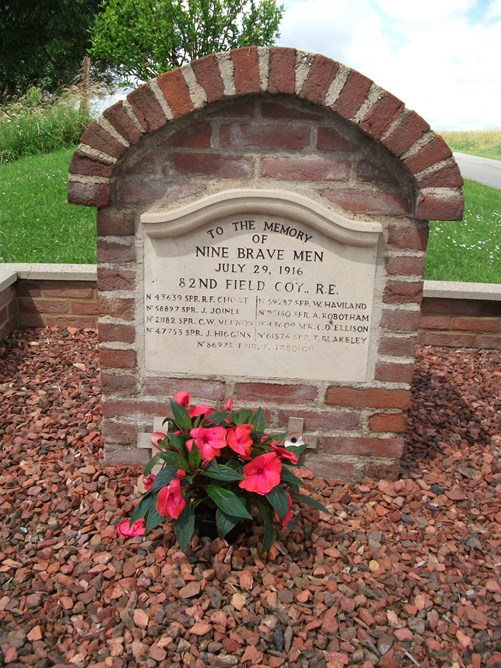 In October 1923 Lt Col R F A Butterworth wrote a letter to "Sapper", the journal of the Royal Engineers. As a Captain he had formed the 82 FC in October 1914 and commanded it through the Somme fighting. He wrote:
"Nos 3 and 4 Sections… …has to go up at dusk through the little village of Bazentin to wire in some tactical points gained during the day's fighting. They had two or three men hit on the way up and then for three or four hours they carried on their work under a hellish storm of H.E. and machine gun fire. The work was considered vitally necessary, accordingly Lt Howlett carried on steadfastly with No 4 Section and C.S.M. Deyermond with No 3 Section till the work was through… …6 killed and 19 wounded out of 40. I added the names of three others, who died with great heroism 'sticking it' in the same way on the previous night, thus making up the tale of the 'Nine Brave Men'. Choate was a first rate carpenter and a most loveable man. Ellison just a boy from a North Country workshop, Vernon a fitter and a fine stalwart fellow………"
Three days later 82 FC left the area and Capt Butterworth handed over command "However I had written to each of the next of kin of the nine men… …adding that I marked the spot… …and would go back some day and put up a little stone to their memory. I had a block of granite engraved in the Divisional workshop… …in November 1917… …we collected bricks from the ruins near by and so constructed our small tribute of affection and respecting to the memory of our nine brave comrades."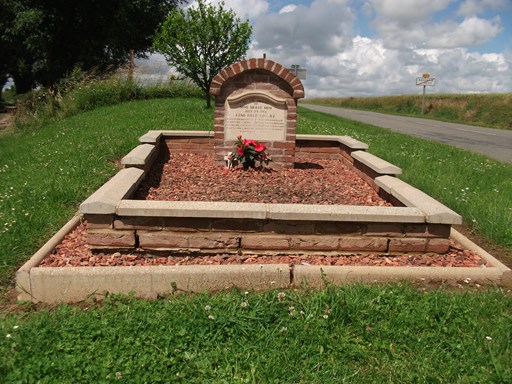 The stone reads:
'TO THE MEMORY OF NINE BRAVE MEN JULY 29, 1916 82 ND FIELD COY R.E. No 43639 SPR. R.F.CHOAT No 58897 SPR. J.JOINER No 21182 SPR. C.W.VERNON No 47753 SPR. J.HIGGINS No 59287 SPR. W.HAVILAND No 95180 SPR. A.ROBOTHAM No 43609 SPR. C.D.ELLISON No 61876 SPR. F.BLAKELEY No 86972 PNR. F.TREDIGO (1)'
Choat, born in Moulsham, Essex, Joiner who lived in Maidstone, Vernon from Wakefield, Haviland from Birmingham, Robotham who was living in London, Blakeley from Preston and Tredigo, a Cornishman living in Nottinghamshire, have no known graves and are remembered on the Thiepval Memorial, Pier and Face 8a and d.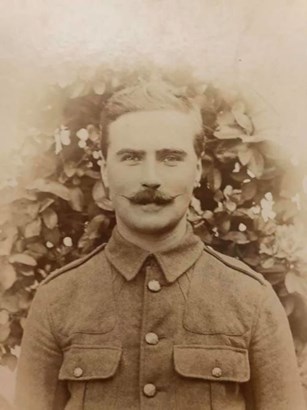 Sapper Charles William Vernon.
Ellison who was living in Hednesford, Staffs, is buried in Caterpillar Valley Cemetery (Special grave 21) and Higgins, a Geordie, lies in Becourt Military Cemetery, Plot I Row.P Grave 9. Vernon's and Robothams's dates of death are given as 30 July, Higgin's as 31 July and the others as 29 July in both CWGC Registers and 'Soldiers Died'. In both sources Ellison is spelt Ellisson, and Tredigo is spelt Tregidgo by CWGC and Tregidge in SD (1).
By the 1980s the brickwork was crumbling and at the instigation of Delville James and Bill Rogan the memorial was restored by the successors to the Nine Brave Men, with local help. A new brick surround was added and an additional plaque reads 'THIS MEMORIAL WAS REFURBISHED BY 82 SQN JUNIOR LEADER REGIMENT ROYAL ENGINEERS AUGUST 1989'.
Further restoration to replace mortar was carried out in 1998, but by this time sadly, the 82 FC was no more. Much respected by the people of Bazentin, the memorial is in good hands for the future.