Private Arthur Poulter, VC 1/4th Bn. Duke of Wellington's (West Riding) Regiment.
Died in Leeds, 29 August 1956.
Buried at New Wortley Cemetery, Leeds.
Memorial: Brick plinth at the south end of the Rue Delpierre, Erquinghem-Lys, Armentieres.
Guardian: Commune of Erquinghem-Lys
Born in East Witton, Middleham, in 1894 Arthur Poulter was the youngest of twelve children. He grew into a big strong man, farming until he was nineteen when he went to Leeds and joined the brewers Timothy Taylor and Co. The ease with which he handled the heavy bags of malt was later to stand him in good stead when carrying in the wounded. He then worked for a firewood dealer, marrying his step-daughter, Ada Briggs, in August 1916. They were to have two daughters and eight sons, one of whom died in 1947 as a result of deprivation as a POW in Germany.
Meanwhile, Poulter had tried to enlist in the Royal Navy. He was turned down for dental reasons but was accepted by the Duke of Wellington's and joined the 1/4 Battalion in March 1916.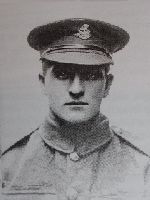 On 9 April 1918 news of the German breakthrough reached the Battalion which was hastily moved up to support the line at Erquinghem, on the Lys just outside Armentieres. After crossing the river, 'C' Company assembled at the top of the Rue Delpierre under heavy fire and then took up a position to hold the railway line (which runs SW from Armentieres). But the straight line of the railway was enfiladed by machine guns and the casualties soon became serious. When it seemed matters could not get worse the enemy brought up a field gun and eventually only one officer and nine men came back from the five officers and one hundred and thirty nine other ranks who had gone into action.
It was here that Pte Poulter came into his own. For hour after hour he carried in the wounded on his back, leading a charmed life as bullets spattered around him. A man was hit as Poulter carried him; Poulter and another were buried by a shell but he picked the man up and carried on. One wounded man was left behind and Poulter went back to get him. By any standards Poulter's actions that day were astonishing and there can rarely have been a more deserving award of the Victoria Cross.
Continuing his brave deeds, Pte Poulter was eventually hit and badly wounded near Kemmel on 27 April when a bullet hit him behind the ear and came out below his eye, temporarily blinding him.. He managed to walk to the dressing station but his war was over. His eight brothers all survived the War but two others were also wounded.
On 14 November 1998 the great grand-daughter of Poulter VC jointly unveiled a memorial at the place where he had carried so many men to safety eighty years before. Plaques in English and French telling the story of his exploits were mounted on a brick plinth by the Erquinghem-Lys Historical Society and the project was organised by Monsieur Jack Thorpe, himself the son of a Normandy veteran. After an impressive ceremony the beer was provided by Timothy Taylor and Co whose malt barley Arthur Poulter VC had built up his strength carrying. It is a worthy memorial to a very brave man.