Lt-Col A L Wrenford, 4/East Lancashire Regt.
Killed in action 21 March 1918.
Buried in Cabaret Rouge British Cemetery, Souchez, Plot XXX Row F Grave 17.
Memorial: A tall stone cross beside a footpath W of Villeret, S of Hargicourt, 13 km NNW of St Quentin.
Arthur Leonard Wrenford was born Kensington 25 April 1881. He was the elder son of William Leonard Wrenford, a barrister, of Cranbrook House, Floot, Hants, and his wife Emily Emily Flora (née Morden). He was placed fourth at Sandhurst and went up to Cambridge as an army candidate where he took a commission in the University Volunteer Rifle Corps before joining the 2/Worcester Regiment in July 1903.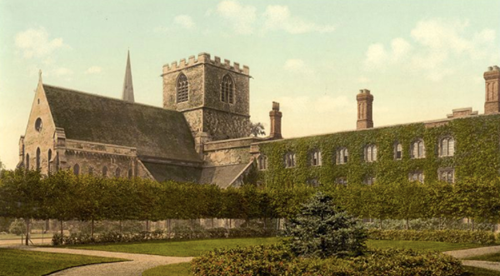 Educated at Dover College and Jesus College, Cambridge.
A keen sportsman at Dover College he gained a cup for long-distance running and rowed in Jesus College Eight, winning his oar.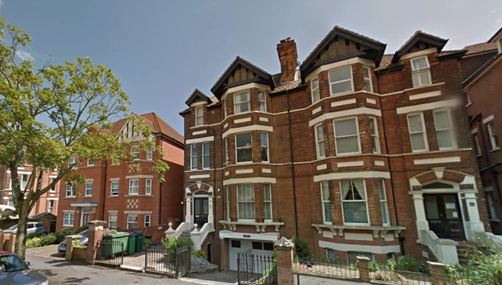 At the 1901 Census, the 19 year old undergraduate Arthur Wrenford was at home at 59 Bouverie Road, Folkestone with his parents and sister Alice. Two domestic servants, a cook and housemaid were also present. 
He was elected a member of the Royal Geographical Society for his mapping of parts of the Nigerian territory.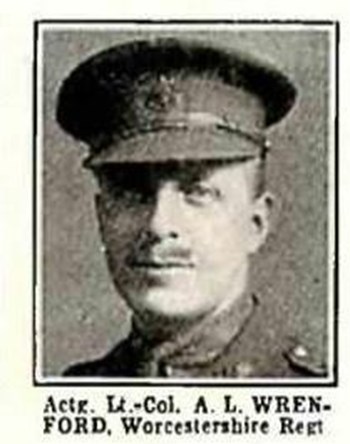 Gazetted 2nd Lieut. 1st Battn The Worcestershire Regiment, October 1903
Promoted Lieutenant in 1907. Captain in October 1914 and Acting Lieut-Colonel in November 1917.
Served in Ireland, South Africa, Ceylon, India, Aldershot and Tidworth. Three times seconded to the West African Frontier Force and was sent from Tokoga for the taking of the Cameroons.
He rejoined the Worcesters in the 5th (Reserve) Battalion in August 1915.
Rejoined 4th Bn. Worcesters at Mericourt in July 1916 but almost at once went on an eleven day detachment to the Royal Fusiliers as a T/Major. As an A/Major he served from April until September the following year with the Royal Inniskilling Fusiliers, before taking command of 4th Bn. East Lancs as an A/Lieutenant Colonel on 23 September 1917. Surprisingly, no reference to his time in command appears until 21 March 1918, the opening day of the German Offensive.
In thick fog the heaviest ever enemy bombardment began at 4 30am. The 4th Bn. East Lancs had three companies in the line and one in support and stood their ground, resisting strenuously, until they were outflanked and attacked from the rear. Almost every officer and man became a casualty or was captured and although the War Diary reported Wrenford 'wounded and taken prisoner', in fact he was killed.
He was mentioned in despatches on 23 May 1918.
His body could not be found so his mother erected a stone cross with a surround of stone posts and railings inscribed in French on one side and English on the other:
'THIS CROSS WAS ERECTED / BY HIS MOTHER / TO THE MOST BELOVED MEMORY OF / COLONEL ARTHUR WRENFORD / WORCESTER REGIMENT / KILLED IN ACTION NEAR THIS SPOT MARCH 21 1918'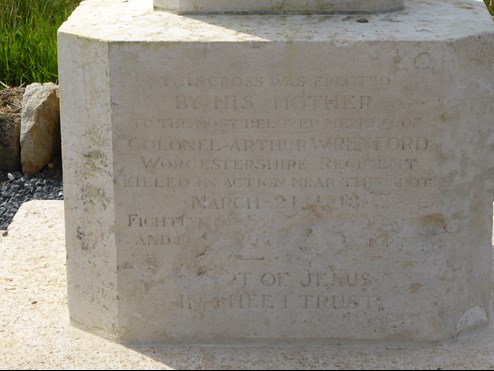 The wording below is damaged but appears to be:
'FIGHTING FOR ENGLAND AND FRANCE / AND BURIED IN AN UNKNOWN GRAVE / HEART OF JESUS IN THEE I TRUST'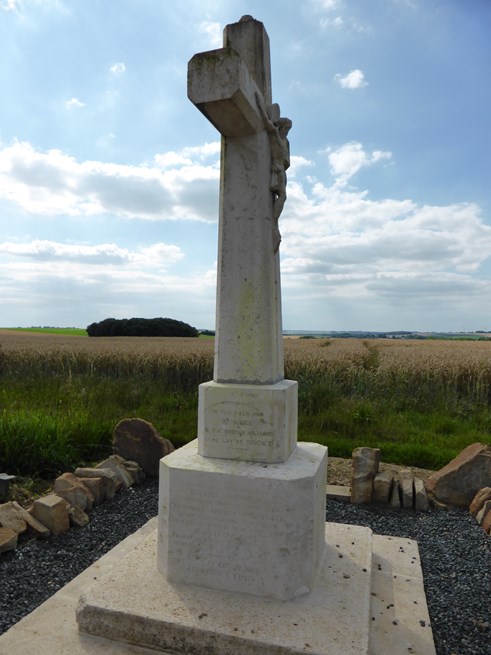 An additional inscription was added: 
'HE WAS FOUND / IN MARCH 1927 / IN THIS FIELD AND / RE-BURIED / IN THE BRITISH MILITARY / CEMETERY AT SOUCHEZ'
Cabaret Rouge was still receiving new burials at the time so Wrenford was taken there.
Sources: Du Ruvigny's Roll of Honour, 1901 England Census.