2/Lt T K H Rae, 8/Rifle Brigade
Killed in action: 30 July 1915.
No known Grave. Remembered on the Ypres (Menin Gate) Memorial
Memorial: A Stone cross on the grass verge outside Sanctuary Wood Military Cemetery.
Guardian: CWGC.
Born on 24 May 1889 in Birkenhead, Thomas Keith Hedley Rae was the youngest son of Edward Rae, a stockbroker, and his wife Margaret of Courthill, Devonshire Place, Birkenhead. He was educated privately because of ill health but went up to Balliol College, Oxford, in 1907 and took second class honours in History in 1912.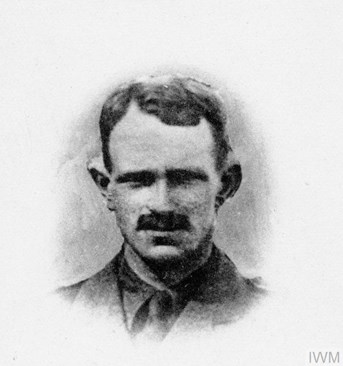 Rae founded a boys' club in Oxford which continued to flourish long after his death and took great interest in the well-being of the young. After coming down he gained his teaching diploma and taught as an Assistant Master at Marlborough College until he volunteered to fight.. Together with many Balliol men he was commissioned into the 8th Battalion of the Rifle Brigade in 14th (Light) Division and went to France in May 1915. A more detailed description of his life appears in "Salient Points" by Tony Spagnoly and Ted Smith (Leo Cooper 1995).
Their first major engagement was at Hooge in late July. Rae commanded a platoon in 'C' Company holding the line at Hooge Crater. Following a violent barrage early in the morning "there was a sudden hissing sound and a bright crimson glare over the crater turned the whole scene red" wrote 2/Lt G V Carey later, "As I looked I saw three or four distinct jets of flame - like a line of power hoses spreading fire not water - shoot across my fire trench..." This was the first use of 'liquid fire', or flame-throwers, and it wrought carnage among 'C' Company. 2/Lt Rae was last seen burnt and bleeding, standing on his parapet firing at the attackers. He has no known grave.
After the War Rae's family came to an arrangement with Baron de Vinck, owner of the land, and erected a Celtic Cross on the spot where he was last seen.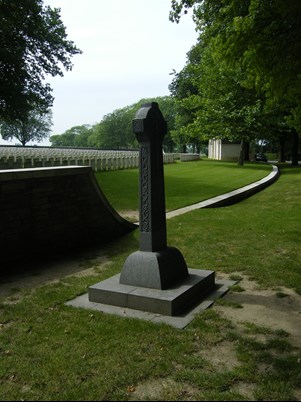 Of Belgian blue stone it has a rectangular base in two stepped courses surmounted by a plinth block and cross, and it is, in fact, a replica of the memorial at Marlborough to the Assistant Masters who fell in the War. On the bottom of the cross is inscribed:
'BE THY FAITHFUL UNTO DEATH I WILL GIVE THEE A CROWN OF LIFE' and on the plinth TN MEMORY OF KEITH RAE 2/LT 8/RIFLE BRIGADE DEAREST LOVED YOUNGER SON OF EDWARD AND MARGARET RAE WHO DIED ON THIS SPOT 30th JULY 1915 IN HIS 25th YEAR FIGHTING IN THE GREAT WAR FOR HUMANITY'.
Facing upwards on the upper base are the words:
'CHRIST'S FAITHFUL SOLDIER AND SERVANT UNTO HIS LIFE'S END'
and on its front:
'IN MEMORY ALSO OF HIS BROTHER OFFICERS AND MEN WHO FELL ON THE SAME MORNING AND AFTERNOON'.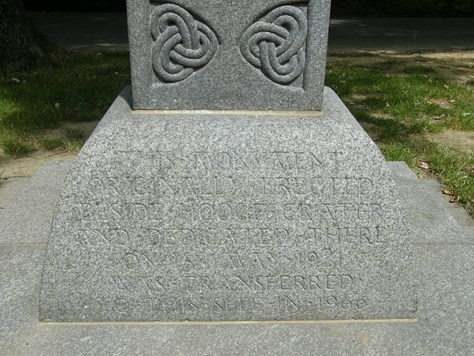 Rae was one of a group of officers from the 7th and 8th Rifle Brigade Battalions whose example led to the setting up of Toc H and Talbot House -named after Gilbert Talbot, a great friend of Rae's, who now lies in Sanctuary Wood Military Cemetery. And it was the founder of Toc H, the Rev 'Tubby' Clayton MC, who dedicated Rae's memorial on Whit Sunday, 15 May 1921. It was just north of the Menin Road to the right of the lane to Bellewarde Farm and is still marked on IGN maps. Originally, there was a carefully tended garden some 16 yards long by 7 yards wide and Rae's parents visited it regularly.
After the Second World War the garden fell into disrepair and by the 1960s Tubby Clayton and the Baron de Vinck were concerned for its future. CWGC suggested three possible new sites. By the Menin Road, by Hooge Crater Cemetery, or by Sanctuary Wood Military Cemetery. Planned road widening ruled out the first two but the wide grass verge at Sanctuary Wood offered room "for Toc H to gather for a hymn and a prayer". Family members were traced; they approved and made financial provision and the memorial passed into the care of CWGC.
It was moved to its new site in June 1966. On the rear face of the base were added the words:
'THIS MONUMENT ORIGINALLY ERECTED BESIDE HOOGE CRATER AND DEDICATED ON 15th MAY 1921 WAS TRANSFERRED TO THIS SITE IN 1966'
This is not quite the end of the story, for in 1995 there was a proposal to move it back again , but the Rae family decided against it. Thus the memorial to Keith Rae remains on the immaculate grass at Sanctuary Wood with its future assured.