Capt F L Mond
Lt E M Martyn
57 Sqn, Royal Air Force
Killed in action 15 May 1918.
Buried at Doullens Cemetery Extension, Plot I Row B Graves 29 and 28
Memorial: A broken stone column by the Hamel Road at Bouzencourt, S of the Somme River, N of Le Hamel.
Guardian: Commune of Hamel.
Francis Leopold Mond was the eldest son of Emile Mond, a well known chemical engineer of his day and his wife Angela. Born in 1896, educated at Rugby (1909-12) and Peterhouse College, Cambridge, he was commissioned into 6th Bn. London Brigade Field Artillery in July 1914.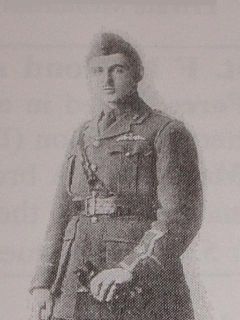 Mond joined the RFC in February 1915, trained as a pilot and flew on active service in France until invalided home after an accident. After a further spell in France he served for eighteen months at the Air Board before returning once more to join 57 Sqn in March 1918.
Edgar Meath Martyn was a Canadian, son of William and Margaret Martyn and the husband of Margaret J Martyn of North Bay Ontario. He came to Europe with 19th Bn. Canadian Infantry (1st Central Ontario Regt.) before being commissioned into the RFC as a lieutenant observer on 12 February 1918.
Martyn, standing besides his mother (courtesy http://hamelfriends.free.fr/ )
Flying a DH4 bomber, Mond and Martyn attacked ammunition dumps at Bapaume before being themselves attacked by "German Scouts" at 11.30am. In the ensuing dog-fight they were shot down and killed in no-man's land, just south of the Somme River - the fight having been witnessed by 31st Australian Battalion. One of their officers, Lt A H Hill MC, went out under fire, extricated and identified the bodies, had them sent down to Battalion HQ by river and their personal effects sent on to Mond's family.
Then the bodies disappeared. They had been escorted down river but it seems they were buried without authority and no record was kept. A very thorough search and investigation was carried out by the Australians, by 57 Sqn and by CWGC, prompted by Mrs Mond. She wrote to every officer and NCO remotely involved and personally searched between thirty and forty cemeteries - and she kept in touch with Martyn's wife. In 1920 she sent a highly competent summary to CWGC listing the actions still to be taken. And she got results. By 1922 she felt certain two graves at Doullens belonged to her son and his observer and not the men named. In March 1923, with the headstones already installed, one grave was exhumed in the presence of Mrs Mond and the father of Captain J V Aspinall whose name was on the headstone. It was agreed the body was that of Mond and the other grave was opened. That was Martyn, not Lt P V de La Cour, whose grave turned out to be the next one. No 27.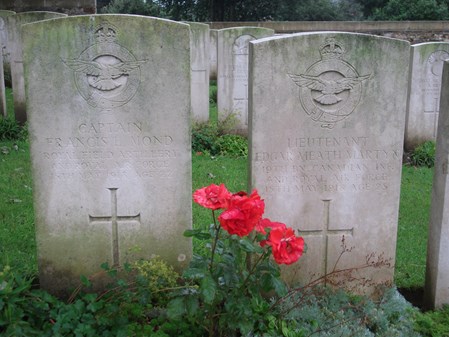 Captain Aspinall is now remembered on the Arras Memorial.
Meanwhile, in 1919, Emile Mond had endowed the 'Francis Mond' Chair of Aeronautical Engineering at Cambridge and bought 1900 square metres of land at the spot where the aircraft had crashed. Of this, "sixty four square yards" were "surrounded by an iron chain railing supported by stone pillars" and planted with flowers, shrubs and trees. A broken column and base in sandstone was inscribed:
'CE MONUMENT EST ERIGE A LA MEMOIRE DU: CAPITAINE FRANCIS L. MOND. "RFA et RAF" et du LIEUTENANT EDGAR M MARTYN. "RAF"' du CORPS D'AVIATION ANGLAIS 57cme ESCADRILLE tombe glorieusement a cet endroit. en combattant contre les avians allemands le 15 mai 1918 per ardua ad astra'.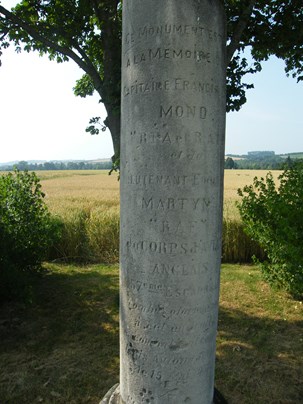 Arrangements were made locally for its upkeep.
During the Second World War a Cross of Lorraine and a letter V were scratched in the soft stone of the memorial, probably as a gesture of defiance by the Resistance.
The Monds visited the graves and memorial frequently until Emile Mond's death in 1938 and the last known family visit was in 1951 by Francis Mond's sister, May. By 1979 the memorial was in a poor state, the railings had disappeared and the garden overgrown. Efforts by the Maire of Hamel and CWGC to trace the families were unsuccessful and so the memorial was adopted by the Commune of Hamel.
Although the soft stone is now weathered and difficult to read it remains a remarkable sight and the simple garden is a credit to the people of Hamel.