Major M R Wingate, 459th Field Company, Royal Engineers.
Killed in action 21 March 1918.
No known grave. Remembered on the Arras Memorial
Memorial: A stone column with railings and lawn beside track from Beugny to Lagnicourt.
Guardian: CWGC.
Born on 28 August 1893, Malcolm Roy Wingate was the second son of Gen. Sir Reginald Wingate, 1st Bt, GCB GCVO GEE KCMG DSO and his wife Catherine Leslie, DBE. Sir Reginald was at one time Governor-General of the Sudan, Sirdar of the Egyptian Army and later, High Commissioner for Egypt. Malcolm Wingate was educated at Winchester, becoming a Commoner Prefect and passed with credit through RMA Woolwich before being gazetted into the Royal Engineers in December 1912 at the age of 19.
Wingate went to France with the 26th Field Company in August 1914 and soon distinguished himself being mentioned in despatches in January 1915 and again in March before winning the MC and the Croix-de-Guerre. By the end of 1915 he had also been awarded the DSO for "Conspicuous gallantry on numerous occasions, especially at Givenchy on 27 January 1915 when he led a small party and blew in the head of the enemy's sap at the White House." Posted to a staff job for a year, he returned at his own request in command of 459th Field Company where he was mentioned in despatches twice more. He was promoted Brevet-Major on 1 January 1918.
Wingate's unit were in dugouts in the line between Lagnicourt and Morchies when the German onslaught began in the early hours of 21 March 1918. Under very heavy shelling Wingate was "in an exposed position supervising battle positions in half light" wrote Col E Mackintosh DSO of RE HQ to Sir Reginald, "when he was killed instantly by field gun HE which burst on the hard road just in front of him." His personal effects were removed before burial that evening after dark, reported the Colonel who sent a map of the position. (The memorial is at the spot shown on the map. The CWGC Burial Report subsequently quoted 57c.C.28.d.9.1 which is some 40 yards east of the memorial and about 70 yards behind the front line which ran east west at this point.)
General Wingate visited the grave of his son and "another officer" (almost certainly Major A Williamson, 12 FC) in January 1919. Their names were painted clearly and the low wooden paling surrounding them was in good order. But in 1920 his son's "cross was found" at Queant Road Cemetery in Plot 2 Row D Grave 9. He arranged to buy the original grave site to raise a memorial and asked for the cross. But when CWGC investigated they found the grave referred earlier contained an unknown Australian.
Over the next four years General Wingate did his best to find his son but never did. Almost certainly he was blown to pieces, the original grave was probably no more than a mound to mark the spot and in cases of "no body found" by burial parties it was not unknown for them to take the marker to the cemetery.
By the summer of 1922 the memorial was in place and it looked much as it does today. The stone column is inscribed:
'IN MEMORY OF MAJOR MALCOLM ROY WTNGATE DSO MC CROIX DE GEURRE COMMANDING 459TH FIELD COY. RE, WHO FELL IN ACTION HERE 21ST MARCH 1918 AGE 24. BELOVED SON OF GENERAL SIR REGINALD AND CATHERINE WTNGATE. HE SERVED WITH THE B.E.F FROM AUGUST 1914'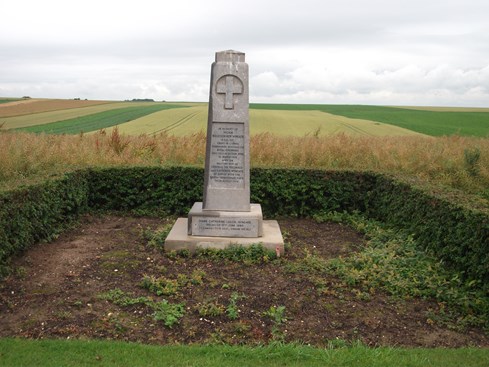 There is a small R E badge on the iron gate.
Lady Wingate died in 1946. Her ashes were buried at the memorial and a stone plaque was added:
'DAME CATHERINE LESLIE WINGATE RECALLED I0th JUNE 1946. WHO KNOWS GOD DOES ENDURE HIS ACT'
Sir Reginald made further provision before his own death in 1953 but his eldest son had no issue and the baronetcy is now extinct. The Wingate memorial has been well maintained ever since but now needs major expenditure which existing funding cannot provide.