Capt C R Tidswell, 1/Royal Dragoon Guards and Royal Flying Corps
Killed in action 16 October 1916.
Buried in an isolated grave WSW of Etricourt 
Grave: A stone cross mounted on a base with kerb and wrought iron fencing.
Guardian: CWGC.
Cecil Robert Tidswell, the only son of Mr and Mrs R H Tidswell of Wimbledon and Bosmere Hall, Needham Market, was born on 22 November 1880 and educated at Harrow.
In 1900 Tidswell took a commission in 7th Bn. King's Royal Rifle Corps but in August the following year joined the 1/Royal Dragoons with whom he had family connections. He served with them in the Boer War, receiving the King's medal and five clasps and later spent much of his service in India where he was promoted to Captain in 1910. The Dragoons sailed for France with the Lucknow Cavalry Brigade and arrived on 7 November 1914.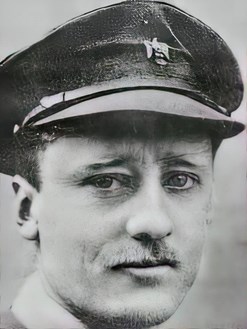 Believing there was no future for the cavalry Captain Tidswell transferred to the RFC in 1916 qualifying as an observer and receiving his commission as "Captain (Flying Officer)" on 2 June. He was made Captain (Flight Commander) eight days later. Soon afterwards he qualified as a pilot "in an even shorter time" and a remark by him survives "Yesterday we were grounded because the wind blew the plane backwards." Tidswell went out to France in July.
Surprisingly, neither his squadron nor the type of aircraft have been established. On 16 October 1916 he was shot down flying solo "over the enemy lines in the neighbourhood of Bapaume" and was said to be a victim of Manfred von Richthofen, the 'Red Baron' (this is not seemingly the case).
Tidswell was "buried where he fell in his burnt and wrecked machine by the Germans" his father later wrote, although his Service Record incorrectly states "Died (Prisoner of War)".
His father had all his letters from France printed and bound into a hard back volume of which one was given to each of Robert Tidswell's six sisters. Three months after the War ended he wrote to CWGC asking for his son's grave to remain where it was; it had been put in order by the army, a British cross had replaced the German one, and railings were being erected to protect it. Mr Tidswell's wishes were respected and he bought the ground. (His uncle had died on the first Nile Expedition and his grave and the granite headstone sent out from England still survived at Abu Simbel, so perhaps that is why he wanted his son to stay where he fell.)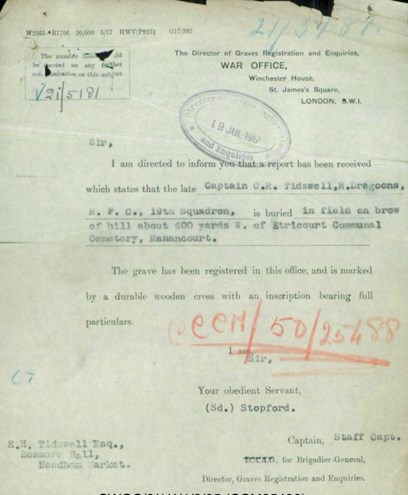 Above: A letter from the Director of Graves Registrations about the location of the grave. This is date stamped as being from 1917.
The cross is inscribed:
'RIP PER ADUA AD ASTRA'
and on the upper base are the words:
'CECIL ROBERT TIDSWELL CAPTAIN 1 ROYAL DRAGOONS AND FLIGHT COMMANDER ROYAL FLYING CORPS'
and on the lower base:
'BORN NOV. 22ND 1880 KILLED IN ACTION WHILE FLYING OVER THE GERMAN LINES OCT. 16TH 1916'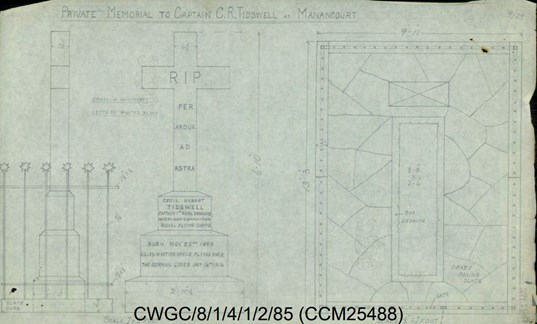 Above: the design of the memorial from the CWGC's archives.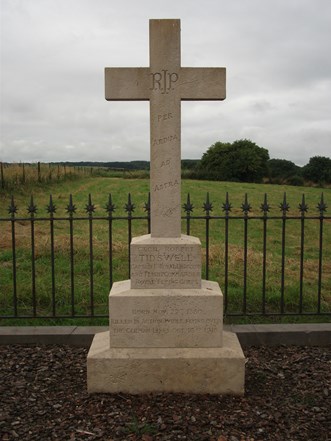 Above: How it looks today. 
Although his family visited it every year, the difficulties of looking after a grave in such a remote spot soon became apparent and in 1926 Tidwell's sister, Miss A C Tidswell, wrote to CWGC from Bosmere Hall seeking help. At that time the grave was surmounted by a rose tree, planted by his mother, and surrounded by a box hedge. The rest of the plot was crazy paved and fenced by posts and chains. Discussions continued for some time; the family resisting pressure for the grave to be "gathered in" and finally, in 1930, a suitable financial arrangement was agreed. Thereafter CWGC looked after it and continued to do so until 1983 by which time major work was needed. While adequately funded for routine maintenance structural work required new finance and, happily, this was forthcoming from Tidswell's nephews.
Thus, in 1983 the grave was fully restored with new iron railings and kerbing. Routine painting and pointing were carried out again in 1995 and this grave on a remote hillside remains a credit to Tidswell's family and CWGC.