Capt H S H Wallace, 10/Worcester Regiment.
Killed in action 22 July 1916.
No known grave. Remembered on the Thiepval Memorial
Memorial: An oak crucifix on a cairn beside the Upper Road to High Wood from Bazentin-te-Petit, Somme.
Guardian: Commune of Bazentin
Born on 22 June 1892 Houston Stewart Hamilton Wallace was the son of William Hamilton Wallace and his wife, of Birkenhead. Brought up an Episcopalian, he went to Fettes College, Edinburgh, (1906-12) where he became a school prefect, captain of cricket and hockey and a Sergeant in the OTC. He went up to Merton College, Oxford, in 1912 but war came and he immediately volunteered for service.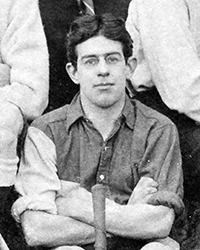 Above: HSW Wallace, from a team photo of the Merton College (Oxford) 1914 hockey XI; © The Warden and Fellows of Merton College (source: http://share.merton.ox.ac.uk/items/show/438.html )
Wallace was commissioned Second Lieutenant in the Worcester Regiment on 2 October 1914 and went to France the following July. The Worcesters first major action followed almost a year later when they suffered heavy casualties taking La Boiselle on 3rd July, losing their CO. Later that month they were in action again in the attack on High Wood. Wallace, by then a Temporary Captain, commanded 'D' Company.
A scheme to use heavy artillery and a forward rush to deal with an elusive German machine gun along Upper Road was devised but never got under way. Meanwhile, the enemy gun had been brought forward to the bend in the road and caught 'D' Company who were advancing to attack. They took heavy casualties that morning, among them, Captain Wallace. His body was never found.
Wallace left a small legacy to Fettes to be given to the sons of Episcopalian clergy and the sons of army and navy officers. Wallace's parents had both died before the War but his next of kin, his mother's sister Miss Beatrice Heap, did her best to discover what had happened to him. His CO said he had been buried "near a calvary with trees behind" and other evidence confirmed this to be the junction between Upper (sometimes called North) Lane and the track to the windmill. The Worcester's line had pivoted on this point which they called Crucifix Comer (not to be confused with the well-known corner of that name 1000 yards to the south). Miss Heap first went there in 1921.
In March 1924 CWGC staff reported a new memorial on the site. In the summer Miss Heap approached CWGC asking if they would look after it for a fee. She had not bought the site, but merely replaced the calvary which had been destroyed, dedicated it to her nephew, and cultivated an area of about 20' by 16'. The Commune of Bazentin welcomed the gift but could not look after it - probably due to concern over the Disestablishment Law which prevented official recognition of religious symbols. CWGC duly investigated, the Commune did own the land (parcelle No 292 bis) and by resolution of the Conseil Municipal on 9 January 1925 CWGC was empowered to maintain it for twenty years until 31 December 1944. Miss Heap paid for brick steps to be built and various improvements to be made and then regularly for routine maintenance until the Second World War.
At the end of 1944 other matters were on people's minds and when peace returned Miss Heap could not be traced and the memorial gradually fell into disrepair. There matters rested until about 1980 when the remains of the wooden calvary were rescued by Andre Brunet, a carpenter in the village.
When the memorial was recorded for the WFA register in 1991 only the dilapidated cairn remained with the original wording scarcely legible:
'HOUSTON STEWART HAMILTON WALLACE CAPT 10TH WORC REG 22 JUL 1916'.
on the marble plaque.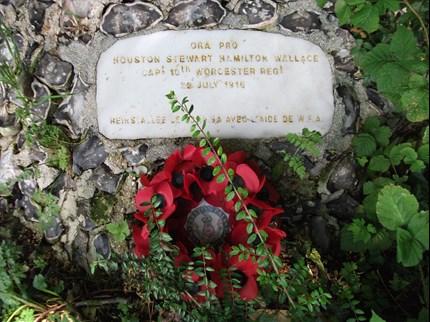 Over the next two years the WFA tried to generate interest in restoring the memorial and this was achieved once the existence of the original cross was discovered.
In 1994 the WFA sponsored work carried out by the Commune as a joint project. New parts were made for the original calvary, a new plaque was attached to the restored cairn, the site was tidied and planted and a service of rededication attended by over two hundred people was held - in pouring rain - on 24 October 1994. Thus Houston Wallace continues to be remembered as his aunt would have wished.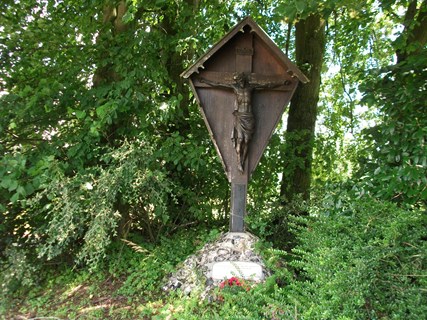 An original postcard of a silver bugle on which was engraved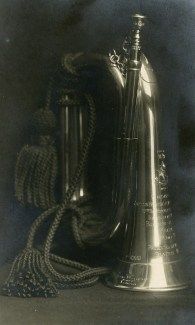 "The Badge of the Worcestershire Regiment" and the following -
In Memory of Captain Houston Stewart Hamilton Wallace
10th Worcestershire Regiment
Killed in Action
Bazentin-le-Petit
22nd July 1916
Presented by Beatrice Heap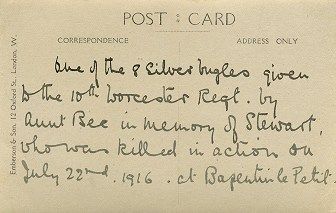 On the back of the postcard is written - "One of the 8 Silver Bugles given to the 10th Worcester Regt. by Aunt Bea in memory of Stewart who was killed in action on July 22nd 1916 at Bazentin le Petit."