Major C C Dickens, 13/London Regt Kensington Battalion.
Killed in action 9 September 1916.
No known grave. Remembered on the Thiepval Memorial
Memorial: Wooden cross, signposted 'Dickens Memorial' to the north of the Guillemont to Combles road. Old position marked.
Guardian: L'Office Culturel d'Albert / Family.
Cedric Charles Dickens was the grandson of the author, Charles Dickens. He was born on 8 March 1889, educated at Eton and Trinity Hall, Cambridge, took a commission in his territorial battalion in 1909 and qualified as a solicitor in March 1913. Mobilised as a captain on 16 August 1914 he went to France on 3 November and suffered a wound to his shoulder early the following year. Dickens gained his majority in December 1915 and commanded a company in the Battle of the Somme. The Londons suffered badly at Gommecourt but he survived without a scratch.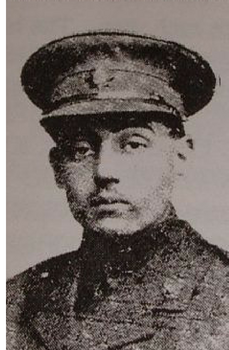 As part of 56th Division, 13 Bn. Londons were engaged at Bouleaux Wood when Dickens gallantly took a party north to cover a gap. Unknown to him their left flank was open due to the Irish Division having been held up at the Quadrilateral and it was heavy machine gun fire from that strongpoint which first wounded and then killed him. His men buried him in the shell hole where he fell.
A year later his men returned and Pte J F Tucker recounted in his book "Johnny Get Your Gun" how he helped make a cross and wooden rails for Major Dickens' grave. A photograph of it appears in the book.
In 1921 Mrs Dickens (her husband was knighted the following year) gathered clothes for the "Devastated Regions" of the battlefields and in every suitcase she enclosed a photograph of her son inscribed "En memoire de Major Cedric Charles Dickens tue a la Somme en 1916". She raised money to give the village of Ginchy a water supply and she arranged with the War Office for her son's grave to remain where it was. She bought the land and a right of way but caring for it was difficult until it was agreed she should pay CWGC to do the work. Together, Lady Dickens and the Regional horticulturist, Mr Burkey, created a beautiful garden which she visited at least once each year. The hedges and shrubs, by then a copse of full grown trees, were still recognisable in the early 1990s. She put up a seat - and a wooden cross to mark the grave, later in 1928, replaced with one in teak, inscribed:
'IN LOVING MEMORY OF OUR DARLING CEDDY / MAJOR CEDRIC CHARLES DICKENS BORN 8th MARCH 1889 KILLED IN ACTION LEUZE WOOD 9TH SEPT 1916'.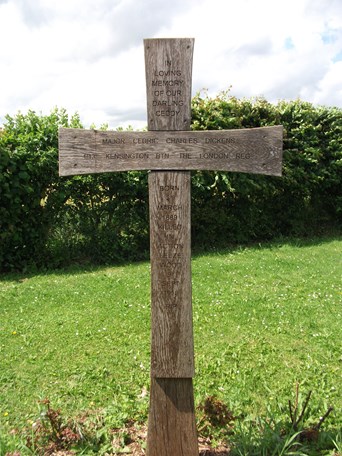 Underneath there is a brass plaque worded:
'COMMUNE DE GINCHY A LA MEMOIRE DE MAJOR C.C. DICKENS OFFICER DE L'ARMEE BRITTANIQUE ET AMI DEVOUE DE LA FRANCE TUE EN CE LEU AU CHAMPS D'HONNEUR LE 9 SEPTEMBRE 1916 RIP'.
And a memorial tablet was put up in Ginchy Church. Lady Dickens continued her visits until the Second World War and died on 3 January 1940. She left a privately published book for her family, "Mumsey's Recollections" in which she vividly describes the death of her son and the creation of his memorial.
After the War the Dickens family felt it right to return the land to the Commune of Ginchy and exhumation procedures were put in hand. But no body could be found. The grave had been clearly marked so the likely explanation is that it had been disturbed in the fighting of 1918 and the original markers were put back out of position. Dickens name was thus added to the Thiepval Memorial and CWGC involvement ceased. In 1948 the ground was given "for perpetual preservation and use with the cross and seat, on condition the Commune cared for it in perpetuity".
In 1979 the plough turned up some officer's equipment near by but it could not be identified. Gradually the garden developed into a copse and the Dickens family felt the demands put on the Commune were unreasonable. Land boundary changes in the early 1990s brought matters to a head and discussions between the Dickens family, the Commune of Ginchy, the WFA and the Office Culturel d'AIbert, resulted in the best compromise in the circumstances and the memorial cross was moved to a new and more accessible site nearer the road with a hedge planted to protect it. It was rededicated at a formal ceremony arranged by L' Office Culturel on 29 June 1996 in the presence of a large gathering of the Dickens family.