Major C S Holland, 120 Battery, Royal Field Artillery
Killed in action 23 August 1914.
Buried at Hautrage Military Cemetery, Plot 1 Row B Grave 2.
Memorial: Plaque on a column outside the Hotel de Ville, St Ghislain, near Mons.
Guardian: Hotel de Ville, St Ghislain.
Charles Stewart Holland was born on 28 December 1875 the son of Mr and Mrs Charles Holland of 7 The Grange, Wimbledon, London and entered the Royal Artillery in 1895. Promoted Lieutenant three years later he became a Captain in 1901 shortly before going to South Africa where he took part in operations in the Orange River Colony in 1902, receiving the Queen's Medal with 4 clasps.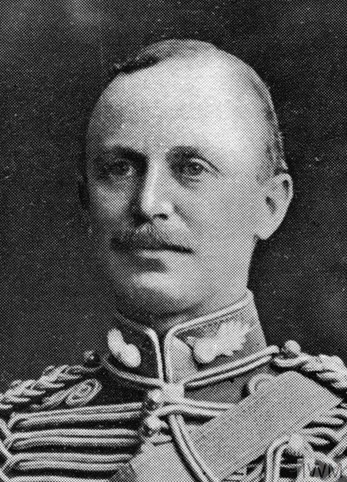 He was twice adjutant of his regiment, served in India and Ceylon and was promoted Major in November 1912. Holland was married; his wife's name was Gwen, but it is not known if they had a family. He was one of the first to arrive in France with the BEF and he was thirty eight years old.
Major Holland was in command of 120th Battery in their first action on the canal west of Mons when they came under heavy rifle and shell fire on the morning of 23 August. As the foremost guns of 5 Division they were dug in along the towpath at St Ghislain and their return fire together with that of the infantry initially repelled the enemy. But severe enemy pressure caused the battery to be withdrawn; one section firing on the enemy all afternoon from the side of a slag heap. It was while at their observation post that the Battery Commander, Major Holland, was killed by a rifle bullet. At first he was buried below the nearby factory wall but later the Germans re-buried him at Hautrage.
Major Holland was often said to be the first artillery officer killed in the Great War and a search of the CWGC database has confirmed that this was indeed the case.
The bronze plaque in his memory which was mounted on a column outside the town hall and dedicated on 9 November 1919, must be one of the earliest private memorials on the Western Front, if not the earliest. Under the regimental badge and 1914-1918 it reads:
'AU MAJOR HOLLAND A SES VAILLANTS COMPAGNONS D'ARMES DE L'ARMEE BRTTTANIQUE TOMBES AU CHAMP D'HONNEUR LE 23 AOUT 1914 LA VILLE SAINT GHISLAIN RECONAJSSANTE'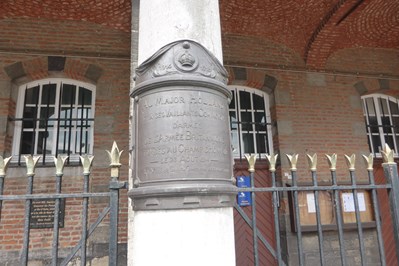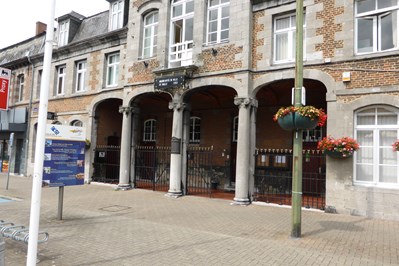 The plaque is in excellent condition and is maintained by the town of St. Ghislain.