Capt F Dodgson, 8/Yorkshire Regt
Killed in action 10 July 1916.
Buried at Serre Road Cemetery No 2. Plot XXXVIII Row K Grave 8.
Memorial: Small stone column near Bailiff Wood, 300m S of the La Boiselle road beside track, 400m W of Contalmaison. Old position marked.
Location on Google Map
Guardian: Family.
Born on 10 May 1889, Francis Dodgson was a kinsman of Charles Dodgson, otherwise Lewis Carroll, who wrote "Alice in Wonderland".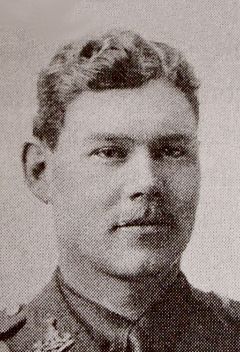 Known to his family as Toby, Francis Dodgson was educated at Marlborough College and, after being rejected for the army on account of eyesight, Trinity College, Cambridge, where he joined the OTC. He graduated with a BA and joined the family stock broking firm of Hope Dodgson. Dodgson was commissioned in September 1914 and went to France the following August. Promoted Captain in May 1916 he was in command of 'B' Company in the first major engagement of the Battalion on the Somme. Their attack on Contalmaison started in a north easterly direction from Horseshoe Trench across 1000 yards of open country, but almost immediately came under shrapnel fire. With 500 yards to go they met heavy machine gun and rifle fire from the front and from the left flank at Bailiff Wood and then, at the bottom of the rise, found the wire practically uncut. Held up, the Battalion took heavy casualties and although all obstacles were eventually overcome no more than four officers and 150 men reached the village. Six officers were killed, including Captain Dodgson. Pte Angus later wrote "Captain Dodgson was leading and encouraging his men like an old veteran..........but about 100 yards from the goal Captain Dodgson got hit in the head......leading his men over the open ground."
Dodgson had planned to marry Marjorie Secretan on his next leave. The correspondence to her from Dodgson's mother (by then Mrs Fulton) survives and records his loss and the subsequent memorial arrangements. Wishing to keep his grave where it was, Dodgson's mother had told the 'Graves Commission' she did not want him moved and hoped to buy the piece of ground. "...I hated the notion of his being moved. I think it is awful what they are doing and so unnecessary. They are trying to do things on much too large a scale." When she went to France she was shocked to find the grave gone and already transferred to the cemetery.
Without delay, Mrs Fulton went to a stonemason in Amiens, found a granite post which had come from a ruined building in Albert, had one side flattened to take an inscription and put it on the spot where her son's grave had been. His original wooden cross is now in Salisbury Cathedral together with that of his brother (Capt Guy Dodgson, Herts Regt, dow 14 Nov 1918, buried at Caudrey BC). Despite having a grave Francis Dodgson is also named high up on the Thiepval Memorial to the Missing.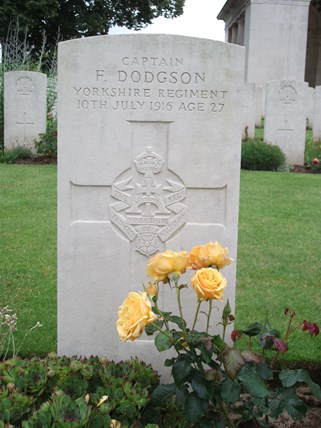 The little stone post remained where it was until 1962 when the field was sold and broken up into smaller plots. To save it from possible damage it was moved some 90 yards to its present position beside the track.
The inscription reads:
'IN MEMORIAM FRANCIS DODGSON CAPTAIN 8TH YORKS REGT. WHO FELL HERE 10-7-16'