2/Lt H A Boyd and Private J Cousins, 2/Royal Inniskilling Fusiliers.
Killed in action 7th September 1914.
Buried together at the Ferme des Arceries, La Haute-Maison (30km E of Paris). 
Grave: In field by road S of farm. Visible from road
Location on Google Map
Guardian: Landowner / CWGC
2nd Lt Harold Alexander Boyd had only just arrived with another officer and 89 other ranks as reinforcements when the battalion moved off at noon on 7th September 1914. In the early evening it was ordered to find the enemy outposts but while moving into position near La Grande Loge Farm the two leading companies had to be extended due to an outburst of enemy fire from a wood on the left. In the twenty minute skirmish which followed 2nd Lt Boyd and Pte Cousins were killed and an officer and 25 men were wounded and missing, according to the War Diary.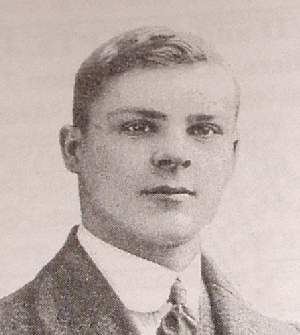 Cpl W Foots later wrote "In the evening the Inniskillings had to find the outpost to the village to which we had come - on the right being an open road with a row of apple trees, and on the left a clear open plain. In the distance, about 1000 or 1200 yards, was a broad belt of wood and shrubs from which came rifle and big gun fire. This took us by surprise. We lined out and retaliated but the shelling was terrific and we had no artillery with us. Our Officers were trying to find the range and had no cover from the shells, thus exposing themselves, notably Mr Boyd, who was standing by an apple tree by the right of the road. He was struck on the body by shrapnel and killed instantly. Also Private Cousins and 14 wounded. We continued all night in this position. In the morning the enemy had retired."
As the only two fatal casualties 2nd Lt Boyd and Pte James Cousins were buried together near where they fell. Being rare in the locality, this British grave was well looked after by the farmer, so much so that after the War Boyd's father thanked him and arranged for the grave to remain where it was. It is still there, in the care of the present landowner.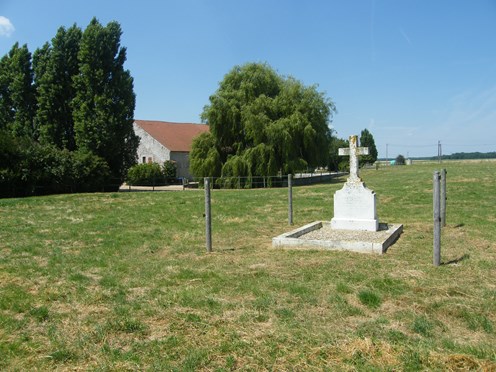 Presumably Pte Cousins' family were consulted but there is no record of this. Indeed, little is known about him; there being no next of kin details in the cemetery register.
Private James Cousins was born in January 1889 at Taughrane, between Magheralin and Lurgan, the son of William and Mary Cousins. The headstone inscription says he was from Belfast. He had enlisted on New Year's Day 1906 and had served in Malta, Crete and China.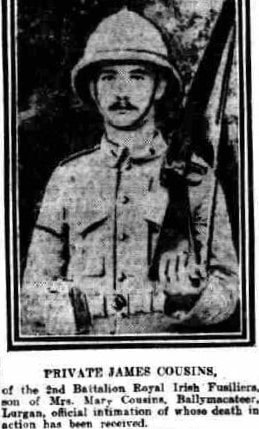 The headstone is in the form of a stone cross and base inscribed:
'EN SOUVENIR DE 2ND.LIEUT. HAROLD A. BOYD DE WARE ANGLETERRE ET PRIVATE J. COUSSINS BELFAST IRELANDE ROYAL INNISKTLLING FUSILERS QUI SONT MORTS POUR LEUR PATRTE DANS LA GRANDE GUERRE A COTE DE CET ENDROIT 7 SEPTEMBRE 1914'
Note the misspelling of Pte Cousins' name.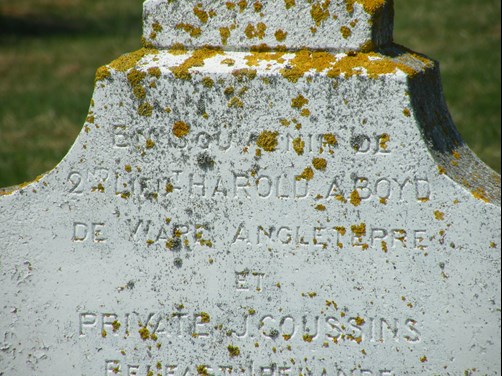 Boyd was born at The Manor House (now a library), Ware, Hertfordshire, on 19th January 1895, the only son of Dr A J and Mrs Boyd. He was educated at Rugby School and Trinity College Cambridge where he was reading medicine and had passed his first MB. A successful all round sportsman at school and university, Boyd had joined the Special Reserve of Officers in 1913 and was mobilised at the outbreak of war, going to France on 31st August.
While the memorial can be seen from the road, visitors are asked to call at the Ferme des Arceries as a courtesy.