Capt P A Kennedy, 2/Rifle Brigade
Killed in action 9 May 1915.
No known grave. Remembered on the Ploegsteert Memorial.
Memorial: Wooden cross with tall hedge beside the road N to VC Corner Cemetery from Fromelles.
Guardian: Commune of Fromelles / Family.
Paul Adrian Kennedy was born in 1887, the third son of Sir John Kennedy of the Diplomatic Service, who died in 1913, and Lady Kennedy. He was educated at Harrow and Sandhurst, gazetted into the Rifle Brigade in 1906 and saw service in Malta, Egypt and India before the War. By the time Paul Kennedy went to France in September 1914 his eldest brother, Archibald, had already been killed in the retreat from Mons. Wounded on the Aisne serving with 3rd Bn. Royal Fusiliers, Paul Kennedy was back again in March 1915, attached to the second battalion.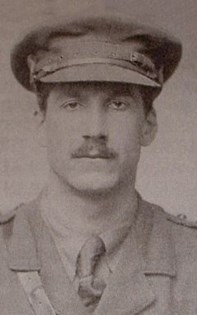 Attacking in a southerly direction, Capt Kennedy was shot while leading 'B' Company in the Battle of Aubers Ridge. He and his men had got well beyond the German line which ran roughly east-west where the preserved bunkers are today. His mother later wrote "He had crossed the road and was on the Fromelles side of it when he was shot by a sniper. His men tried to carry him back but he was terribly wounded and after they had carried him back across the road he told them to put him down..."
In April 1918, Patrick, the youngest of the four Kennedy brothers, was killed near Villers Bretonneux. By the time the War ended Lady Kennedy had lost three sons and knew nothing of their fate. Together with her surviving son, Leo, (T/Capt A L Kennedy MC) she determined to find out. Initial searches failed, but in 1919 Leo succeeded in identifying a grave as that of Patrick (Capt J P F Kennedy 2/RB kia 24 April 1918, Crucifix Comer Cemetery, Villers Bretoneaux). Archibald's grave was also located (Capt A E Kennedy 2/Argyles, kia 26 August 1914, Le Cateau Military Cemetery) but no grave was ever found for Paul who is remembered on the Ploegsteert Memorial to the Missing. But Lady Kennedy did know where he had fallen.
In 1921 she bought the piece of land where her son had told his men to place him and built a memorial headed by a wooden crucifix which she had had made in Austria. The memorial was dedicated at a village ceremony (of which photographs survive) and the marble plaque reads:
TO THE GLORY OF GOD AND IN MEMORY OF MY BELOVED SON PAUL ADRIAN KENNEDY COMMANDING B COY OF THE 2ND BATTN RIFLE BRIGADE AND OF HIS FRIENDS TALBOT FJTZROY EDEN STANHOPE RB HENRY RALPH HARDINGE RB AND EDWARD HENRY LEIGH RB AS WELL AS TO ALL THOSE WHO FELL IN THE ATTACK ON THE AUBERS RIDGE 9 MAY 1915 HIM THAT OVERCOME WILL I MAKE A PILLAR I N THE TEMPLE OF MY GOD PRIEZ POUR EUX.'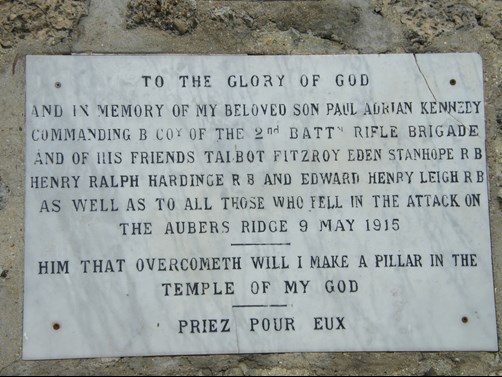 The other three officers mentioned, Lt Stanhope, 18, 2nd Lt Hardinge, 19, and Lt Leigh, 26, are also remembered on the Ploegsteert Memorial, none of them having a known grave.
Arrangements were made for care of the memorial, its garden and surrounding iron railings and Lady Kennedy visited frequently. But she died in 1939 and during and after the Second World War the memorial fell into disrepair. In 1954 CWGC investigated and contacted both the family and the commune of Fromelles. Both took action. Leo Kennedy - who died in 1965 - arranged for the deteriorating crucifix to be moved to the church for preservation and made further financial provision. The commune put up a new crucifix in more durable material and volunteered to take care of the memorial in the future.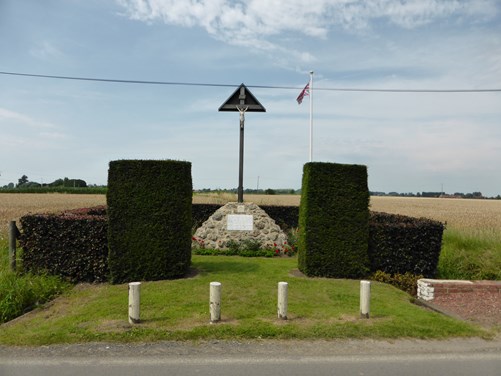 And this they have done. Since then the Commune of Fromelles has maintained it beautifully and the future of the memorial looks assured. The descendants of Leo Kennedy are in close touch with the village.